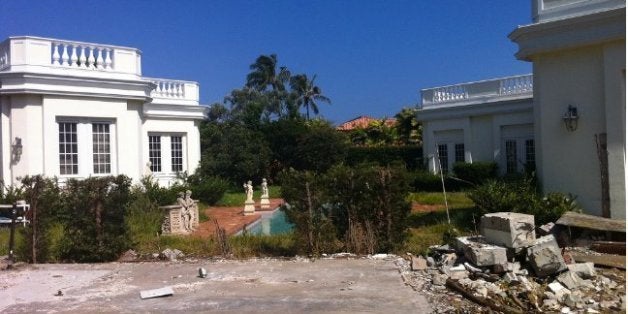 Alexander & Baldwin announced Tuesday that it has purchased 31 properties from Japanese billionaire Genshiro Kawamoto for $98 million.
The local land development company bought 27 properties along Kahala Avenue, which represents 16 percent of the strip's residential lots, as well as two residential lots and a preservation-zoned parcel on Oahu's windward side and 146 acres of agricultural land in south Maui.
The purchase ostensibly ends years of torment for Kahala residents who have complained that the Japanese real estate mogul let his properties decay in order to drive down nearby property values. The yards of some of the vacant mansions are overgrown and their swimming pools drained. Windows are boarded up and spray paint is scrawled across some of the homes. An eclectic, some might say eccentric, array of Greek statutes stretches along one lawn of the prime oceanfront properties.
Alexander & Baldwin says it will refurbish the properties.
"We will be focused on cleaning up these properties, and anticipate a full recovery in property values," Michael Wright, executive vice president for A&B Properties, said in a press release. "This acquisition is truly a once-in-a-lifetime opportunity, and we are gratified to see our efforts come to fruition."
Alexander & Baldwin, the state's fourth largest private landowner, purchased the properties with cash.
Last month, Civil Beat asked Chris Benjamin, president of Alexander & Baldwin, about word that the company was buying the properties but he denied anything was in the works.
But in a statement Tuesday, Benjamin said: "Our experience and balance sheet strength allowed us to negotiate and close the all-cash deal in less than 90 days, once the seller indicated a willingness to sell, and we anticipate achieving investment returns consistent with our past Hawaii investments."
The assessed land value of the properties is $117.6 million. The properties will be up for sale immediately, according to the company. Sales are expected to continue for three to five years.
Earlier this year, Kawamoto was arrested in Tokyo on suspicion of failing to pay more than 800 million yen, or $8.5 million, in corporate taxes. He subsequently bailed himself out for $5 million, according to news reports.