Thirty years ago the "Japan Inc." partnership between government and industry created an economic powerhouse. Today, those same players are actively blocking innovators in Japan from creating similar success in the fast-growing, new digital economy.
According to allegations in a case to be decided March 30, 2010 by the Tokyo District Court, government bureaucrats have engaged in seemingly corrupt practices to keep up-and-coming ecommerce companies from challenging fossilized brick-and-mortar incumbents.
In June 2009, Japan's Ministry of Health, Labor & Welfare imposed new regulations on the sale of non-prescription pharmaceutical products commonly known as "Over-The-Counter" products. (In Japan OTC are those products needing no prescription such as mild pain relievers, cold remedies and items like pregnancy tests). The suit by Kenko.com and Wellnet Corp., two Japanese online drugstores, alleges that Health ministry bureaucrats colluded with brick-and-mortar chain drug stores to ban online sales of OTC products.
Japanese consumers have flocked to online drugstores (similar to drugstore.com in the U.S.) because brick-and-mortar retail shops in Japan tend to be tiny and carry a very limited range of products. However online retailers like Kenko.com (Japan's largest online drugstore) enjoy unlimited shelf space. Because Kenko.com stocks nearly 4,000 OTC products in a range that includes 120,000 product variants ("SKUs"), consumers can get exactly what they want, leading to two million customer orders in 2009. This has propelled Kenko.com into a new economy success story with annual revenues over ten billion yen and a listing on the emerging companies section of the Tokyo Stock Exchange.
In any other nation, such a battle between old and new economies would be front-page business news. In other countries, bureaucrats would be cheering the high growth upstarts. But in Japan, where corporate interests tightly control the news, plaintiff Genri Goto, CEO of Kenko.com had no choice but to take his case to overseas media.
In a March 24 press conference at the Foreign Correspondents Club of Japan, Goto told global media that by "arbitrarily restricting the online sale of non-prescription pharmaceuticals, we allege that Health Ministry bureaucrats abused their power and violated our constitutional rights."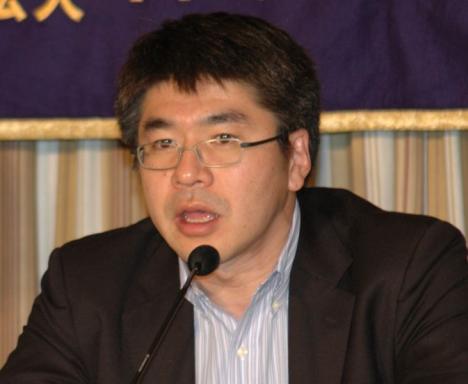 Genri Goto (FCCJ photo)
Goto first took his company's story to all the reporters who cover Japan's Ministry of Health, but none of them would rock the boat by writing about the allegations. "Unfortunately all of them had reasons why they could not tell this story," Goto said, which is why he is now speaking to the global media.
Goto said this is a test case that will show what kind of country Japan is going to be. "Is Japan going to build a new global future in the digital economy? Are we going to create a new wave of great companies? Or will this country just keep going down and down? Is Japan going to suffocate its own children just to prevent change? That's what this is about!"
In the 60s and 70s, fledgling Japanese auto and electronics exporters counted on close support from government bureaucrats as they cracked global markets. Today those same bureaucrats will seemingly stop at nothing to prevent upstarts from challenging the slow moving entrenched giants spawned in the days when Japan threatened to become #1.
Japan's new administration, led by Prime Minister Yukio Hatoyama, has promised changes to rein in the bureaucracy. Japan watchers suggest that if this case is any indication, this is not change anyone can count on.
Popular in the Community