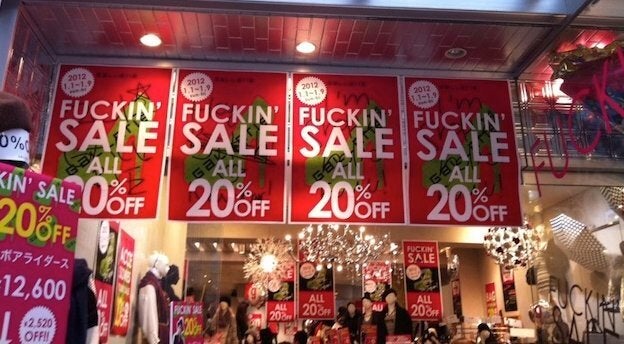 The person in charge of advertising at an Osaka, Japan, department store either doesn't speak English or wanted to play a little prank on unsuspecting shoppers.
The store hung multiple, prominent signs advertising a "Fuckin' Sale," which is presumably a deal customers wouldn't want to miss.
"On our way to catch up over coffee, I walked into this store to check some things. Truth is, I didn't even notice the posters. When I looked around, each corner had posters that printed 'fucking sale'. I didn't know how to react but what caught me by surprise was that none of the people around me seem to understand the profanity. My friend Sarah and I, both of mixed Japanese descent, both bilingual in Japanese and English, were struck with the comical twist."
How did such a misguided sign come into the world? After Gawker posted about the "Fuckin' Sale," the site received an email from Ron Silver, who runs the popular restaurant Bubby's in New York City. He wrote that he felt "personally responsible for this Fuckin' Sale" because he had helped introduce the profanity into mainstream Japanese culture. From Gawker:
"I trained these guys and trained these guys, and they called me up and said, 'By fresh do you mean frozen?' And I was like, 'I mean fucking fresh, man. Do not fuck around with this thing.'" Silver said in a phone interview, the frustration still audible in his voice. But they didn't get it.

"The very next day they were like, 'By fresh do you mean canned?' And I was like, 'What do you not understand about fucking fresh?'"

Mystery solved? The world may never fuckin' know.
For more in the way of cultural misunderstanding, check out engrish.com, which compiles the best of broken English for your reading pleasure.
Related
Popular in the Community