Unlike any musical group I've ever heard, Kodo is a group of Japanese drummers that perform on a worldwide scale but remain rooted in the local community and rich cultural traditions of Japan's Sado Island. The group boasts international esteem and is known for their innovative recreation of the traditional Japanese performing arts. The group spends two-thirds of the year touring (four months in Japan, and four months internationally) counting over 5500 performances in 47 countries worldwide under the theme, "One Earth". Kodo continues to break boundaries of expression with their unique and vibrant living art-form.
They have been bringing their work to the U.S. since 1975. And thankfully we have the privilege of seeing them again--this time in North America for the Kodo One Earth Tour: Mystery's debut outside of Japan. This new production, Kodo One Earth Tour: Mystery, was created by its Artistic Director and Japanese Living National Treasure Tamasaburo Bando. The leading Kabuki actor and onnagata (actor specializing in female roles), Bando was a catalyst for Kodo to break new ground in taiko expression.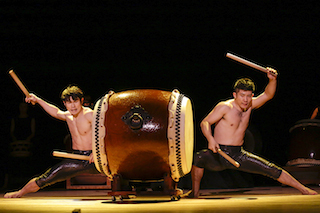 Photo credit: Takashi Okamoto
Steve Mariotti: How did Kodo get started?
Kodo: In 1971, a handful of young men and women gathered on Japan's Sado Island to form Sado no Kuni Ondekoza, a way for Japanese youth to learn traditional arts and crafts. They began to study and perform taiko, eventually taking the sound of the drum around the globe on world tours--all with the intention of financially supporting their arts program.
Members lived communally in an abandoned elementary school and spent much of their time practicing the taiko and training to run marathons. After debuting internationally in 1975, Ondekoza emerged as a professional performance group that became highly acclaimed among European and North American audiences. In 1981 the group changed its name to Kodo, with the singular mission of bringing Taiko to ears around the world while preserving various Japanese art forms on Sado Island.
SM: How is Kodo continuing these traditions today?
Kodo: We are always looking for new ways to explore the profound subtleties of taiko. In the past ten years, this has meant that Kodo is exploring richer levels of stage expression. The Kodo Cultural Foundation supports both local and international activities through education outreach projects designed to give back to local communities.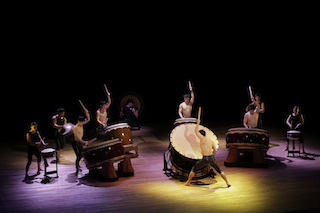 Photo credit: Takashi Okamoto
SM: How does Kodo manage its tours and performances?
Kodo: Since the group's debut at the Berlin Festival in 1981, Kodo has given over 3,700 performances on all five continents. This comes out to about a third of the year overseas, a third touring in Japan, and a third rehearsing and preparing new material on Sado Island.
As for performances, we stand by three principles to build each performance. Building a Kodo performance program begins with blending these three elements together amidst the sights and sounds of Sado Island. It is then forged into shape on the anvil of dedicated practice and rehearsal.
The first is that performances are based on traditional folk arts, learned from local practitioners throughout Japan. Our intention is not simply to replicate these historical arts. Instead, by reinterpreting and rearranging them for the stage, we strive to capture their universal spirit and energy as they filter through our bodies. Art forms rooted in the earth are developed through intimate relationships both between people and their art as well as between art and nature. Therein lie invaluable treasures rich with insights for people living in a bewildering age.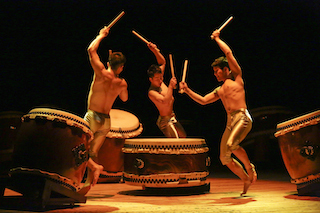 Photo credit: Takashi Okamoto
Secondly, performances feature compositions by Kodo's friends and mentors. These include composers Maki Ishii and Shinichiro Ikebe, Kabuki musicians RoetsuTosha and KiyohikoSemba, jazz pianist Yosuke Yamashita and Tamasaburo Bando.
The third element is that we use original works composed by Kodo members. In this case, Kodo's members leverage their exposure to the rhythms and sounds of the many people and places they have visited as inspiration for their own creations.
SM: What is the process for joining Kodo?
Kodo: Apprentices who hope to become performers or staff members will spend two years living together communally in what was once an abandoned schoolhouse. After this period, Apprentices who have been selected to become Junior Members spend one more year training and practicing in the hope that at the end of the year they will be chosen to become part of the Kodo organization.
Altogether there are currently about 100 members of Kodo, including 35 performing members including 6 junior members (27 men and 8 women) and 37 staff members. The performers range in age from 20 to 64 years old. We have 5 staff members from Sado Island. Our other members come from as far away as Hokkaido and Kyushu, and from everywhere in between.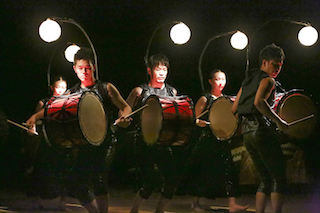 Photo credit: Takashi Okamoto
SM: What is the Kodo Apprenticeship program?
Kodo: In a converted schoolhouse in Kakinoura on Sado Island, young people are trained, not just in musical technique but also in all matters of body and spirit. Beginning in April, apprentices live communally and train for two years. From this group, probationary members are selected to spend one year as junior members, and if they are successful, they then become full Kodo members.
Kodo seeks people of all backgrounds who are interested in becoming apprentices, and perhaps the next generation of Kodo players. Apprentices live together while they learn taiko, dance, song, and other traditional arts in the rich natural and cultural surroundings of Sado. We have some specific rules for living there: drinking alcohol, smoking, using a mobile phone and internet capable devices of any kind are prohibited during apprenticeship, and they are given the time to fully devote themselves to their lifestyle on Sado.
Upon completion of the program, apprentices hoping to become Kodo members may be selected to become probationary members. Probationary members spend an additional year training on the job and can become full-fledged Kodo members if they pass the final stage of selection.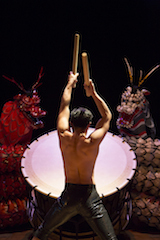 Photo credit: Takashi Okamoto
SM: How do members get recruited into the process, and what is daily life like once you are a member of Kodo?
Eri Uchida, member since 2010: I started playing taiko in a local taiko group in Japan when I was sixteen, and then I moved to Canada to study abroad at a public high school. After I graduated from high school, I went back to Japan and decided that Kodo's Apprentice Centre really was the best place to study.
On the day of a performance, I exercise near the hotel, eat a good breakfast, and see what kind of condition I am in that day. We create our daily rhythm by loading in and setting up the stage in a timely manner. While the technical crew take over the stage to set-up the lighting, we eat lunch, lightly exercise, and rehearse.
SM: What do you hope to accomplish during this North American tour?
EU: This tour's production, "Kodo One Earth Tour: Mystery," features a lot of theatrical moments, so the timing and delivery are very important.I think the right "timing" may vary between different countries and environments. Therefore, it will be challenging to react accordingly and nail that "timing" in each performance. I want to make each performance the best performance for that particular place and audience. Also, the number of people playing taiko worldwide is on the rise and I think that the North American taiko community is very humble and constantly thinks about what taiko means to them. Interacting with them and performing for them makes me think about my own taiko playing, too.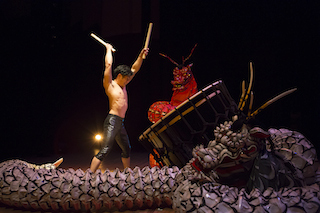 Photo credit: Takashi Okamoto
SM: What do you think the artistic vision is for this tour?
Yuta Sumiyoshi, Kodo member: We started off by taking apart our production style and any fixed idea we had. We were constantly challenged to express ourselves as a single taiko performer and a Kodo member, without the traditional happi coats and hachimaki headbands. I believe one of Tamasaburo Bando's vision for Kodo is to broaden theatrical expression by learning how to express delicate musicality instead of just hitting the drums with all our might. In addition to the beauty that is being portrayed for each individual when we play taiko to the fullest, we are asked to work through the beauty of performing arts as well.
Popular in the Community