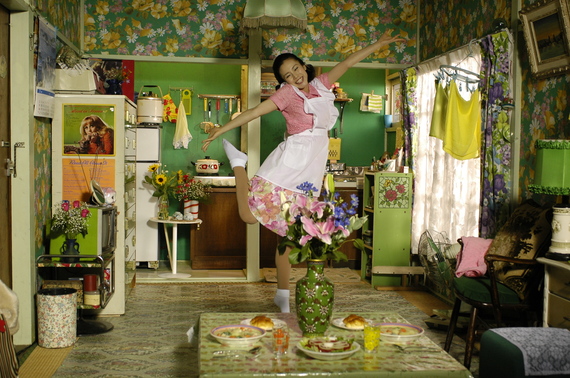 We tend to think of the movie musical, like jazz and comic books, as a unique American art form. But other countries have made forays into this genre. For proof, look no further than the Japan Sings! The Japanese Musical Film festival at Japan Society, running from April 8th through the 23rd.
No singing kaiju, but just about everything else. Highlights include:
Singing Lovebirds (1939). Singing samurai! Kurosawa was never like this.
So Young, So Bright (1955). Singing Japanese school girls! The beginning of the J-Pop phenomenon.
The Stormy Man (1957). Singing jazz drummers! Starring Yujiro Ishihara, the Japanese Elvis Presley.
Irresponsible Era of Japan (1962). Singing salerymen! First in a series of Irresponsible movies--kind of a Japanese version of the British Carry On series.
You Can Succeed, Too (1964). More singing salerymen! Japanese version of How To Succeed In Business Without Really Trying (1967). Followed by an opening night party.
Oh, Bomb! (1964). Singing yakuza! Originally one half of a double bill with Woman in the Dunes.
A Treatise on Japanese Bawdy Songs (aka Sing a Song of Sex) (1967). More singing school girls (and boys)! Directed by bad boy Nagisa Oshima (In the Realm of the Senses, Empire of Passion).
There is also a lecture by curator Michael Raine Saturday, April 9th, at 3 PM on the genre. Free with purchase of a ticket to any film in the series.
Japan Society is located at 333 East 47th Street in Manhattan.
If martial arts is more your thing, check out the sixth Old School Kung Fu Fest at the new Metrograph from April 8th through April 10th. Brought to you by Subway Cinema, the same fine folks who present the New York Asian Film Festival, this year's festival will focus on Golden Harvest productions. Golden Harvest supplanted the Shaw Brothers as the premier studio for martial arts movies from the 1970s through the 1990s.
Enter the Dragon (1973). The film that made Bruce Lee an international star. Often copied, never equaled, this is the martial arts movie. (There's a wicked parody in The Kentucky Fried Movie (1977)). With John Saxon, Jim Kelly, and Sammo Hung!
Rumble in the Bronx (1995). The film that made Jackie Chan an international star. If Bruce Lee was Gary Cooper in High Noon (1952), then Chan is Harold Lloyd in Safety Last! (1923). And dig that crazy hovercraft! (The indomitable Chan broke his ankle while jumping on said hovercraft, but managed to complete the picture.)
The Blade (1995). Big time director Tsui Hark (A Better Tomorrow, A Chinese Ghost Story, Once Upon a Time in China) goes all out in this phantasmagorical re-make of/tribute to the classic The One-Armed Swordsman (1967).
The Man From Hong Kong (1975). More 1970s martial arts madness, this time set in Australia. (No, there are no boxing kangaroos.) Speaking of The One-Armed Swordsman, it stars Jimmy Wang Yu. Yu never became as big a star as Bruce Lee or Jackie Chan, but he knows how to throw the chopsocky down. It also features everybody's least favorite James Bond, George Lazenby, as the bad guy. His career went on the skids after On Her Majesty's Secret Service (1969). MI6's loss is Hong Kong's gain.
Pedicab Driver (1989). Haven't actually seen this one, but who isn't interested in pedicab drivers?
The Metrograph is located at 7 Ludlow Street in Manhattan.
Popular in the Community