Remember the video about a honey badger that went viral a few years ago?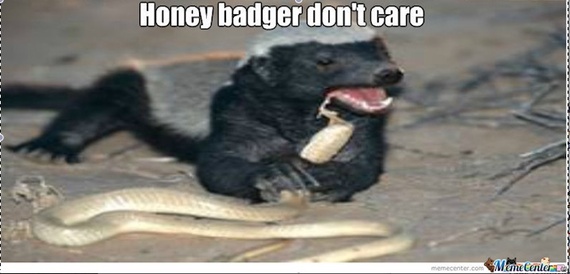 The video's fearless omnivore is getting a second life right now in Japanese Prime Minister Shinzo Abe because like that badger he don't care!
Chances are the prime minister of Japan is not among the video's 75 million viewers. Yet it deserves another look in the coming days with Abe in mind as he, too, devours his political bees and cobras alike to get what he wants: a package of new security bills no matter what.
This week, Prime Minister Abe and his supporters will finish their final thrashing of the nation's democratic processes to secure the definitional changes they have long hunted for Japan's military. Once enacted -- which is assured unless space aliens invade -- for the first time since 1947 when Japan's constitution went into effect renouncing the country's sovereign right to wage war (enshrined in Article 9) the new measures would supersede Japan's guaranteed provisions to defend the homeland and allow the government to deploy troops abroad to fight alongside allies in wars that Japan has not begun.
Radically different from the humanitarian relief work and United Nations peacekeeping that Japanese troops have been doing for decades -- and which a majority of Japanese supports -- these new bills would, moreover, allow Japanese troops to fire their weapons first.
At the heart of what's going on is something called "collective self-defense" which is the notion of aiding an ally at war and which most Japanese legislators, constitutional law scholars, justices, and mainstream pundits have long considered unconstitutional for Japan because of the war-eschewing law of the land.
For Japanese, Article 9 is a fundamental piece of national identity.
Because of America's central role in bringing about the Japanese constitution in the first place and also in backing changes since then to Japan's military in ways many see as legitimate, Washington's failure to grasp Japanese citizens' determination to preserve the deep meaning of Article 9 -- outlawing the right of belligerency -- comes at too high a cost. Poll after poll shows a majority of Japanese in opposition to the security legislation, and, for the first time in decades, tens of thousands of Japanese citizens of all ages and backgrounds are regularly taking to the streets to show indeed that they care.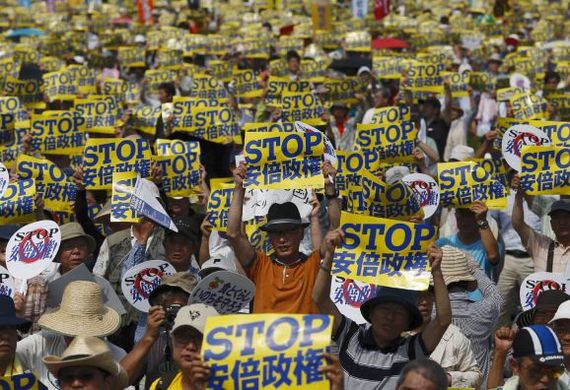 Leaving aside debate about whether definitional changes would be useful for Japan's highly-skilled troops, Prime Minister Shinzo Abe's "I Don't Care" method is nothing less than a palace coup on the constitution.
It is spawning anti-Americanism among a broader and younger cross-section of Japanese who more and more regard their leader as an unassailable retrograde getting what he wants by promising away their futures in lockstep with America's wars.
For a host of reasons, Washington welcomes Prime Minister Abe's assurances that the Japanese military would aid the U.S. in our state of forever war. Ironically, however, America's Abe backers ignore that their main man's obdurate determination to ram these bills through with his "due process be damned" approach undermines the very premise of the U.S.-Japan Alliance they claim strengthened by the process -- all the while desecrating Japan's American directed constitution.
Among other things, Americans would be more than unusually remiss to overlook the historical significance of Abe's main challengers: a hipster student group that has electrified the country into caring about what is going on.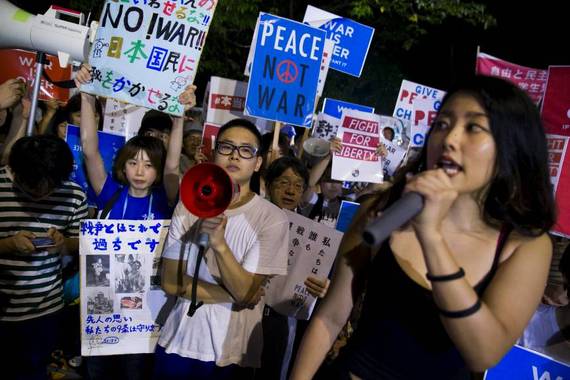 The group is one among countless efforts to make clear Japan's majority voice that holds Article Nine as a gift to humanity. Its vitality and style have made real for many the privilege of living in an open society and the need to work to preserve it. Noticeably, its leaders such as Wakako Fukuda (on the right in the picture above) are committed to peaceful protest, armed only with microphones for the bayonette French painter Eugène Delacroix made famous many moons ago.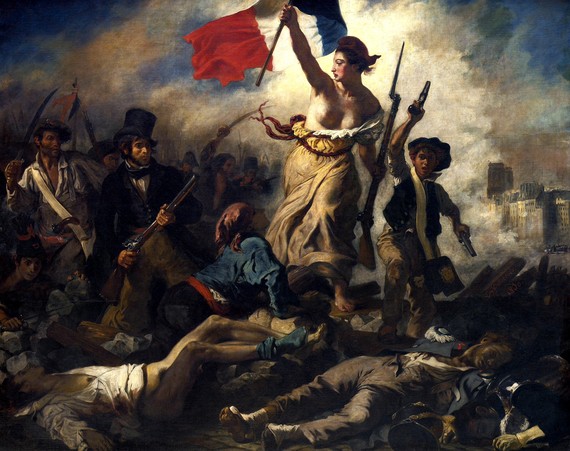 Dismissing these students and the democratic beliefs they represent may get Prime Minister Honey Badger and Washington what each wants now, but this comes at the nonrefundable future cost to America of the trust of Japanese citizens who do care.
Popular in the Community