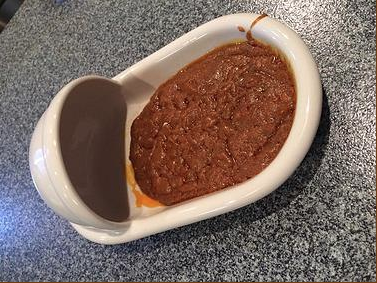 The Tokyo-based eatery opened earlier this month with the house specialty being "poo-flavored curry."
To be fair, the dish doesn't contain any actual poop, just natural ingredients like green tea, bitter gourd and cocoa powder that, when combined, looks and tastes similar to human defecation, OddityCentral.com reports.
To enhance the illusion, the caca curry is served in a porcelain bowl meant to resemble a bedpan -- bottoms up!
 The poo-flavored curry is the brainchild of executive chef Ken Shimizu, who designed the defecation dish to remind people of his other line of work: As a male porn actor who has eaten feces in some of his filmsSo , according to Kotaku.com.
None of the Japanese publications reporting on the poo curry have actually said if it tastes like, er, crap.
But even if the food is better than it looks, sounds or smells, Curry Shop Shimizu will have an uphill battle convincing consumers to have a bite of bile.
The restaurant's own market research suggests that 85 percent of people would never go, based on the description of the food, according to RocketNews24.com.
That doesn't mean poop doesn't have a place at the restaurant table.
Toilet-themed restaurants where guests sit on toilets and eat non-poop-flavored dishes out of bedpans are popular all over Asia, and starting to get a foothold in America.
In October 2013, the Magic Restroom Cafe opened in the City of Industry, California, where it sells appetizing menu items like "golden poop rice," a "black poop" chocolate sundae, "smells-like-poop" (braised pork over rice)," and "bloody number two" (vanilla-strawberry sundae).
PHOTO GALLERY
Magic Restroom Cafe
Calling all HuffPost superfans!
Sign up for membership to become a founding member and help shape HuffPost's next chapter