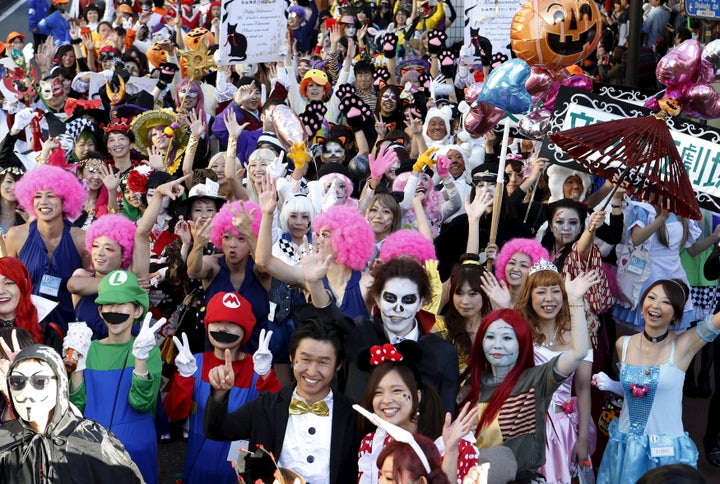 Children in Kobe, Japan, won't receive trick-or-treating candy from the local mob this year.
In a sign posted outside its headquarters and tweeted by Japanese news outlet Sankei Shimbun on Oct. 21, the Yamaguchi-gumi crime syndicate announced it would cancel this year's Halloween celebration.
Typically, the clan would hand out sweets to kids who visited to the gang's headquarters. On Oct. 31 last year, Japanese journalist and "yakuza" gang expert Tomohiko Suzuki tweeted a photo appearing to show children dressed in Halloween costumes receiving gift bags from members of the Yamaguchi-gumi.
"Kobe, Yamaguchi Clan HQ, it's Halloween!" part of Suzuki's tweet reads. "Even elementary school children can receive sweets. Until 7PM! There's still plenty left! Trick or Treat!"
This Halloween, however, the kids will miss out on the treats. In a sign posted outside its headquarters, the Yamaguchi-gumi wrote:
NOTICE: Every year on Oct. 31, we used to celebrate Halloween, but this year, due to various reasons, we decided to discontinue the event. We are very sorry for the children who were looking forward to it, but we'll definitely celebrate it next year. So please look forward to that.

- The 6th Generation of Yamaguchi-gumi Headquarters
In the note, the clan is vague about the reasons behind the cancellation. Local police officers in Kobe told the Sankei Shimbun the yakuza likely wanted to protect children from possible violence after a high-profile split within the group earlier this year.
In early September, The Wall Street Journal reported that some Yamaguchi-gumi members split off and created a rival gang due to differences with the clan's current godfather, Shinobu Tsukasa. The breakaway factions reportedly accused Tsukasa, who's also known as Kenichi Shinoda, of giving some affiliated groups preferential treatment over others, The Guardian said.
Since the split, Japanese mobsters have increased gang member recruitment and their demands for loaded guns, Japanese newspaper Asahi Shimbun reported on Oct. 12.
When a similar high-profile split within the Yamaguchi-gumi gang took place in the 1980s, a series of bloody conflicts over five years left more than 20 gangsters dead and hundreds arrested, according to The Guardian.
The Yamaguchi-gumi is the largest yakuza crime syndicate in Japan, with over 23,000 members around the country, CNN reported in September.
The yakuza have interests in legal sectors such as real estate, entertainment and construction. But they also engage in illegal activities such as drug dealing, prostitution and insider trading, often using legal front companies to hide their illegal enterprises, the U.S. Treasury Department noted.
In July 2011, the Treasury Department officially labeled the Japanese yakuza a transnational criminal organization, and the Japanese National Police Agency has pledged to clamp down on its power in the past. 
The Yamaguchi-gumi, in particular, has long been trying to cultivate good relations with Kobe locals. On top of doling out sweets every Halloween, the group organizes a host of community events, including a traditional rice cake (mochi) making festival every New Year, per the Japan Times. After a devastating earthquake struck Kobe in January 1995, the Yamaguchi-gumi even distributed emergency supplies to people in affected areas, The Daily Beast reported in 2011.
If innocent children are harmed by gang violence this year, it would be "unforgivable," a Yamaguchi-gumi member, whose identity was hidden, told The Daily Beast on Sunday.
Scilla Alecci contributed reporting.
PHOTO GALLERY
Halloween around the world