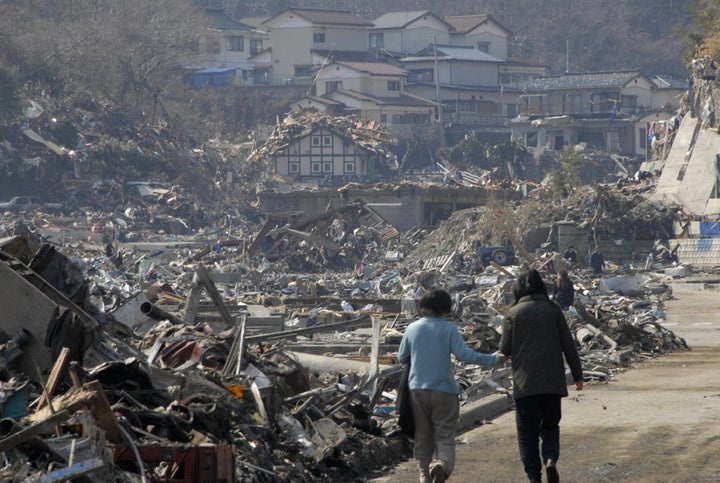 The devastation wreaked by Japan's worst-ever earthquake and the accompanying tsunami continues to widen. Officials put the death toll at thirty-five hundred (UPI), while some reports say more than ten thousand have died (AP) in Miyagi prefecture alone. Tens of thousands of people remain unaccounted for, and the number of casualties is expected to rise, as large numbers are believed buried under rubble. Millions of survivors struggle without electricity, food, and drinking water. Fears of a nuclear meltdown from reactors damaged by the quake prompted Japan's Prime Minister Naoto Kan to declare the disaster the country's "most severe crisis" (BBC) since World War II.
Japan will face other, longer-term political and economic costs of this disaster. Even before the disaster struck, Japan's fragile government was reeling from corruption scandals, pressures of an aging society, and clashes over budget as the government struggles to reduce its public debt, which is double the country's GDP. The need to finance public works in the disaster-affected areas will put a further strain on the government budget. Rising oil prices and uncertain export demand add to risks of economic recovery.
Japan has received offers of aid from scores of countries (VOA). Both South Korean and U.S. military teams are on the ground to offer assistance. Japan was better prepared than most countries (NPR) to deal with the earthquake and tsunami. Yet, the extent of devastation caused there, some experts say, serves as a reminder of how countries remain vulnerable to such calamities on a large scale. Earthquake and tsunami-prone countries need to develop their own early warning systems, writes Syed Fattahul Alim of the Daily Star. Also, these countries should develop infrastructures "including strongly built tsunami shelters, especially for the section of the population living in the coastal areas," he adds.
Cristine Russell of the Atlantic writes the accident at the Fukushima Daiichi power plant, and the government's clumsy response, both resemble the 1979 Three Mile Island nuclear disaster in the United States.
Calling all HuffPost superfans!
Sign up for membership to become a founding member and help shape HuffPost's next chapter