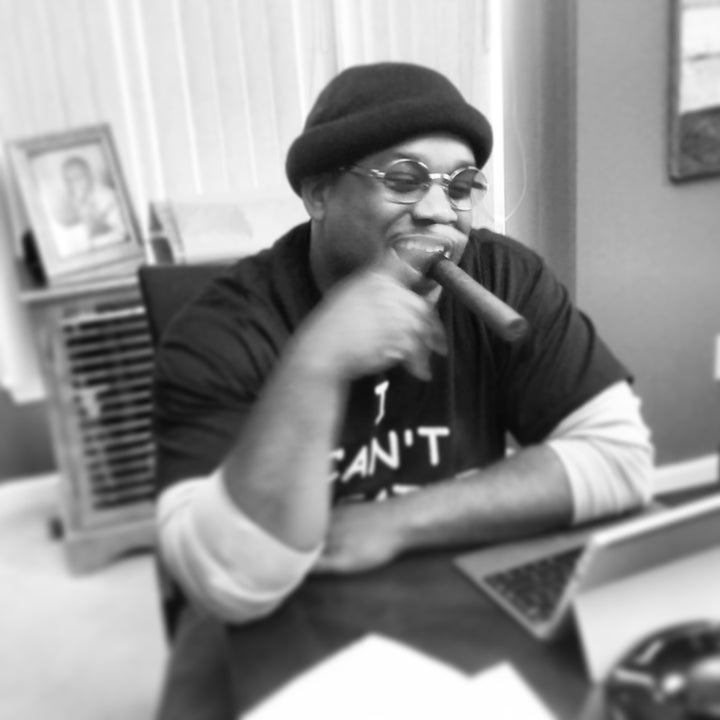 As the all black Rolls Royce Wraith crept to the edge of the curb, right in front of baggage claim, I check my watch and look around. The luxury car stops right in front of me and the back window rolls down. I'm in a new territory, a city that I have only heard stories about and read various news clippings of. I'm at Flint Bishop airport, awaiting my ride to visit a best selling author. To my surprise, I see a young man sitting in the back seat smiling, waving me in. I gather my bags, hop in, and the smell of cigar smoke and crisp new leather fills the air. I extend my hand and that's our introduction; me and the writing legend, JaQuavis Coleman.
Perhaps, not many people know about this young man and his direct impact on literature. However, I don't think that will last very long. Allow me to share my experience…
JaQuavis Coleman began to write books, along with his wife, at the tender age of eighteen. They quickly became an urban fiction phenomenon, writing both together and separately. At one point, you could not down a New York City street without seeing one of their books sprawled across a vendor's table. Although his books are widely successful, one couldn't guess the hardships that he had overcome to attain success.
It is within two weeks of his latest title, The Streets Have No King and the book will be his sixth solo novel, not counting the forty impressive titles, he has co-written with his wife, Ashley Antoinette. He tells me that this is his most "intimate piece of work" and is a coming of age story that he based loosely on his life and upbringing in Flint, Michigan.
We cruise the streets and he explains life on the blocks and neighborhoods as we toured the land. The main topic of discussion was the city's lead problem and the corroded pipes that made it nearly impossible to fix quickly. "Even if the water is lead free, it is being run through old lead based pipes. It's horrible," he explained, with a cracking voice, that reflected the pain of his community. At almost every corner, there is a sign notifying people of the nearest water station, where residents go to pick up free and drinkable water. He points out each one, while explaining the politics of each specific neighborhood. He then tells me short stories as he recalls memories he has growing up there. He takes me back to where it all began, in the 5th ward of the city. The neighborhood consists of mainly boarded up houses and empty lots, only sprinkled with a few occupied homes. Before, I wondered how he and his wife write so many books in a short amount of time, however when I hear the war stories of pain and treachery, it all begins to make sense. This small city raised him. He is literally a rose that grew from the cracks of the concrete jungle of Flint, Michigan. As the driver maneuvers us through the streets, JaQuavis often rolls down the window acknowledging old neighborhood friends and pillars of the community. It is a sight to see and refreshing to witness the love in the midst of the national crisis that the city is enduring.
I ask him, how do you write so prolifically with another person? JaQuavis answers quickly without hesitation, "It's almost like breathing at this point. We have a flow and we both have our own lane, which puts us in a comfort zone. She can depict love through her pen like no other. Me on the other hand, I truly embrace the concept of plot twists and clever storylines. It is a perfect marriage…literally." This statement rang true. New York times Magazine labeled them as "The most successful Literary couple in America", and they are doing everything to maintain the title. Just recently they signed deals with Warner Brothers Studios and NBC/Universal to develop television projects. Also, just as early as last week, they agreed to an audio exclusive deal with Audible (a company owned by Amazon.com), a deal that is the first of it's kind with fiction writers. From our conversation, I notice that he has a knack for business and always talks about his next move, never dwelling on his past or current deals. "This is what keeps us ahead of the curve. We are always looking for the most innovative and new ideas. It is always fun to find pioneering companies to partner with," JaQuavis said nonchalantly. He then explains that he loves to use Jean Michel-Basquiat as a muse for his writing. "I want to create art that makes sense today and also will be appreciated years down the line, while still being relevant. I really love his thought process, even down to the way he lets us see his mistakes while painting. He literally crossed out words and let us be privy to see his thought development."
Although, he has a full plate and many simultaneous ventures, he lives a relatively normal life. In between Hollywood and New York, he stays in a quiet suburb in Michigan with his family while continuing to create. He is represented by UTA's Marc Gerald, who represents some of the biggest names in industry (i.e DJ Khaled, Kevin Hart, Mariah Carey, etc.) for his books and Kyle Loftus at APA (Agency of Performing Arts) for television/film. He says that he has a strong team around him that enables him to stay close to home where he is most comfortable.
My experience sitting with this author was eye-opening while also inspirational. The stories of his redemption while seeing the blocks that they happened on first-hand was humbling. I saw the origin of a best selling author and he walked me through his path, enabling me to understand his genius. Eerily similar to Basquiat, JaQuavis allowed me to see his mistakes through his work and that only made me appreciate the art more. The Streets have no King will be released on April 25th with St. Martins Press. The book will be available everywhere books are sold.