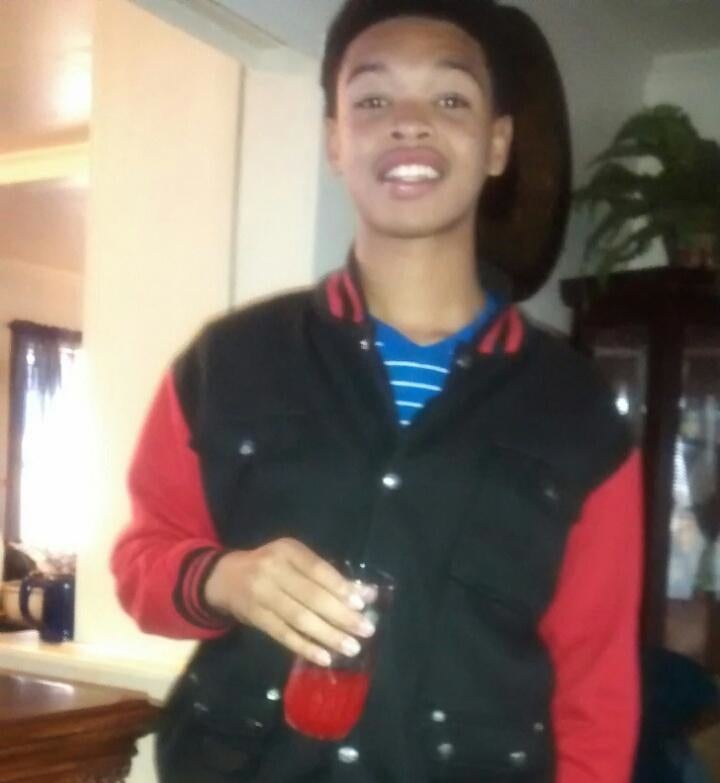 Two days before his death, a family friend visited Jaquin Thomas. It was Saturday, and the friend knew Jaquin dreaded weekends in the New Orleans jail. Most who serviced the jail's juveniles were off till Monday. Jaquin's care was left to the guards. And throughout Jaquin's 87 days of incarceration so far, the guards hadn't done a very good job. During the visit, Jaquin pointed his face to the ground. The friend begged Jaquin to lift his gaze. When he finally did, a bruise surrounded Jaquin's right eye. It wasn't the first time.
"Inmates were beating Jaquin and stealing his food," the friend said later. "He was scared and hungry."
It would be Jaquin's final weekend. On Monday, Jaquin took his life. He was 15.
Jaquin was arrested on suspicion of murder this summer in one of 15 states where judges are powerless over the decision to transfer kids into the adult system. The statutes automate, or arm prosecutors with sole discretion. Legally speaking, if you live in Louisiana, there isn't much you can do to protect kids like Jaquin from the adult system.
If, however, you live in California, you're in luck.
California's Proposition 57 is the nation's only ballot measure aimed at juvenile justice reform this election. Should it pass, judgment would be restored to judges. Upon arrest, kids like Jaquin would receive a transfer hearing. Because to a hammer everything is a nail, you can bet the prosecution will advocate for transfer. And the defense will advocate otherwise. The measure doesn't prevent kids from transferring into the adult system. It creates the possibility.
Like mandatory sentences for juveniles, direct transfers strip the court's consideration of a kid's story. The laws are rooted in a prejudicial narrative that frame kids as demons. The "super-predator" theories that gave rise to the laws have been long debunked as racist propaganda. Direct transfers corrupt the criminal justice system at the most critical point of a kid's due process: the beginning.
What type of evidence might a judge consider during a transfer hearing? The basics. Within days of arrest, the judge would examine the state's preliminary evidence. If surveillance footage shows the kid shooting someone dead, the judge may lean in favor of transfer. If the evidence consists of a convoluted statement by a co-defendant twice the kid's age, the judge may rule against transfer.
A kid's history weighs heavily during transfer hearings. If at the time of arrest the kid was on probation for armed robbery, by all means, the judge will reflect on this. If records show the kid sings in his church's choir, and there isn't so much as a blemish on his criminal record, it should give the judge pause. At the very least, the facts may compel the judge to issue a ruling at a later date. Delaying transfer ensures kids who are legally innocent but unable to afford bail remain incarcerated in juvenile facilities — not adult jails.
If Proposition 57 passes, its impact would extend beyond California. The sheer number of California's juveniles would generate more data and leverage for advocates to lobby other states to follow suit. While California has glacially reduced its juvenile population, other states have not. Florida, for instance, transfers kids into the adult system at eight times the rate of California. Though when it comes to the lack of individualized judicial consideration, as the nation's chief jailer, no state requires more direction than Louisiana.
Last week, Jaquin's body was transported from New Orleans to Ville Platte, Louisiana – the same three-hour journey Jaquin made 11 years ago after the levees broke during Katrina, and floods destroyed his family's home. On Saturday morning, more than a hundred people crowded the town's Ninth Missionary Baptist Church for a final viewing of Jaquin. As a choirboy and junior deacon, Jaquin spent most weekends at the church with his little brother, Jakia, 13. Seated beside his family, Jakia occupied the first pew in a crisp white shirt and bow tie.
Jaquin helped raise Jakia in Ville Platte, and the brothers were close. At the end of this school year, Jaquin lined up a summer job at a car wash, and a place to stay with his uncle in New Orleans. Before he left Ville Platte, Jaquin shared his summer goal with Jakia: save enough money to return home and buy Jakia a new backpack before the school year begins. Over the summer, after washing cars all day in New Orleans, Jaquin sold ice-cold water to tourists in the French Quarter.
On July 21, police say Jaquin and his uncle shot and killed a man. The primary evidence against Jaquin was his uncle's statement, Jaquin's co-defendant. More than a dozen family members and friends say that like the uncle, the state's narrative of Jaquin wasn't credible. Still, in the absence of judicial discretion, and unable to post bail, Jaquin was transferred from the city's juvenile facility to a jail where he languished for nearly three months. On at least one occasion, Jaquin was beaten so badly in jail he was hospitalized.
Tragically, the only surveillance footage of Jaquin came 89 days after his arrest. It captured Jaquin in his jail cell during his final minutes. Jaquin stripped the mattress cover from his bed, and tied a knot.
Inside the church in Ville Platte, the viewing period ended, and the funeral service began. The closing of Jaquin's casket was accompanied by the choir's thunderous rendition of "Break These Chains." It was Jaquin's favorite song, and his family's wails were heard above it.
Jaquin Thomas is survived by Tina Thomas, his maternal grandmother, and Guilda Grant, his paternal grandmother; Joseph Grant and Tina Thomas, his parents; Jakia Thomas, Joseph Morgan, and Justin Morgan, his brothers; Jasmine Thomas and Janeka Morgan, his sisters; and a host of uncles, aunts, and cousins.
Related
Popular in the Community