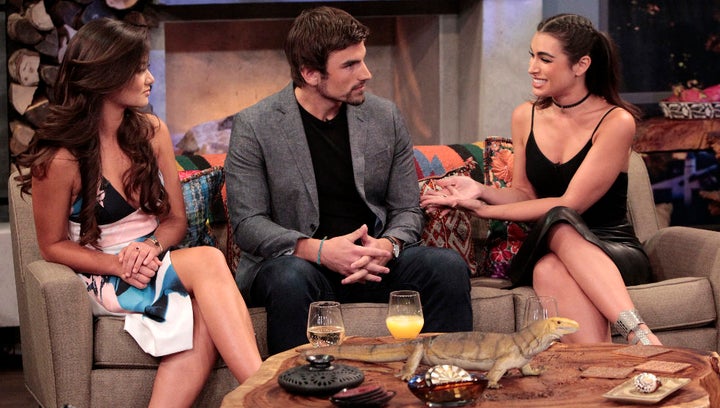 "I was frustrated by a lot of things."
When you talk to Jared Haibon, the soft-spoken ― and sought after ― alum of both "The Bachelorette" and "Bachelor In Paradise" (x2), the first thing you notice is how eloquent and even-keeled he is. But even the calmest man in Bachelor Nation can be pushed too far. 
This season, Jared made a connection with Caila Quinn, who made it far on Ben Higgins's season of "The Bachelor." After his first season on "Paradise" saw him bogged down in dealing with the unrequited passion of Ashley Iaconetti, many hoped he'd finally have a real shot at romance on the show. Instead, Ashley arrived herself, and wasted no time confronting Caila, crying over Jared, and creating a tense situation for all involved. Caila and Jared eventually left "Paradise" before filming wrapped to pursue their relationship off-camera, and broke up amicably after six weeks of dating.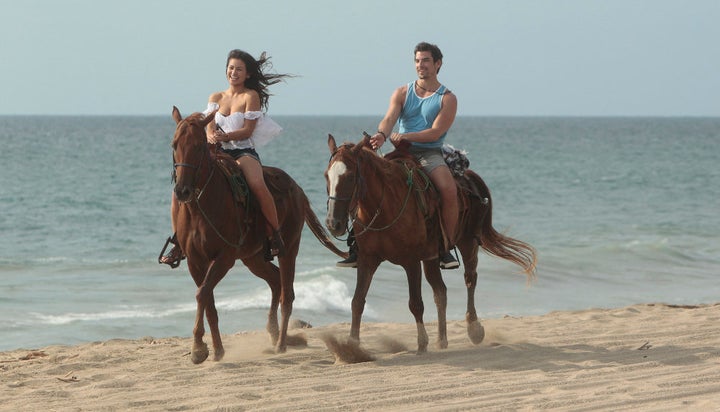 While Ashley has been outspoken throughout the season in her own defense, and Caila has also opened up about her experience, Jared has mostly remained silent about his relationships with the two women and his time on the season ― until now. This week Jared spoke candidly with HuffPost's Here To Make Friends podcast about what happened during his final run on "Paradise," why he was frustrated by pretty much everyone, and where he and Caila (and he and Ashley) stand now. 
On the most frustrating thing about "Paradise"...
"If I had any idea that Ashley was coming into Paradise, even if it was a small percentage, to either be with me or get over me, I would never have gone to Paradise. So I think that was one of the things I was most frustrated by."
On talking to Ashley about the possibility of going back to "Paradise"...
"We talked a lot about it. And then she got a phone call about the possibility of her going on, so she was more understanding the more we talked. We both decided that we needed to make this decision individually, and that if we went we would be going for other people. I knew that she had an interest in Wells, and I had mentioned Caila to her. ... I honestly thought everything was gonna be OK."
On where his relationship stands with Ashley and with Caila today... 
"While I was in 'Paradise,' I had a lot of frustrations towards the things Ashley said and did, and discussed her approach and her unwillingness to try to move past myself until Wells came.... It was a very troubling time for awhile between Ashley and myself. We had a lot of very difficult long and hard conversations, but we talked through everything and I'm still friends with [her]."
"Caila and myself are still friends. Once we left the show, I think there was just so much that happened in Paradise that it was very difficult to move past. Even after the show, I think we had a lot of difficult times. There were some nights where it was causing us so much stress to be together in terms of the conversations we had to have, that we didn't have a strong enough foundation to kind of hold all the weight that was coming down upon us. And that's what happened. Caila and myself are still friends, though."
Why he stayed out of the media frenzy during the season... 
"I am so attached to what happened in 'Paradise.' Even though it was two months prior and I had moved on to a certain extent, watching it just makes you relive all those emotions that you went through and kind of puts puts you right back where you were in 'Paradise.' It's very difficult to talk about, and so I think that's why I decided to just let Caila and let Ashley talk about how they felt and what was happening, and you know, when the time comes, I'll be more than happy to speak my mind." 
To hear the full interview, listen to HuffPost's "Bachelor" podcast, Here To Make Friends. (Skip to around the 28-minute mark for the Jared interview.) 
Do people love "The Bachelor," "The Bachelorette" and "Bachelor in Paradise," or do they love to hate these shows? It's unclear. But here at "Here to Make Friends," we both love and love to hate them — and we love to snarkily dissect each episode in vivid detail. Podcast edited by Nick Offenberg.
Calling all HuffPost superfans!
Sign up for membership to become a founding member and help shape HuffPost's next chapter
BEFORE YOU GO
PHOTO GALLERY
Tweets About 'Bachelor In Paradise,' Week 6