WASHINGTON ― Donald Trump Jr.'s decision to meet with a Kremlin-connected lawyer after being promised damaging information about Democratic presidential nominee Hillary Clinton is likely the biggest bombshell yet in the ongoing investigations into whether the Trump campaign colluded with Russia during last year's election.
The meeting with Russian lawyer Natalia Veselnitskaya is the first confirmed sit-down between members of Trump's inner circle and Russians during the campaign. And while the younger Trump's participation in the meeting merits immense scrutiny, the encounter raises perhaps even graver questions about Trump's son-in-law and senior adviser Jared Kushner, who also attended ― particularly given his outsized role in the White House.
On Monday night, The New York Times reported that Donald Trump Jr. knew the information he was being promised prior to the meeting was part of a Russian government effort to help his father win the 2016 election. The younger Trump says he asked Kushner and then-campaign chairman Paul Manafort to join the meeting, yet claims he "told them nothing of the substance" about it beforehand.
It was Kushner's initial failure to disclose the meeting that led the Times to report on it in the first place. Kushner had filled out a form to receive the highest level government security clearance and had later revised it to include the previously undisclosed meeting.
It's not the first time Kushner has omitted meetings with Russian officials on government forms, which is illegal. The national security form requires that applicants list "any contact with a foreign government" over the last seven years. Knowingly concealing or failing to disclose that information is a federal felony.
Kushner previously failed to disclose two meetings during Trump's transition. One of them involved him, former national security adviser Mike Flynn and Russian Ambassador Sergey Kislyak discussing the possibility of establishing a "backchannel" with Russia. The other meeting was with the head of a Russian state-owned bank, set up at Kislyak's request.
Kushner's lawyer claimed at the time that the omissions were simply an error.
Flynn resigned in February after misleading the Trump administration about his own interactions with Russian officials.
Donald Trump Jr. can attempt to distance himself from the White House, given that he does not have a role in his father's administration. In his initial statements addressing the June meeting with Veselnitskaya, the younger Trump insisted that his father had no knowledge of the meeting.
But Kushner is a senior White House adviser with a security clearance that grants him access to top-secret information, raising the stakes far higher.
This article has been updated to clarify that knowingly concealing or failing to disclose foreign meetings constitutes a federal felony.
Before You Go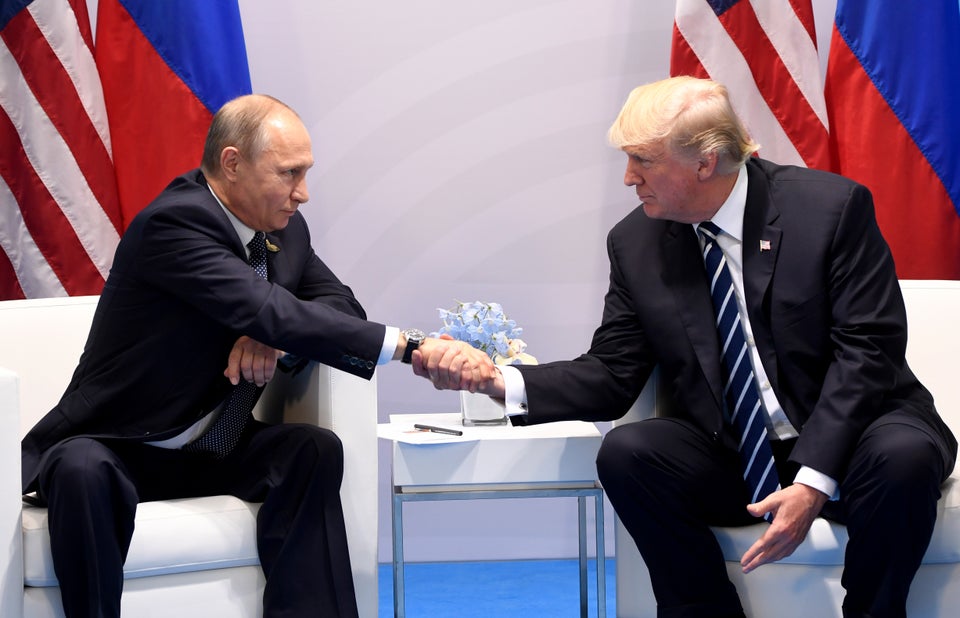 Trump Meets Putin During G-20 Summit
Popular in the Community