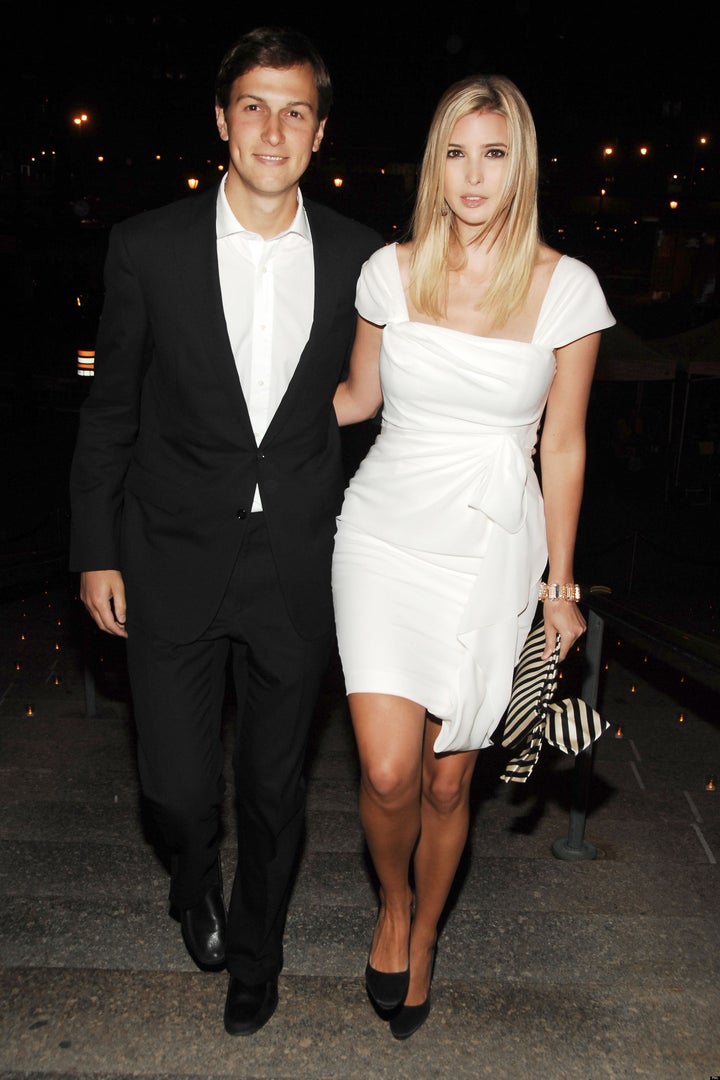 "I got engaged last night...truly the happiest day of my life!!!" Ivanka tweeted (the Huffington Post has confirmed the authenticity of the IvankaTrump Twitter account).
WWD reports that Kushner surprised Trump Wednesday with a 5.22 carat cushion-cut diamond with a platinum and diamond mounting from Ivanka Trump Fine Jewelry, her signature jewelry line.
Kushner and Trump, both offshoots of wealthy real estate families, split briefly in early 2008 after dating for over a year, reportedly over Kushner family concerns that Trump was not Jewish. They reconciled shortly thereafter and she has since been studying for conversion.
"Jared and I are very similar in that we're very ambitious," she told Sherman. "That's what makes it so amazing to be in a relationship with someone who is supportive of that. I'm happy for him when he is in the office working late. I know how good that feels when you sit down and return e-mails."
Dating Ivanka was fraught with family peril. Though she is converting to Judaism, studying with Rabbi Haskel Lookstein at Congregation Kehilath Jeshurun on East 85th Street, it has not always been easy. Jared's mother, in particular, has struggled with their relationship. Last summer, Seryl told Jared to cool it. They broke up for a time but soon got back together.

Ivanka told me she and Jared plan to marry, but they aren't officially engaged. "I am studying," she said of her conversion, "and it's been an amazing and fulfilling experience for me ... One of the jokes I first started making when Jared and I first started dating is, I'm a New Yorker, I'm in real estate. I'm as close to Jewish, with an 'i-s-h' naturally as anyone can start off."
Related
Popular in the Community