According to the report, Kushner discussed that possibility with Russia's ambassador to the U.S., Sergey Kislyak, in December, before Trump's inauguration. Specifically, Kushner reportedly asked about using Russia's diplomatic facilities to secure the channel to avoid being monitored.
That suggestion surprised Kislyak, who is widely believed to be involved with Russia's spying operations, according to the Post:
Kislyak reportedly was taken aback by the suggestion of allowing an American to use Russian communications gear at its embassy or consulate — a proposal that would have carried security risks for Moscow as well as the Trump team.
Former national security adviser Michael Flynn, who was fired in February after he discussed U.S. sanctions against Russia with Kislyak and then lied about it, also attended the meeting, as was reported in March.
The White House didn't immediately return a request for comment on the Post's report.
The article comes one day after the Post reported that Kushner is under investigation as part of the FBI's probe into whether Trump's campaign team actively colluded with Russian officials to try to sway the outcome of the 2016 presidential election.
Kushner is one of Trump's most trusted advisers and has been tasked with myriad policy issues in the White House. He is married to Trump's eldest daughter, Ivanka, and had spent his career as a real estate developer.
In March, it was revealed that Kushner had failed to disclose his meeting with Kislyak in December as well as a sit-down meeting with the head of a Russian state-owned bank on his security clearance forms for his White House post. Kushner has agreed to meet with the Senate Intelligence Committee to discuss those meetings.
The White House has described both meetings as routine.
On Kushner's talk with Kislyak, the White House said in March: "The two spoke about potentially establishing a more open line of communication in the future. The meeting was similar to dozens of others that took place over the course of the campaign with representatives of other foreign countries. They have not reconnected since the initial meeting."
The Post's article about Kushner is just the latest in a string of reports about Trump associates' alleged ties to Russian officials.
Earlier this week, The New York Times reported that Russian officials had discussed how to influence several Trump campaign officials, including Flynn and onetime campaign manager Paul Manafort. Both Flynn and Manafort are under FBI investigation for their ties to Russia.
The Washington Post reported Monday that Trump had allegedly asked his intelligence chiefs to publicly push back on the Russia investigation, a request they denied.
And last week, reports emerged that Trump allegedly asked then-FBI Director James Comey in February to stop his bureau's investigation of Flynn. Trump fired Comey roughly three months later, citing "this Russia thing" as part of why he decided to terminate the FBI director.
Amid increased scrutiny and talk of impeachment, the Justice Department has appointed former FBI Director Robert Mueller to serve as special counsel to oversee the Russia probe.
Trump and the White House, meanwhile, have denied any wrongdoing and have dismissed the Russia investigation as a "witch hunt."
Before You Go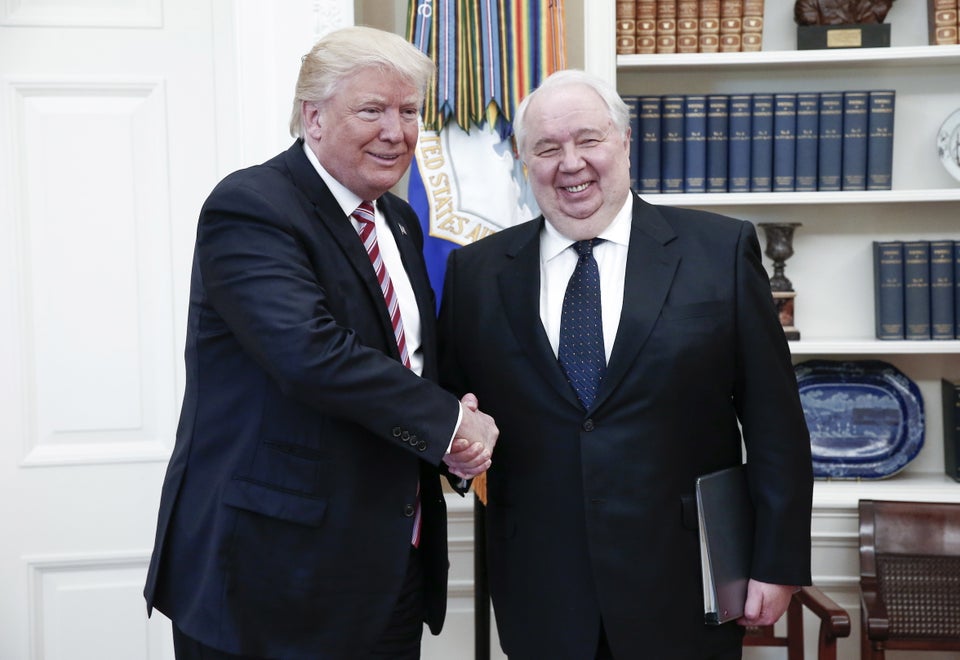 Donald Trump Meets With Russian Officials
Popular in the Community