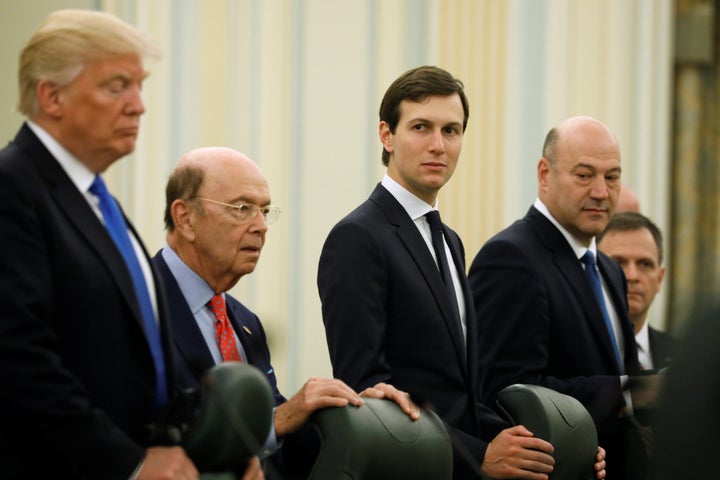 The 18 Democrats on the committee penned a letter to White House Chief of Staff Reince Priebus Wednesday, seeking records on security clearance and his access to classified information of Kushner, a close adviser to the president who flew to Israel this week in an attempt to broker peace in the Middle East.
"We have serious concerns about whether the White House is properly safeguarding classified information," the letter begins.
The Democrats say Kushner had "failed to disclose contacts with dozens of foreign officials on his security clearance application," including at least three interactions with Sergey Kislyak, the Russian ambassador to the U.S.
Their letter questions why Kushner's security clearance had not been revoked in light of this report.
"In general, when there are credible allegations that employees may be unfit to continue accessing classified information, security clearances are supposed to be suspended while the allegations are investigated," the document reads.
In an interview with CNN on Wednesday, Rep. Mike Quigley (D-Ill.) said Kushner's security clearance should "absolutely" be suspended until the Russia probe is concluded. 
In their letter this week, the Democrats also requested that the White House release documents related to the security clearance of former National Security Adviser Michael Flynn, who resigned in February for discussing U.S. sanctions against Russia with Kislyak. The letter questioned why Flynn also retained his security clearance even after he was accused of lying about his discussions with the Russian ambassador. 
"General Flynn was allowed to stay in his position for 18 days after the [then] Acting Attorney General [Sally Yates] warned the White House about General Flynn's action, but neither the President nor any other White House official has explained why he was allowed to continue holding a security clearance during that period," the letter states. 
As for whether the White House will even respond to the letter, NPR painted a bleak picture on Wednesday. The Trump administration has ignored 260 letters from House Democrats to date, the outlet reported, and has been leaning on a recent Justice Department opinion which states that only committee chairs have the authority to ask federal agencies for information on what they're doing. This excludes most of Congress, including many Republicans and all Democrats, NPR said. 
Republican Senator Charles Grassley, the chairman of the Judiciary Committee, skewered the opinion in a letter to President Trump sent earlier this month. 
"Oversight brings transparency, and transparency brings accountability," said Grassley. "And, the opposite is true. Shutting down oversight requests doesn't drain the swamp, Mr. President. It floods the swamp."  
Calling all HuffPost superfans!
Sign up for membership to become a founding member and help shape HuffPost's next chapter
BEFORE YOU GO