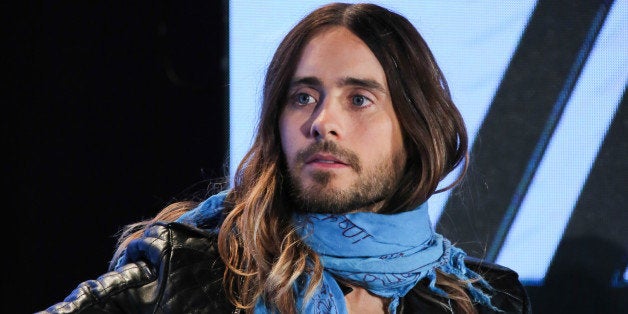 In a new interview with the U.K.'s Evening Standard, Jared Leto revealed that he considered attending the 2014 Academy Awards dressed in drag as tribute to Rayon, the transgender woman he played in the blockbuster film "Dallas Buyers Club."
"I thought about dragging up for the Oscars, going as Rayon, because I knew that she would have loved to be there," Leto said. "It's so much work for girls to get ready. I was brought up by my mum, so I always had an appreciation of women. But now I have more respect for the process. It's a lot, what women have to do to themselves. But in the end, when you put that final dash of lipstick on and your look all comes together, it really is a glorious reward."
While the Academy honored Leto for his portrayal of Rayon in "Dallas Buyers Club," many members of the transgender community critiqued the choices surrounding both his casting and the recognition he received for the role.
"Leto's portrayal was of a particular fictional transgender person at a particular time," Mara Keisling, executive director at the National Center for Transgender Equality, previously told The Huffington Post. "But we can't forget that transgender people like Rayon did exist and do exist. To the film's credit, I think it accurately showed what the life of this brave person must have been and how she was treated. Our job is to make life better for transgender people like Rayon in the real world, and it really helps to have these lives told by Hollywood."
In early February, Leto also became subject of heckling during a film festival Q&A at the Santa Barbara film festival. The heckler accused Leto of "trans-misogyny" and told the actor that the didn't "deserve an award for portraying a trans-woman, because [he's] a man." Leto responded by questioning the heckler as to whether they would frame their argument the same way if a gay or lesbian were portraying a straight role.
He was also criticized for his Golden Globes award acceptance speech in which some argued that he trivialized transgender experiences by focusing on physical attributes. In addition to talking about his "tiny little Brazilian bubble butt," Leto also discussed the pains of waxing his body and how he was "fortunate that it wasn't a period piece so I didn't have to do a full Brazilian [wax]. Ladies, you know what I'm talking about though… and so do some of you men, I think."
Calling all HuffPost superfans!
Sign up for membership to become a founding member and help shape HuffPost's next chapter
BEFORE YOU GO
PHOTO GALLERY
15 Things To Know About Being Transgender By Nicholas M. Teich