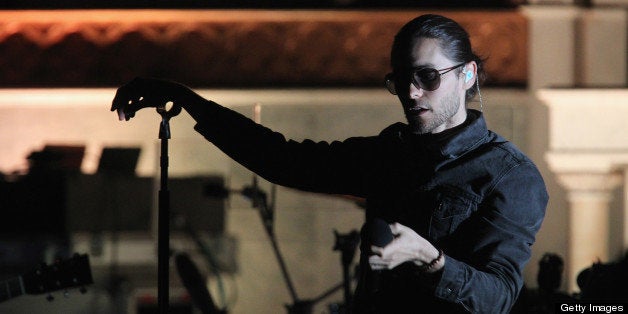 While you weren't paying attention, Jared Leto was touring the world and playing rock and roll for hundreds of thousands of rabid fans. Except he doesn't like the word "fan," because he finds it insulting. Thirty Seconds to Mars, the band Leto fronts, doesn't have "fans," they have a "family."
"We do a lot of interviews and all these people keep asking us about you," Leto said to the crowd at the New York stop of the Church of Mars show, an aptly titled string of dates during which the band plays in churches. "It's great because I think a lot of bands don't get asked about their ... 'fans'. People sort of scratch their heads and don't really seem to get it. Which is funny, because I think all of you understand what a family is."
To say Thirty Seconds to Mars has been overlooked isn't quite true given the sheer size and devotion of its fanbase and as well as the band's sales record (the group has sold well over 10 million units). Leto, who has been a celebrity since he appeared on "My So-Called Life" in the mid-'90s and starred in a number of critically acclaimed movies ("Requiem for a Dream," "Panic Room," "American Psycho") while also cultivating a healthy music career. But the man who has been voted on plenty of "Most Beautiful" lists never became a music snob's favorite artist, and as a result, the band has been ignored by the press -- and the music press in particular.
Whether it's Leto's background as an actor or the band's impressively commercial style, they've never been critically appreciated. The only Pitchfork articles ever written on the band are about Leto's collaboration with Kanye West (for "Hurricane," an experience Leto described thusly: "He's very spontaneous and he doesn't really second guess himself"), and Thirty Seconds To Mars' involvement with Guitar Hero, a video game.
Not that Leto minds. "How many people do you need to love you in this world?" he asked during an interview by the fireplace in the suitably dark Bowery Hotel in New York. "You do your thing, and it's OK. I don't think we've reached a nostalgia era yet and I don't think we had that explosive part of our career in a pop way where we would have been a Rolling Stone darling. We may never be anyone's darlings."
There was a moment, however, during which they were quite popular with the press. Leto and his bandmates were sued for breach of contract for $30 million by EMI in 2008, an experience that left them understandably rattled. "It was an intense period of life," he said. "It wasn't just a headline. It was very real. We could have battled and lost and then owed a corporation $30 million and seen our careers just implode."
"I actually felt the most supported by the press in that battle than I'd ever felt in my life, and that was great," he continued. "I felt like, 'OK, we are doing the right thing.' People really rallied around us and I'm thankful for that."
All it took, essentially, for people to see Leto and his band as musicians, was a $30 million noose in the form of a corporation. This is all somewhat confusing, because Leto is a downtown New York kind of man. He's a close friend of photographer Terry Richardson with well-documented interests in art and fashion. He's often spotted at the type of parties that folks with regular jobs and lifestyles don't know are happening. But Thirty Seconds to Mars is the opposite of all of that. It is readily accessible (Leto even says the band was never associated with any movement or genre in music, nothing that "we never really belonged to a scene or group or movement"), and its fans, if unified by any single trait, are precisely the type of folks who could never get into the soirees Leto enjoys, even if they showed up and used his name at the door.
That he can so convincingly play their patron saint -- "Church of Mars," anyone? -- speaks to his chameleon-like ability to make anyone feel important. He's exceedingly polite, speaking at a cautious rate and often waiting five seconds or more before sentences. When we conclude our interview, he invites me to the show and directs me to "find" him and say hello, even though it's abundantly clear to both of us that that will prove to be a logistical impossibility (exacerbated by the fact that the band showed up well over an hour late for their performance).
But he gives it his all, and it works because he's actually just a really nice guy. During the performance, Leto joked with the crowd, lurched up and down the aisle of the church, grabbed shoulders of screaming attendees and at least pretended to ask what they wanted to hear. He's a man of two worlds: a rock star to young-ish crowds of everymen and a high-brow, mysterious art movie star.
There are some strands of Leto's personal image in band's output. For example, the cover art for "LOVE LUST FAITH + DREAMS" was designed by Damien Hirst, who somehow found some more dots in his arsenal. Leto is involved with every step of the album's creation and production. "That's very important to me," he said. "Whether it's working with Damien Hirst or going to space or inviting the U.S. gymnastics team to be a part of the video [for "Up in the Air"], I've been very involved with that. All of it comes from a place of curiosity and fun. I never think about it in terms of marketing. I think about what's exciting."
A "loud, bombastic rock record" wasn't exciting to Leto anymore, which is why "LOVE LUST FAITH + DREAMS" is "very cinematic and atmospheric" and focuses on "that collision between orchestral and synthetic -- analog synthesizers with strings, electronic drums with big, driving, organic drums." Recorded in Berlin, Tokyo, Paris and multiple cities in India, the project is global -- at least in its ambitions. Leto refers to it as "a listening experience" and notes that the reason they've been so successful is because, given the absence of breakout singles and pop moments, they've often focused on albums.
"When we went on tour and started selling 20,000 tickets a night, that's when it hits you smack in the fucking face," he said. "You can't deny it. You know you're reaching people when they come to see you, night after night after night. That's when it's just astounding -- and they're singing the songs. Every song."
Music aside, Leto returns to film this year with "Dallas Buyers Club," a Jean-Marc Vallée movie in which Leto stars across Matthew McConaughey and Jennier Garner. His jump back onto the big screen comes after half a decade without a single major acting credit to his name. "I really only need to participate in projects that inspire me," Leto explains. "Life is too short, you should only do what you're very passionate about. I fell in love with the script and the opportunity. I wasn't looking to make a film, I don't know how much time would have passed if this hadn't come my way. Maybe 10 years."
Leto lost a drastic amount of weight for the role and still cuts an extremely slight side profile. "Nobody asked me to lose any weight," he said. "But I was playing a transsexual woman with AIDS who was also a drug addict, so it seemed like an important part of the process. When you're in that place -- where I have been before with 'Requiem [for a Dream]' -- you're constantly craving. It changes the way you talk, the way you walk and the way you breathe. It changes everything about you. I was so focused, I didn't have relationships with anybody. Except my high heels."
Since his child star days, Leto has worked with some of the most important art-film directors of the past half-century (David Fincher, Terrence Malick and Darren Aronofsky). His movie career, like his personal life, stands in stark contrast to his musical output. But you can bet that as the band tours the world again starting Monday, Jared Leto will be there, playing rock-God to all the kids who can't get into his parties.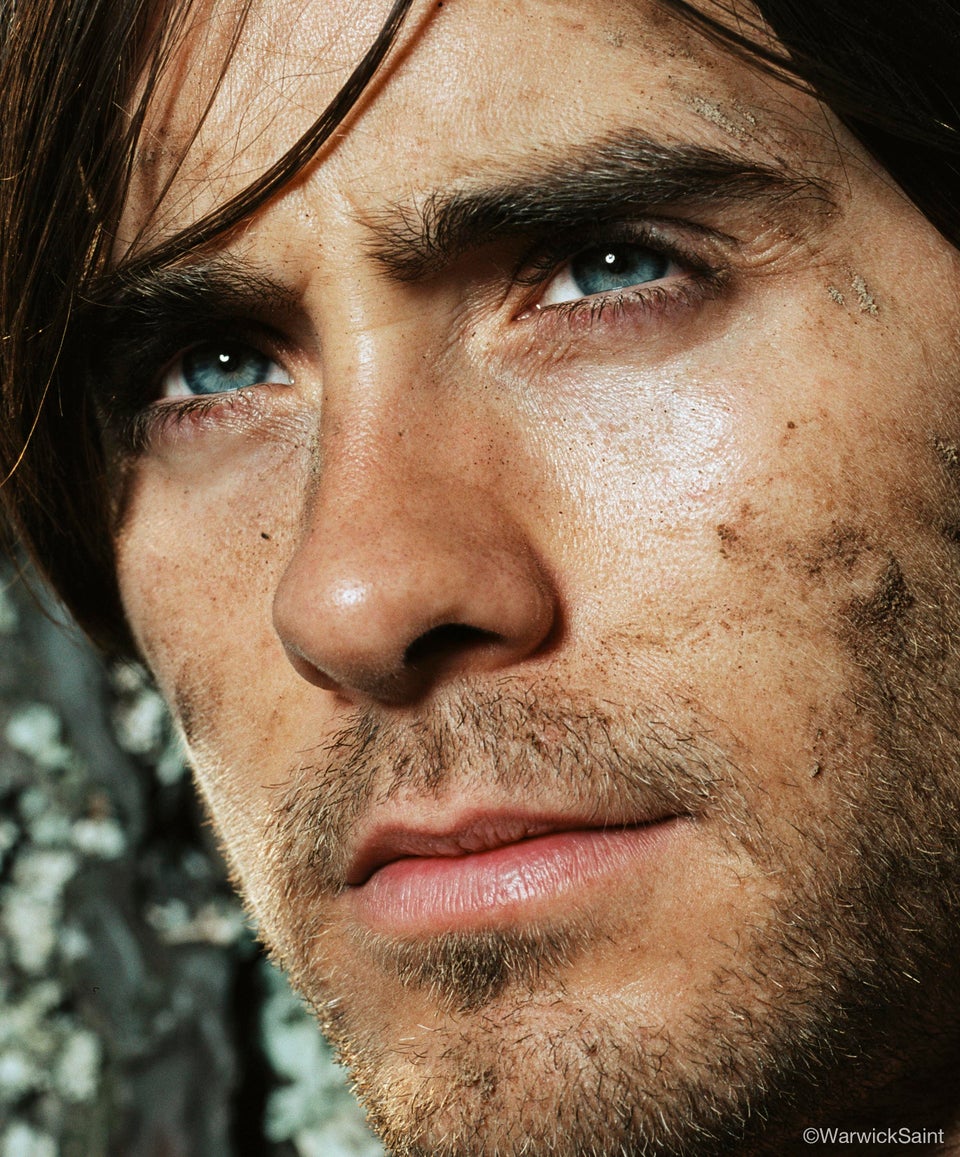 Jared Leto Poses With Elephants
Popular in the Community