Whether "Blade Runner" character Rick Deckard (Harrison Ford) is a human or not has confounded and intrigued audiences for 35 years. Ford himself tells us the question of Deckard's humanity makes up the very "fabric" of what "Blade Runner" is. 
The actor has gone on the record saying he believes Deckard is a human. "Blade Runner" director Ridley Scott, on the other hand, has said Deckard is a replicant, aka an android. Today, it appears neither of them has the final word.
That decision goes to Jared Leto.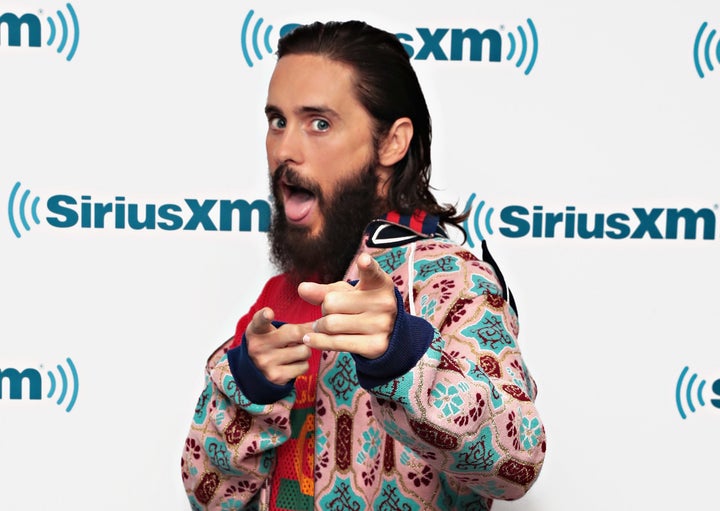 Leto, who counts the original "Blade Runner" as one of his favorite films, plays "villain" Niander Wallace in the 1982 movie's follow-up, "Blade Runner 2049." Directed by Denis Villeneuve, "2049" hit theaters earlier this month, bringing Ford back to the saga in his original role. 
In one scene in "2049," Wallace brings Deckard to his headquarters for reasons that are too spoilery to mention. Wallace is blind, but he is able to see using special flying cameras that seemingly transmit information directly to his brain, and he uses these cameras to scan Deckard's mind.
Because of this scene, Leto says the director has given him the power to ultimately determine if Deckard is human or not.
"Denis gave me a great gift," the actor told HuffPost. 
"I see inside of Deckard, and [I asked] Denis, 'Well, what do I see?' And he takes a long pause, and he goes, 'It's your decision to make.' So in a funny way, besides Deckard himself, I may be the only person who knows."
The actor continued, "[Denis] says, 'You can decide. It's up to you to decide.'"
"I know Ridley has one opinion. Harrison has another. Denis has another. But he said to me, since I'm the one who actually scans his brain and looks inside, that I can make the decision, so now I get to hold this secret with me," he said.
Has Leto made the decision?
Would that answer be forthcoming in a sequel?
"I'm sure it would," he said.
The actor told us more about the "2049" filming process and what he thinks about Villeneuve comparing him to Jesus. 
We know you don't watch your movies, but you've said you're a big "Blade Runner" fan. Are you going to watch this one? 
I'm in it very sparingly, so it probably wouldn't be that painful of an experience. I shouldn't say that ― even painful. There are pretty logical reasons I don't watch the films, as well. You have an experience making them, and it can be really beautiful, and you don't want to change that. You also don't want to be self-conscious. You don't want to think about acting from the outside in, and whether something works or doesn't work. I don't know if that's even good information to have because if it works you're bound to repeat it, and if it doesn't, maybe it didn't work because of the context. But it would work in another situation. I tend to stay away from self-review.
Since your character is blind in the movie, and you wore contacts so you were blinded too, what's it like acting with Harrison Ford and not seeing him?
I was fortunate because, had I been looking at his face, I probably would've needed a diaper, or I would just have been scared shitless. Either way, I do think it helped. And he was so patient and generous and supportive. He had such faith in me, and he was so kind. It doesn't happen like this. I don't get the opportunity to talk to people about a film and to say these sort of things all the time. It's a really special experience.
When your director saw you walking on set, he compared it to seeing Jesus walk into a temple. What's your reaction to hearing that?
I think it says a lot about Denis and who he is, what a big heart he has, how much he cares, and how much faith he has in the people around him. That's a huge gift to give everyone, not just the actors to wardrobe to hair to the cinematographers. He really is a special person. He's an absolute genius, and I think one of the best directors in the history of cinema.
You wore the contacts, but you also said you didn't "dive as deep down the rabbit hole" for this role. Why is that? Is it at all in response to all the exaggerated headlines about your acting with Joker, which you've said were untrue?
I work the way I work because I want to do the best job that I can for the other actors, for the director, for the writer, for the studio, for the audience, and I do whatever's necessary to try my best to deliver. I don't always deliver. I fail miserably all the time. That's why you get a lot of takes.
Also, you shouldn't be too hard on yourself.
Well, I mean, I think it's just the truth. I fail more than most. I try a lot, and I experiment a lot, but along with that comes failure, and that's not such a bad thing. You learn from it. It teaches you so much. It encourages and inspires you to do better, but certainly a lot of the stuff has been taken way out of context. I understand why. It's titillating. Those stories can take on a life of their own, but I think some of that stuff, it's better not even to talk about it. Just let people enjoy the performance, but I tell you, both on Joker and on "Blade Runner," I had the time of my life. Roles of a lifetime and some of the best acting experiences I've ever had. I enjoyed this time with the "Blade Runner" family, and it was absolutely mind-blowing.
We've heard your part was meant for David Bowie or inspired by Bowie. What's it like stepping into those shoes?
An absolute honor. Everything about this film is humbling, working with Harrison Ford and having these monologues with one of my heroes standing on the set, with a genius like Denis, a master craftsman like Roger Deakins, with a phenomenal script that was an incredible Bible, and then the cast of incredibly talented people who I absolutely adore as artists. Robin Wright, who is such an inspiration to see her doing some of the best and most exciting work of her life, and she's always done exciting work, but to see her continue to do that and just be an inspiration for actors everywhere. And then Ryan Gosling, who I've always loved, and he started out, for me as an actor watching him from afar, as this intense Sean Penn-type of dramatic actor, and then to kind of start showing the world this other side, this comedic side, is just incredible. And it's so mind-blowing to do what he does, to be able to go from being the funniest guy on screen to the most dramatic guy on screen. That's really not easy.
Is that something you would want to do?
Absolutely. But I'm not funny at all. I'm as funny as a funeral. I'm funny at a Thirty Seconds to Mars concert, just because I'm ridiculous. And I'm funny to look at, probably, with what I wear, but I'm happy to make people smile and laugh, even if it's at my expense.
For Thirty Seconds to Mars, what was the reason for all the "Shining" imagery in "The Kill"?
Just because I was obsessed with "The Shining." I forgot what it was, but I had two video [ideas]. One had to do with the idea of identity and multiple versions of yourself, your doppelganger, and then the other was "The Shining." And I just combined them.
I remember it was funny. It was 2006. We finally had a song that was connecting after years and years and years. It was "The Kill," and I directed the video myself. The record label had dropped us, everything was riding on this one video ... and I got back the rough cut, and I thought I had ruined our career. It was the worst thing. I watched it, and my heart was pounding. I was in a cold sweat. I never had this response to anything. It was absolute anxiety attack, and then I took it and re-edited the thing and re-edited and worked on it for like a month, and just kept working on it, and then it connected. It turned into something that changed our lives.
Another lesson in failure by Jared Leto.
"Blade Runner 2049" is in theaters now.
This interview has been edited and condensed.
REAL LIFE. REAL NEWS. REAL VOICES.
Help us tell more of the stories that matter from voices that too often remain unheard.
BEFORE YOU GO
PHOTO GALLERY
Actors Who've Gotten Skeletal For Roles