Jared Yates Sexton, a New York Times contributor and assistant professor of creative writing at Georgia Southern University, shared with HuffPost several threatening messages directed at him since he unmasked the troll Sunday. In one, a Reddit user warns of a looming "journocaust" — presumably a holocaust for journalists. In another, a Twitter user says there's "a civil war coming" and that memes — specifically, the antisemitic one by the creator of the video that Trump shared — are "the least" of Sexton's problems.
"There's a fever pitch to this dialogue that is dangerous to everybody," Sexton told HuffPost. "And it's the people who are mentally ill, who are unhinged, who are unwell — they pick up on this stuff. And they are really, really moved to act by it."
"If we keep this up, there's going to be more consequences," he added. "That's just a fact."
Following Trump's tweet, Sexton revealed in a series of posts to Twitter that HanAssholeSolo has an ugly history of online racism and anti-Semitism.
Having written about the rampant homophobia, misogyny and racism at Trump rallies along the campaign trail, Sexton is no stranger to online harassment. But after he exposed the type of person Trump had elevated, Sexton said neo-Nazis and nihilists "came out of the woodwork."
This violent internet culture is nothing new. What has changed, Sexton told HuffPost, is many in this world feel empowered by and have found a hero of sorts in Trump. And many have embraced the president's clear hatred of the press, with calls for bloodshed and civil war.
"I think a lot of these people have a shared idea that this would be a time where they would basically be able to kill liberals," Sexton said. "With a little bit of research what I've found is there are large online havens where they talk about widespread murder of journalists. They fantasize about killing them in the streets, like a revolution. They have terms for it, like 'day of the rope.'"
Sexton said he's been subjected to an "overwhelming" amount of harassment. On Monday, he posted a series of tweets about what journalists are up against in 2017.
"This environment is the creation of the man in the White House. There are valid criticisms of the media, many on point, this isn't that," he added on Twitter. "When you start calling a group of people enemies of the country, this is what happens. When you call them scum, this happens."
"This shouldn't be a country where these violent instincts are cultivated and encouraged," he continued. "We're at a real tipping point right now. But make no mistake, there's something growing in this country, and it is very, very ugly."
While Sexton's inbox and Twitter account were being flooded with threats, HanAssholeSolo was basking in their newfound internet glory.
"Holy shit!!," the user wrote on Reddit following Trump's endorsement. "I wake up and have my morning coffee and who retweets my shitpost but the MAGA EMPORER himself!!! I am honored!!" Many other Trump-supporting Reddit users extended congratulations, with one admirer calling HanAssholeSolo a "legend."
By sharing the meme, Trump has "given more power to an obvious racist, anti-Semite and misogynist," Sexton told HuffPost; he has sent a clear message that such behavior is acceptable.
In a response, CNN said it's "a sad day when the president of the United States encourages violence against reporters." It called the tweet "juvenile behavior far below the dignity of his office."
The Washington Post also looked into the Reddit user's disturbing history, noting a post in which he or she claimed to carry "punch blades" while traveling in Paris, in case "any of those Islamic fucks tried shit with me would get an immediate punch to the neck with 2 inches of titanium embedded in their throat."
The Anti-Defamation League's Center on Extremism, which tracks extremism and hate online and offline, analyzed the Reddit account and found "an 18-month record of vile comments and memes against Muslims, African-Americans, Jews and others."
Although not much is known about the person, ADL said some posts indicate the user is "a parent and a veteran in his 40s living in Tennessee." The organization compiled a number of the user's disturbing posts.
"In an online culture where sharing of memes and comments is the ultimate validation, this obvious purveyor of hate has been elevated by what can be considered the ultimate share," the group wrote.
Sexton said he's becoming increasingly concerned about the long-term effects of such hateful discourse.
"It might be a couple of generations before we actually understand how much damage has been wrought here and what the long-term consequences are," he said. "Some of it is violent and some of it is social and personal. We're going to find out in the long run what this has done and it's probably going to be significant."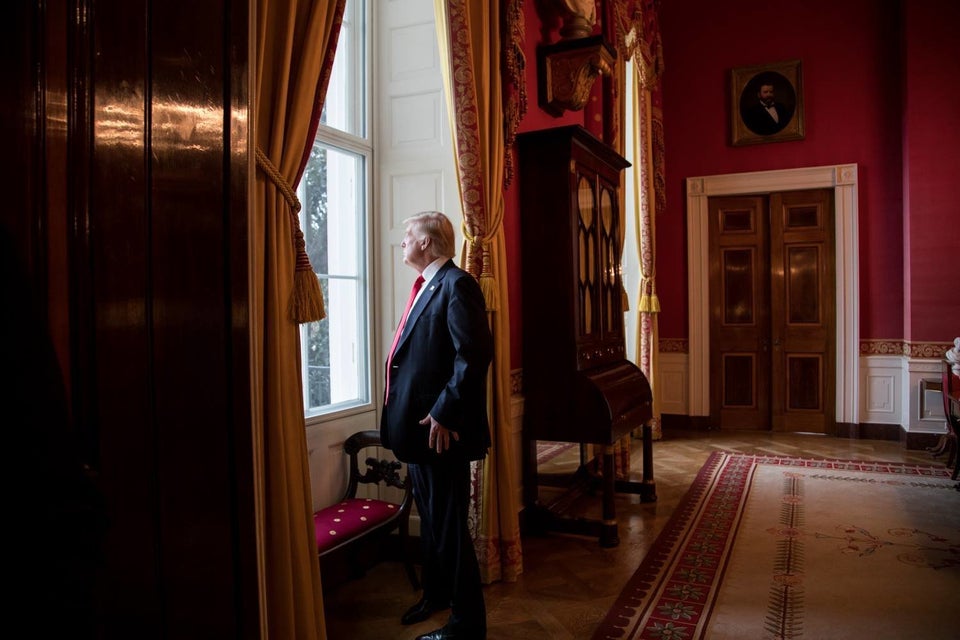 Trump's First 100 Days
Popular in the Community