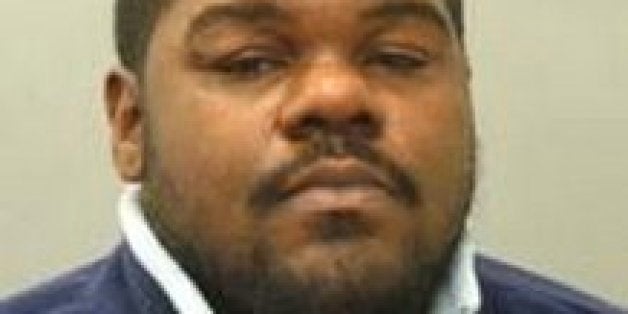 A correctional officer in Ferguson, Missouri, is accused of raping a pregnant woman who was in his custody.
Jaris Hayden, 29, was arrested last Wednesday on suspicion of having sex with a prisoner, permitting escape, and corruption, the St. Louis Post-Dispatch reported. He has since been released on a $10,000 bail.
A federal lawsuit filed last Friday against the city and the officer accuses Hayden of raping an inmate before releasing her.
A copy of the lawsuit obtained by The Huffington Post claims that the victim -- who is being identified by the initials J.W. -- was arrested in October of last year after being pulled over for an expired license plate and charged with giving a false name.
The victim admits to providing a false name in the lawsuit, but says that she was raped by Hayden, who allegedly made countless sexual advances to her before the act.
Hayden told the victim, "You smell good" as he booked her into the City of Ferguson jail. J.W., who was visibly pregnant, complained of having pain and discharges.
The victim's boyfriend posted J.W.'s bond. As Hayden removed the woman from her cell, he allegedly told her: "You're the type of girl that can get me in trouble."
J.W. said she was crying and kept asking to go home. That's when Hayden told her to follow him and led her to the City of Ferguson jail's boiler room, the suit alleges.
There, Hayden unbuttoned his pants, allegedly telling the victim: "You gonna suck my d--k."
J.W. said she complied out of fear before Hayden brought her further back in the boiler room, bent her over and "indicated that he was going to have intercourse with her," according to the suit.
During the incident, J.W. managed to obtain some of Hayden's pubic hair, which DNA analysis confirmed to be the suspect's, the suit says.
Hayden allegedly told J.W. to then "run and stay close to the building" so that she would not be captured on security cameras.
The lawsuit also alleges civil rights abuses by the city, including the shooting death of unarmed teen Michael Brown by officer Darren Wilson.
"Discovery will produce other acts of violence, all contributing to a pattern and practice of allowing violence and sexual assault on members of the public," the suit says. "The numerous acts of violence against the citizenry by law enforcement of the City of Ferguson constitute a pattern."
A call to the City of Ferguson jail was not immediately returned.
Read the full suit below.
Like Us On Facebook |

Follow Us On Twitter |

Contact The Author
Related
Popular in the Community