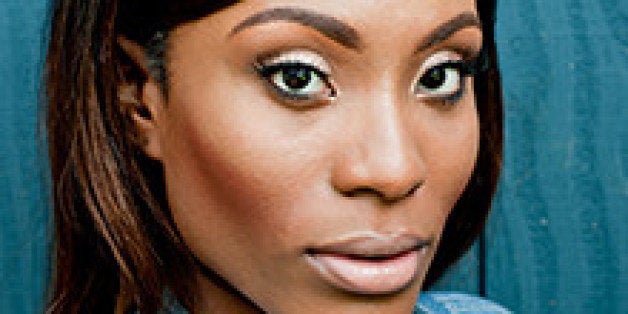 Jasmin Richardson sat in the audience when Memphis was a breakout hit on Broadway, and watched Montego Glover star as the powerhouse vocalist Felicia Farrell.
"I would love to do that show," the Houston native recalls thinking, though she only imagined herself as part of the ensemble.
"I don't think that I even thought about being Felicia, because Montego was so fantastic in it," Richardson says. "And the music was just vocally hard. She's constantly belting, constantly singing really high. I loved it, but I never really thought, 'Oh, I would be Felicia in it.'"
Tonight, that's just what the crowd at Rudder Auditorium will see. MSC OPAS presents Memphis, which won the Tony for best musical in 2010, for a two-night stay. The musical was written by Joe DiPietro (I Love You, You're Perfect, Now Change) with music by David Bryan (best known as the curly haired keyboardist for Bon Jovi).
The premise: A white DJ named Huey Calhoun (played by Joey Elrose) aims to get black music on the radio in 1950s Memphis, including the talented Farrell (Richardson). The two fall in love amid the racial tension of the era.
Back in Houston, Richardson grew up with obvious musical inspiration. Her grandmother sang in a long-running gospel group called the Houston Harmonettes, and her mother is a high school theater teacher.
"Those two women are my biggest inspirations, and without them, I don't think I would be where I am," Richardson says.
Though Richardson says she enjoyed singing and writing songs as a child, she couldn't hold a note. Her mother "would pray that God would allow me to learn, or to acquire some kind of skill, because I loved to do it so much," she says. "So thank goodness for her prayers."
Richardson gravitated toward theater in high school and graduated with a musical theater degree from Abilene Christian University in 2009. From there, she hit the cruise-ship circuit, performing in shows at night and seeing Europe and the Caribbean during the day. She saved enough money to make the move to New York and started auditioning. One of her first big scores was landing the role of Deena Jones in a national tour of Dreamgirls.
"It really was a dream role," she says. "It was my first big lead that I booked in New York. It was a huge experience and a huge learning curve. I learned a lot about myself and a lot about performing in general, and what it takes to do eight shows a week."
That experience helped to prepare her for Memphis, she says. She calls the Memphis storyline "intense," though it's balanced by "beautiful music and really funny lines."
"It's not so heavy the entire time," she says, "but it has a lot of weight to it in the fact that a lot of issues that we deal with today -- equality and people marrying who they want to marry -- is still very relevant."
As for life on the road in a touring show, Richardson says bluntly, "It's hard." The travel and the different climates can take a toll on the performers' voices, she says.
"But I wouldn't have it any other way," Richardson says. "That's what makes it rewarding. It's not necessarily the easiest thing, but when you get onstage and the audience responds to your story and they get it, that makes it so worth it. And my cast is so fantastic. So honestly, I am having the time of my life." ___
(c)2013 The Eagle (Bryan, Texas)
Distributed by MCT Information Services
Calling all HuffPost superfans!
Sign up for membership to become a founding member and help shape HuffPost's next chapter