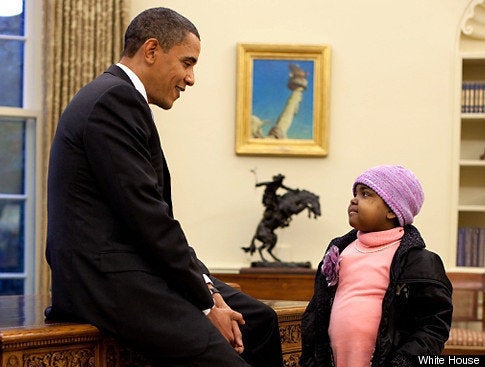 UPDATE 12/4: The White House has released a photo of Jasmina's meeting with the president. Scroll down to see it.
12/3:
Jasmina Anema's journey to the White House to meet President Obama Wednesday was a highlight in what has been a short and difficult life for the leukemia sufferer. The 6-year-old girl's trip from Manhattan to Washington D.C. was sponsored by the Make-A-Wish Foundation and was meant to happen last week, but was cancelled due to her ill-health, according to NBC.
After nearly six months of fighting the disease, Jasmina was thought to be cancer-free when she was released this past July from the Memorial Sloan-kettering Cancer Center.
Unfortunately Jasmina's leukemia returned. Her mother, Thea Anema told the New York Daily News, "Life was slowly going back to normal, and now it's just devastating, truly devastating."
In addition to the aggressive natural killer cell (NK-cell) leukemia returning, Jasmina suffered complications from her bone marrow donor's cells attacking her body, a condition called "graft-versus-host disease".
Jasmina was originally scheduled to meet President Obama and the First Lady around Thanksgiving, but according to NY1, she suffered seizures after developing Posterior Reversible Encephalopathy Syndrome, as a side effect of medications. Earlier in November, she got to meet Rihanna at a CD signing.
Jasmina finally made the trip to the White House on Wednesday, visiting the Oval Office and receiving some gifts to take back home.
In an interview recorded before her failed Thanksgiving trip, the resilient girl admitted she couldn't sleep because she was so excited.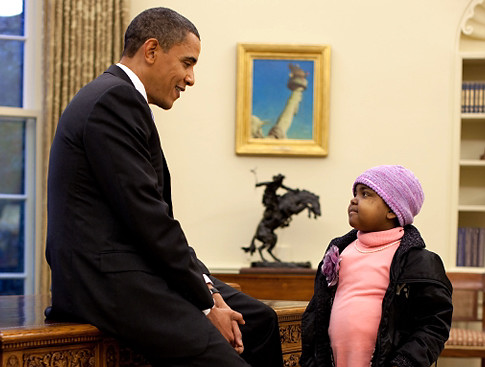 (Photo by Pete Souza/The White House)
REAL LIFE. REAL NEWS. REAL VOICES.
Help us tell more of the stories that matter from voices that too often remain unheard.