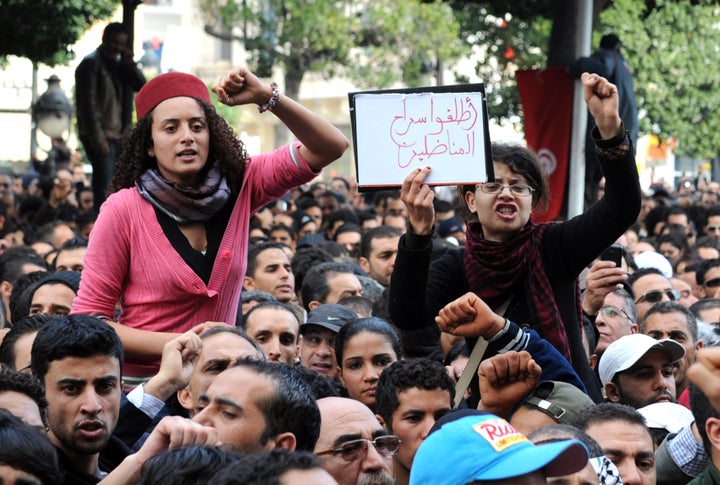 This week marks the fifth anniversary of the Jasmine Revolution, which ousted longtime Tunisian dictator Zine el-Abidine Ben Ali and ushered in a new phase for the country's politics and society.
HuffPost Tunisia invited Tunisians to speak about their experiences during the revolution. Only first names are used here, and in some cases were changed, so that participants could speak candidly.
Protests leading up to the removal of Ben Ali on Jan. 14, 2011, first erupted about a month earlier. A 26-year-old street vendor named Mohamed Bouazizi set himself on fire outside a local municipal office in the town of Sidi Bouzid. Bouazizi's self-immolation reflected the public's overwhelming frustration with issues such as unemployment, police violence and human rights violations.
Ben Ali addressed the nation on the evening of Jan. 13, 2011. Most Tunisians were eager to see their president, who had ruled the country for 23 years, leave. He was often criticized for stifling the opposition, as well as for cracking down on media and political freedoms. Fear and anticipation spread as the protests raged on.
"It was war," Samia said. "We felt like we were living through the war in Palestine. It was no longer the Tunisia that we were all familiar with."
"That day was nightmarish," she continued, her hands trembling. "We were locked in at home with our family, waiting for the situation to stabilize."
"Today we have a better understanding of what happened, but things aren't much better. Safety and security left along with Ben Ali."
In some neighborhoods, a different feeling -- one of unprecedented solidarity -- emerged.
"January 14 wasn't exceptional compared to the days that preceded it or the ones that followed," Abdeljalil said. "We got together in the neighborhood, and got organized, so that someone would always keep watch over who's coming into the neighborhood, going to the post office, the police station, et cetera."
He proudly said that no public buildings in his neighborhood were pillaged, thanks to the vigilance of its residents.
"We, here, we were afraid of the government, of Ben Ali, of the Constitutional Democratic Rally militia and of the police ... not of other residents," said Kaouther, a young officer in Kasserine. "Our neighbors weren't shooting at us, they like us. It's Ben Ali and his police who robbed us and killed our children."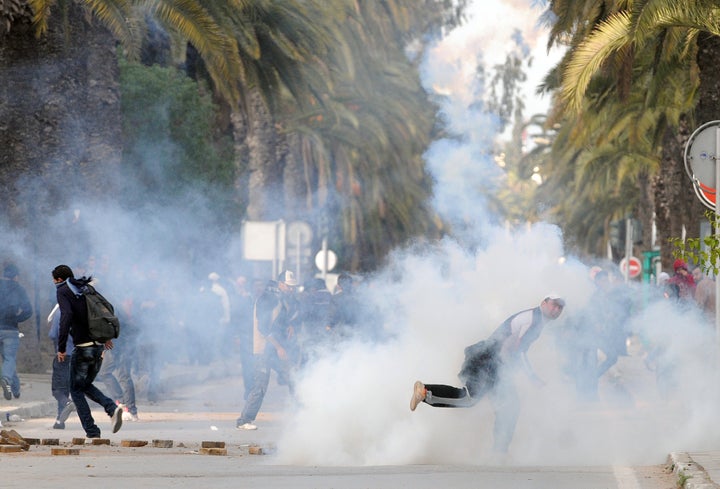 Many people did not find television sufficient for breaking news. They resorted to social networks, which featured plenty of propaganda but also delivered timely updates.
Amal spent the day organizing her birthday party, which was scheduled to be held that same evening. "While I was getting ready, I kept an eye on the news, either on Facebook or TV," she recalled.
Anis said he had developed a growing distrust of public media.
"On TV the evening before, after [Ben Ali's] speech ... there was a lively talk show hosted by Sami Fehri and Moez Ben Gharbia. They laughed and talked about the 'new freedom granted by Ben Ali' as they showed scenes of jubilation on Bourguiba Avenue. I no longer believed anything on TV or Facebook," he said. "My source was Al-Jazeera or foreign media."
Shayma, Amal's friend, interrupted. "I wasn't happy to see Ben Ali leave," she said. "My mother spent the night crying over his departure. There was panic at our house."
She clarified that her family's position has since changed significantly, then continued. "Mom wouldn't stop saying that [Ben Ali] never did us any harm, that he didn't have to go away and leave us in chaos," she said. "Today we have a better understanding of what happened, but things aren't much better. Safety and security left along with Ben Ali."
"There was a frightening commotion, sirens, helicopters. ... It was extraordinary."
Anis, a La Soukra resident, said he rode his motorbike past the houses of former government ministers a few hours after Ben Ali's departure was announced, and saw they had been looted and vandalized.
"It was unbelievable," he said. "I stopped outside one of the houses of Belhassen Trabelsi and I saw people leaving with cheese, and even electric cables. ... It was at that moment that I understood that it had ended; the dictatorship was dead and killed off."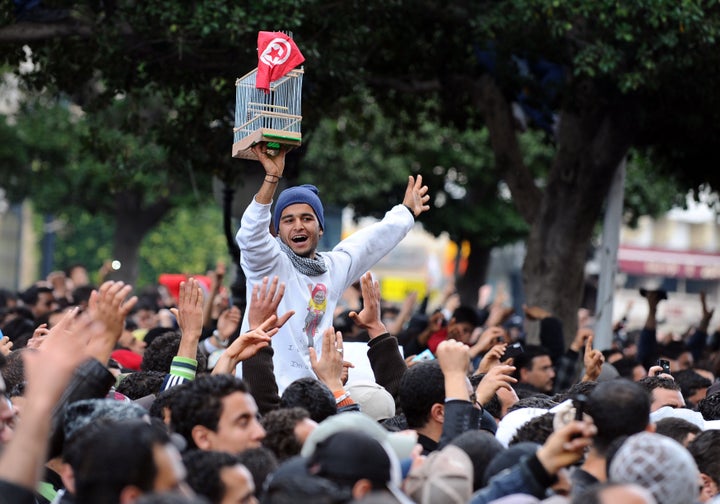 Ben Ali fled to Saudi Arabia following weeks of mass protests. Hamza, a Sidi Daoud resident, recalls Ben Ali's departure.
"We had gone to play football in a vacant lot along Cathage's main road," he said. "A policeman came to forcefully chase us away, and immediately afterward, a huge procession passed by. There was a frightening commotion, sirens, helicopters. ... It was extraordinary."
The young people of Sidi Daoud were used to such demonstrations of force, and didn't pay much attention to it.
"It was only later in the evening that we realized what had happened. Ben Ali was on the run, and we saw him leave," Hamza concluded with a smile.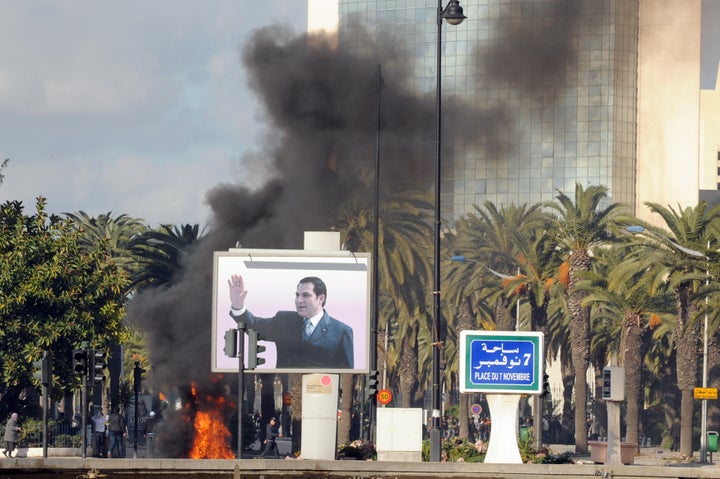 There was a mix of joy and fear in Tunis' city center. Amine, a student, remembers taking the train and arriving there around 10 p.m.
"When I arrived, there weren't a lot of people," he said. "I had time to meet up with my friends and greet some acquaintances. The crowd in front of the Department of Homeland Security was becoming thicker and thicker."
He described being "blown away and overjoyed" while chanting different slogans and yelling "get out" in the middle of the crowd.
"They threw tear gas canisters into the courtyard and the smoke found its way into the building."
After a few hours, he said, the policemen attacked the protesters and the crowd panicked.
"Everyone was jostling, and I felt like my feet were no longer on the ground," he recalled. "I felt like I was being carried by the crowd. I could no longer choose where to go. At one point, I found myself glued to a wall, suffocating."
When he managed to free himself from the crowd, Amine followed protesters as they sought refuge in the nearby apartment buildings on Habib Bourguiba Avenue.
"We closed the building's large metal door, but that didn't do anything to stop the police from pursuing us," he said, adding that officers threw tear gas into the courtyards.
"On the stairs, I realized that I had lost a shoe in the commotion," Amine added, bursting into laughter.
"A gentleman welcomed us into his home and made us sandwiches," Amine said. "I didn't leave until early on the morning of the January 15. There were people like me, weaving in and out to get out of the city center. Mohamed V Avenue and Habib Bourguiba Avenue were showered with stones and shoes."
This post first appeared on HuffPost Tunisia. It has been translated into English and edited for clarity.
Related
Popular in the Community