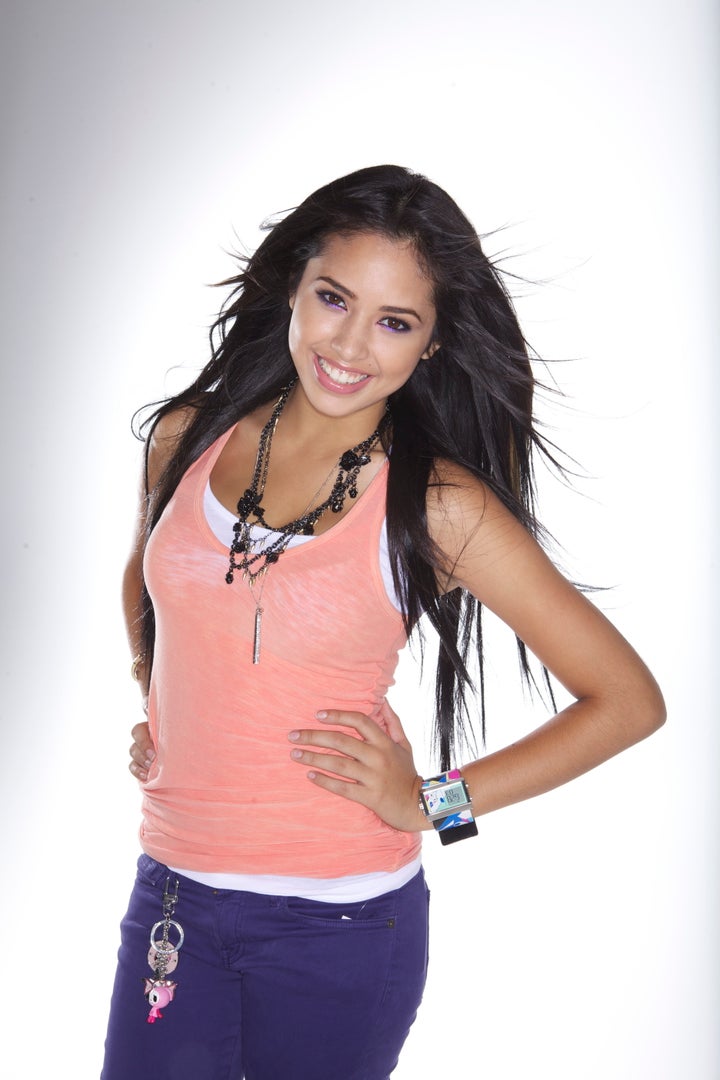 Jasmine Villegas was upbeat and bubbly during our interview -- I could practically hear her smiling on the other end of the phone when she talked about her music and her fans.
The 18-year-old performer from California was discovered as a pre-teen while singing through the streets of L.A. Seven years later, she's done a lot: singing, acting, modeling, and even getting her big break starring in Justin Bieber's "Baby" music video. Although she had a brief brush with pop's biggest heartthrob, Jasmine's career is all her own. But it's taken time to come into her own -- Villegas battled an abusive relationship when she was younger. Now, she's happy, healthy and focused on getting girls in abusive relationships the help and support they need. I chatted with Jasmine about why she wrote her single "Didn't Mean It," what fans can expect from her upcoming album, and her crazy encounter with a pack of howling coyotes!
What was the inspiration behind your new album?
My first album was like a story about going through a breakup and finding love again. I want to keep the feel of that going. This one's going to be about me coming out of [a bad relationship], having fun, and finding love again. It'll be dance music, but edgier. I don't want to put a date on it yet, but it's going to be soon. My fans have been patiently waiting, so I don't want to keep them waiting anymore.
The lyrics and video for your single "Didn't Mean It" are so powerful. What inspired you to write about an abusive relationship?
It's based off of my own relationship that I was in for a year and two months. Even though it took me awhile, I got out of it. There are a lot of girls out there who are going through the same thing. I wanted to send a positive message to help them out and stay strong and know that they can get out of it.
What sort of advice would you give to readers trying to get out of an abusive relationship?
Anybody might say it's easy to leave and call the cops, but when you're in that situation, it's really hard. You have to find the strength to tell somebody. It's really not something to be embarrassed about. You have to have the strength and the confidence to call the cops, because no one deserves to be in a relationship like that.
Last month, you tweeted about your first love at age 14. How did you know you were in love at such at young age?
Everybody has their own ways of finding out that they're in love. I was so young, it was like puppy love. It didn't work out, obviously, because I'm single now, but it was definitely what I thought was love at the time.
You have over a million followers on Twitter. What is the best message a fan has ever tweeted at you?
After I put out the "Didn't Mean It" video, I heard so many inspiring stories from my fans. They tell me I helped them get out of their situation or that I helped them call the cops. A lot of fans tell me that I helped their mothers, too, and now they're okay. That's the best thing that a fan could ever hit me up with -- it's such a good feeling.
You deal with rumors about your personal life all the time. Do you have any tips for readers who are dealing with rumors, gossip, and hurtful comments at school?
The best thing to do is to tell somebody, because if you never get out of that situation, you'll keep going through it. It's nothing to be embarrassed about -- it's not tattling or snitching. A lot of people are losing their lives to bullying and I would hate to see that happen again.
Which star would you most like to model your career after?
Alicia Keys and Beyoncé are my two favorites.
What's the craziest adventure you've ever been on?
Recently, I went on a midnight hike with my friends. I didn't want to go at first, but they convinced me. We were on a trail and it was really dark. Six coyotes starting howling at us, so we started running and they started chasing us. It was the scariest thing I've ever done in my life and I will never do it again!
You're the face of tokidoki, so you're exposed to the latest fashion and beauty trends. What's your favorite trend for fall?
I like to wear ripped jeans, a flowy top, a beanie and boots or some cute tennis shoes. I love accessories, so I always have a bunch of rings on, too. I look up to Rihanna when it comes to fashion. She's always changing up her style and looks super cute.
What's your number-one tip for feeling confident when you're rocking a daring outfit or a bold beauty look?
A lot of people think they have to wear what everybody else is wearing, even if they don't feel comfortable. I like to stay comfortable -- that's big for me. You don't want to have to wear clothes that make you feel uncomfortable or high heels that you can't walk in yet.
What's next on your agenda?
I'm going to the studio for a few weeks to finish up my album, so I'm excited about that! I finally got my sound and my direction that I want to go for. I can't say too much yet, but I'll be doing a tour soon. I'll post details on Twitter when I can!
If you or a friend needs help dealing with dating violence, peer advocates are available 24/7 at Love Is Respect. Text "loveis" to 77054 or call 1-866-331-9474.
REAL LIFE. REAL NEWS. REAL VOICES.
Help us tell more of the stories that matter from voices that too often remain unheard.