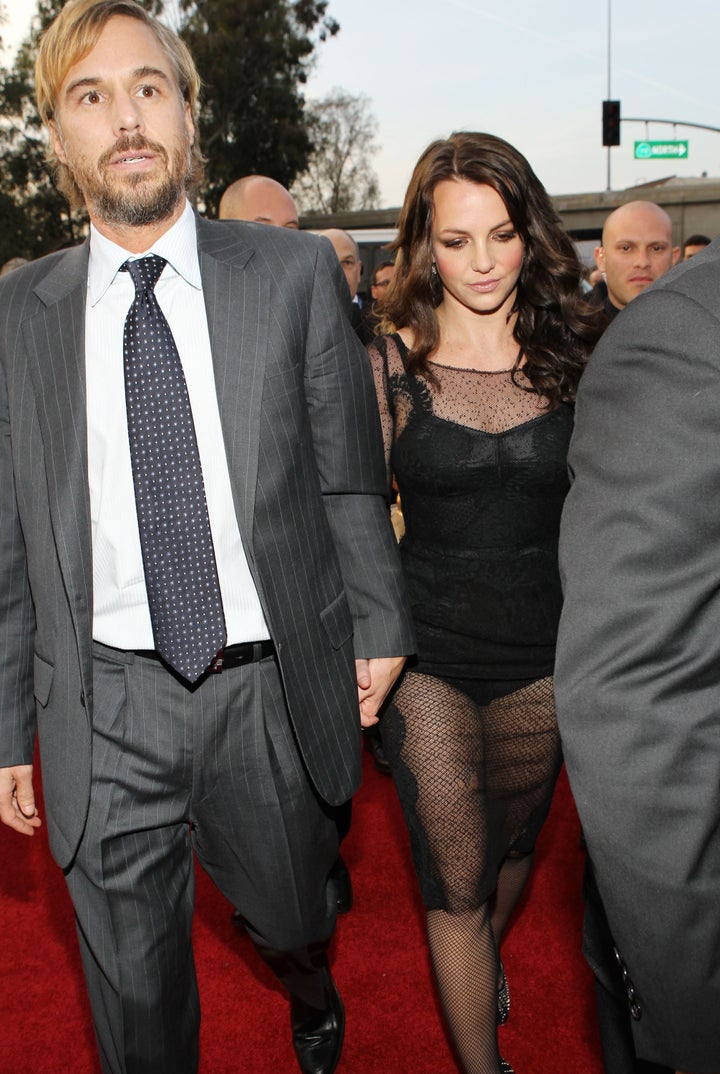 UPDATE #2: Spears' manager, Larry Rudolph, told Access Hollywood that the tape is a fake. "Lawyers are amassing," Rudolph said. "We are 100 percent taking stern and immediate legal action."
A Spears rep released a longer statement on her website, again denying and condemning the report. "The statements attributed to Jason Alexander are completely fabrication as Britney has not had any form of communication with Mr. Alexander in years," the rep said.
The statement added that: "This is just another example of the irresponsible nature of the tabloid media relying on shoddy sources and false information for the sole purpose of selling magazines, without regard to the truth and without regard to who they hurt in the process." The rep says Star was informed that the story was bogus in advance, but still published it.
UPDATE: Radar has posted audio of a conversation between Alexander and a voice that allegedly belongs to Spears, in which Britney admits that Trawick "beat on me," and that Trawick had proposed marriage but she had declined. At the time of the recording, Spears insisted that they were not a romantic couple, and that her father was so angry with Trawick that he had, "a shotgun and [was] just waiting to use it."
Meanwhile, Gossip Cop is reporting that a rep for Britney denies the tapes are real, and sources close to Spears are even considering legal action.
PREVIOUSLY: Jason Alexander has given another shocking interview about his ex-wife Britney Spears, insisting to Star Magazine that she is being abused by agent-turned-boyfriend Jason Trawick and is calling out for help.
Alexander insists that he remains close with the pop star after their infamous 55-hour marriage in 2004 and that Spears is reaching out to him with texts, emails and phone calls detailing violent beatings at the hands of the man who helped resurrect her career.
"Britney is in an abusive relationship," Alexander told the magazine. "She told me her life had turned into a nightmare."
Alexander claims Britney told him that Trawick, "hit her so hard it gave her a black eye," and even said she had been carrying his child earlier in the year.
This is not the first time Alexander has made controversial claims about Spears. In 2007, Alexander alleged that Spears was abusing drugs such as cocaine, and that they had taken ecstasy the night before their Las Vegas wedding.
Just recently, Spears told ex Kevin Federline that she wants back full custody of her sons, Sean Preston, 5, and Jayden James, four, and to have them live full time with her and Trawick. Spears, who has worked hard to get into shape, bared her midriff in a tiny pair of Daisy Dukes while shopping in November.
Popular in the Community