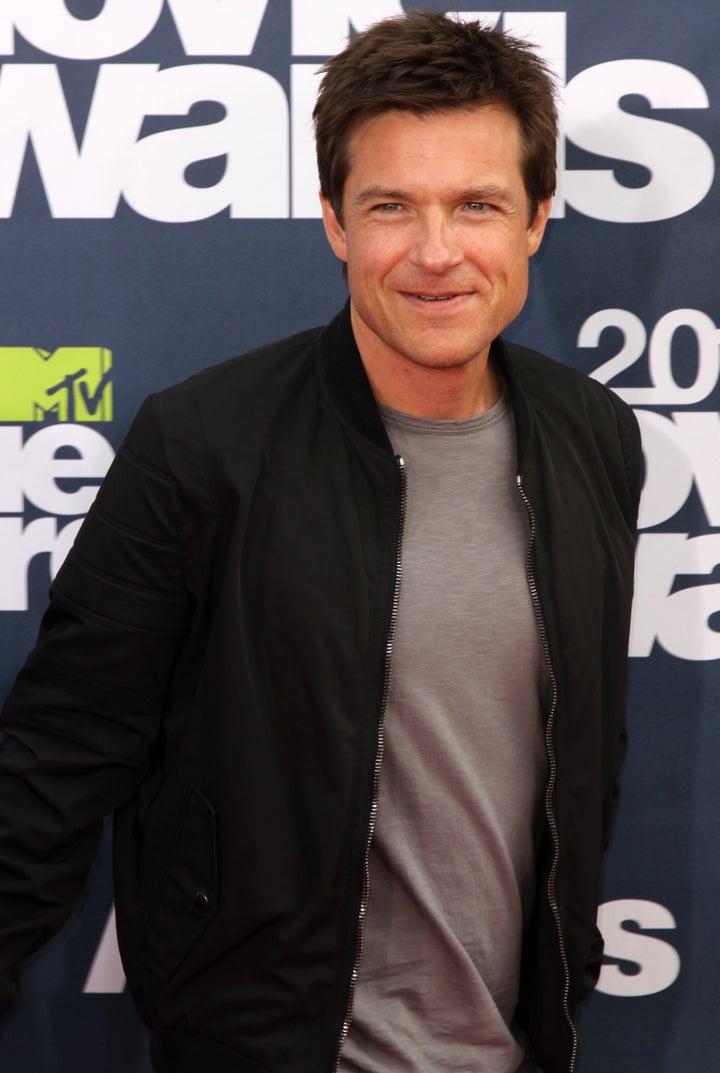 Jason Bateman is stirred awake by a duet of dead-of-night cries over a baby monitor placed on his bedside table. Playing -- for the moment -- an earnest father and hard working lawyer named Dave, Bateman opens the "The Change-up" by responding to the parent alarm with a well-practiced series of shoulder rolls and quick breaths, before checking in on his infant twins. And, a few sloppy hijinks later, getting a hot blast of diarrhea sprayed into his mouth.
Thusly begins what was, Bateman revealed in a conversation with The Huffington Post, the funniest script he had ever read.
"I was like, wait a second, this is how they're gonna start? All right, I'm ready, my knees are bent, I'm prepared for anything they're gonna throw me," he laughed, remembering his reaction to the opening scene, "and they didn't disappoint. It just kept coming."
The film, written by the scribes behind "The Hangover" movies, casts Bateman's Dave as harried and unable to breathe: at home, wife Jamie, played by Leslie Mann, is demanding a therapist-recommended "dialogue night" amidst the insanity of a house with three young children; at the office, he's trying to make partner at his law firm while avoiding awkwardness with sexy younger co-worker Sabrina, played by Olivia Wilde. "The Change-up" signals exactly that for his character, as soon, a new Bateman emerges, thanks to a drunken wish while peeing in a fountain alongside best friend Mitch, a responsibility-free aspiring actor played by Ryan Reynolds.
When he opens his eyes the next morning, Mitch has inhabited Dave's body, and vice versa, meaning that, all of a sudden, Bateman gets to play a foul-mouthed slacker with no conception of appropriate behavior outside the world of late night booty calls, lornos (or, light porno) and afternoons spent floating on a bong's haze of languorousness.
While playing Mitch -- stick with us -- as Dave, Bateman very quickly goes from lawyer to lunatic, blowing up merger deals by gravely insulting Japanese businessmen, carrying infants like an angry deliveryman tosses around your dinner and harassing the previously untouchable Sabrina with a certain charm that makes it -- almost -- acceptable. Through the bulk of the film, Bateman shows a wild side that, while ostensibly taking on Reyolds' character, is all his own creation.
"We decided early on that that's not something Ryan and I do very well and that would ultimately be very distracting to the audience, watching Ryan and Jason failing miserable as impersonators," Bateman said, stressing that his Mitch-as-Dave was not a mere copy of Reynolds' mannerisms. "So we said, let's keep it at our skill level and play our versions and hope that the audience can enjoy it."
Bateman's about-face works on a number of levels for the audience; not only is there surprise in seeing his mild-mannered character suddenly turn pervertedly candid and wickedly loose cannon, but seeing it come from Bateman, who, since his rise back to fame as Michael Bluth in the cult classic TV show "Arrested Development," has banked off a bone-dry wit and loaded gun eyebrow arch, offers its own delightful rewards.
The past decade has seen him go from an actor still struggling to recapture success in adulthood after an adolescence spent gracing television screens in shows such as "Silver Spoons" and "Valerie's Family," to a bonafide A-list star, known for his trademark deadpan delivery and eye-of-the-storm steadiness. Following the cancellation of "Arrested Development," Bateman has played it hilariously straight in films like "Juno," "Extract," "Up In The Air," and "Couples Retreat."
"There is a laugh that you can get from just simply reacting to something, and I've always enjoyed that as a viewer," Bateman explained. "I love playing the protagonist. I dont know where I got that from, perhaps it's my British mother, who kind of gave me a very dry sense of humor."
As a result of that consistently arid role he's played over the last ten years, Bateman's portrayal of the raunchy Mitch as Dave offers an extra layer of comedy that other, already raunchy actors wouldn't provide.That being said, the role wasn't necessarily such a stretch for Bateman; his unlucky run of TV show cancelations in the 90s meant living a similar sort of hard-partying, weed-tinged lifestyle as the one he is transported to in the film.
"There's part of me in every character that I play," he laughed. "There's a lot of Mitch inside my person and yeah, I spent a lot of time in the 90s being a guy very similar to Mitch, so I just kind of had to dust that guy off and I put him out there. It was a lot of fun to hang out with that old friend."
Still, it wasn't as if he totally let out that buried wild side. There are a number of scenes in which he lets out a ferocious slew of curses in front of his six year old daughter (Sydney Rouviere), a wide-eyed starlet who excels amidst the confusion, and Bateman, a father himself, made sure to finesse those uncomfortable moments.
"You spend 20 minutes apologizing to her and her mother and another 20 afterward, and then while you're shooting, you just kid of let it fly. She was a great little actress, she got it, she understood the jokes," he said, hinting toward an affection that he, despite all the antics, displayed on screen, as well.
"What I didn't expect was that I started feeling for these characters and empathizing for them and ultimately having a very sort of satisfying experience emotionally," he revealed, allowing himself to admit that there was a streak of warmth in the script despite promises that the film was not another boring, family-friendly PG body switch movie.
"There's a lot of heart in it without diluting the R [rating], an extra later thats not obligated, that's not annoying, not treacly crap. It sort of fits, theres a very realistic tone that runs all the way through this movie," Bateman said.
Indeed, even as he throws curses at "his" child, there is a compassion and good intention palpable in the interplay. Bateman credited that, in part, to his tiny co-star, actually giving her credit for taking on the difficult deadpan role as the stone-faced stand-in for the incredulous audience during a time of insanity. Despite the role reversal in "The Change-Up," it's still a role he so loves to play. In fact, Bateman lifted the wry eyebrow in a film released just two weeks ago, "Horrible Bosses."
And while he wanted to do this film on its own merit -- he joked that he offered his own body parts to work with the writers of "The Hangover," as well as director David Dobkin, who helmed "Wedding Crashers" -- now that he's shown that he has range beyond his usual brilliantly witty protagonist, Bateman is hoping to forge new paths in his career.
"If the public likes me in this part and the movie makes some money, maybe I'll start getting different roles," he reasoned. "I understand why I get invited to play a character similar to Michael Bluth; when [casting directors] read scripts with a guy like that, they think of me. I do the same thing with scripts I read. It's up to me, it's my obligation to play different kinds of characters so I inspire different thought in the public. It's kind of chicken or the egg; fortunately I've got a film in the can that shows something different."
So, where might Bateman want this film to lead? Quality seems to be his north star.
"I'd like to just keep trying to do different stuff, but mostly just work with people that I really look up to, and if I'm offered to work with them, I'll say yes in a heart beat, whether it's a comedy or drama or I'm the star or supporting player," he offered, earnest about his desire to up his acting game. "You'd like to work with people that are better than you, it helps you grow; you like to play sports with people who are better than you."
Bateman even joked about a potential superhero role, mentioning the announced Robocop reboot before remembering that "Star Trek" hero Chris Pine is rumored to be in talks for the film. If those talks fall through, "and they want to slum it," Bateman laughed, "tell them to give me a call."
After seeing what he can do in "The Change-Up," hey, they just may.
"The Change-Up" hits theaters August 5th.
Calling all HuffPost superfans!
Sign up for membership to become a founding member and help shape HuffPost's next chapter