 Jason Carter, a 38-year-old Democratic state senator from Georgia, is running for governor of the Peach State this year against incumbent Gov. Nathan Deal, a 71-year-old Republican. Over lunch last week at his favorite barbecue spot in Atlanta, Fox Bros., Carter spoke with The Huffington Post about the legacy of his grandfather, former President Jimmy Carter, why he's not a "national Democrat" and why Washington Nationals phenom Bryce Harper is "irrelevant."
Did you think in high school that you were going to be in politics?
I don't know. I knew that I wanted to be in politics but I didn't think i wanted to run for office. And that's really what I did. As my life unfolded and I'd been involved in politics it made sense to me to run ... in part because I wanted to know what it was like. And the most amazing thing to me about my experience so far is that ... my expectations for how I was going to be treated have been so far exceeded ... This is a different place than what I think of Washington being like. Like, you can sit down and work together and for the most part people in small districts in Georgia ... there are some people who are really extreme but most folks are just good people trying to get it right and they're totally willing to sit down and do work and work together, you know? If I thought that the Republican leadership in the legislature would just skewer me as the governor then I wouldn't want to be the governor. But I don't think that's what it's like. I think I'm going to be able to work really well -- I know I'll be able to work well with the people in the Senate because I've done it for years and I'm pretty confident about the House, too.
On education, what is your basic criticism of the governor?
To the extent that I'm hesitating it's only because I have, like, brisket in my teeth. It's not because I don't know what my signature criticism is. But yeah, I mean, it's a lack of vision on the issue at a very fundamental level.
Was Obamacare a good policy to pursue?
I don't know that it's one policy. It's such a gigantic thing that it's hard to get your head around it. I think the president would change some things about it.
Do you have any concern about the cost and the expansion of Medicaid [in the Affordable Care Act]?
I think you always have to be concerned about it. I think the federal government has a spending problem, and I think that's something that really matters. But when you're the governor of Georgia and you're confronted with a decision about what's best for your citizens, you've got to make that decision. The federal government is offering our tax dollars back to us with a very small match from the state level that doesn't begin until 2017. And so, and there's ways to structure it without expanding the Medicaid rolls, by allowing people to subsidize folks on the exchange et cetera ... But the biggest question for us in Georgia, we're going to have 15 hospitals that are on the verge of closing in part because of the hole in their budget that comes from the uninsured population. And we're not going to fill that hole with the money that we're already paying ... How are we going to do it? And what we get is the politics of, 'I hate Obamacare,' and what we don't get is, 'Therefore I want to do x.' There's no solutions that are coming forward at all.
Where is the state on these divisive issues: abortion, gay marriage, this religious liberty debate? Where are you on those issues? Are you going to talk about them very much?
Georgia has a constitutional amendment that bans gay marriage. And so that issue from an electoral standpoint is not going to be a big issue in the race, because the governor is not going to make much of a difference on it. For me, I'm on the record with my positions on that and I'm on the record as a pro-choice legislator. But I also think that one of the things that folks are ready for is a different discussion of what it means to be a Christian in our politics. And I talked a little bit about it last night. I just think that, you know, there's a new -- those are not the only issues that matter to people. The most divisive issues are not what define our religion. I think the Habitat for Humanity voters who want to live out their faith in ways that make sense I think will give me a second look regardless and sort of because we're going to talk about social issues and moral obligations that go beyond just these divisive issues that are out there, and frankly those debates are going to be had in the courts.
What denomination are you?
Well, I think many of us are moving denomination to denomination. My church is cooperative Baptist.
That's the Fritos. [Points to individual size Fritos bag filled with chili.] They get kind of soggy at the bottom.
Do you think there's any legitimacy to the religious freedom, religious liberty concern in this current debate? Do you think that's a concern that needs to be, a value that needs to be protected in the context of that debate? Or do you think it's just simply an excuse for discrimination?
I think that nobody is trying to tell churches what to do or to tell people what to believe at all. And I think in that regard religious freedom and religious liberty is very, very important. I think even the most strident people who talk about whatever the issues are, I don't think anybody is trying to say you're going to try to force a church to do something that they think is contrary to the Scripture, or any of the things like that. I think you have to preserve that. I think that these bills, like the one that got vetoed by the Arizona governor, or the one that is now dead in the Georgia legislature -- I don't think they're going to go anywhere, because you're really talking about something other than religious freedom in those contexts. I think it's really important when it comes to religious institutions and churches, et cetera. But I think when you're starting to talk about economic activity and things like that it becomes a different discussion.
You talked last night about your grandfather. You said you were glad you weren't introduced as his grandson. Is he going to campaign for you?
He's a part of the campaign. You know, look, I love my grandfather. I'm proud of him. I think he's an incredible human being. ... I think that my grandfather has done so much with what he has that he is a hero of mine in terms of what he has accomplished, and what he has set out to do and how he has lived his life. That legacy is a part of who I am and in that regard is going to be a part of it all the time. I think that the politics of it, one thing that's important for everybody to know and understand, and that I know, is he's not on the ballot. The question is not about Jimmy Carter, it's about Jason Carter. And at the end of the day, I have to stand on my own two feet. I'll put my record in the state senate as a problem-solving, pro-business Democrat who believes in the things I believe in up against anybody. And the vision that I have for the state is going to be what this campaign is about, but he's a popular guy. People respect him. He gives people a reference point for how I was brought up and the values that I have.
Is there anything about your grandfather that you feel like is not fully appreciated?
I don't know. I guess there are some partisan people who will never vote for me because I'm Jimmy Carter's grandson and there's partisan people who will vote for me no matter what, because I am. And so, in that regard there's people who have made up their mind ... I never hear anybody say that they think he's a bad person. I might hear them say that they disagreed with a policy or that he shouldn't have done this or shouldn't have done that or they didn't feel good about where their country was at this time in history or whatever, but I don't think people -- I've never heard anybody say he was a liar, or anything like that. That's something that I think is the most important to him and to me. But I'm not out to change people's views of Jimmy Carter.
Yeah, just birds. Turkeys and doves and quail.
What are your other hobbies?
I go to a lot of 7-year-old baseball games. I got to a lot of 5-year-old soccer games. And we all -- we're a big sports family. We watch a huge number of baseball games, a huge number of football games. I take it you're a Nats fan?
I grew up an Orioles fan, but now I'm a Nats fan. They're going to be good this year.
They are. They were going to be good last year too (laughs) ... I mean they were going to be great last year.
What do you think of [Nationals phenom] Bryce Harper?
I don't mind Bryce Harper at all. I think he's going to be a good player. I think he's going to be a good player. What?
If you were really cutting loose you would rip on him.
No. Why? Bryce Harper's kind of irrelevant.
I mean Bryce Harper might be good. He might be [former Atlanta Braves star] Jeff Francoeur. I mean, like I love Jeff Francoeur. He's a great guy. He's a super great person. But he was Bryce Harper for a year and a half. And then all of a sudden, you know, [Los Angeles Dodgers outfielder] Yasiel Puig. Maybe they're going to be great, you know? ... He might be a great player. There might be somebody in AAA who's going to be a great player, too. I don't know .. Everybody's got to prove himself.
How are Republicans going to go after you?
What we have seen so far is the same playbook they've always rolled out for years and years, which is, he's going to raise your taxes, which is not true. I've been as fiscally conservative as anybody in the legislature. They're going to say that I'm a national Democrat. And also, not true. I have an A rating form the NRA. I talk about my Christian faith all the time. Those are the types of things that people know that we have the ability to put just problem-solving first, ahead of politics. And I think there's a group of folks that will give us real looks. I think the PTA crowd in the suburbs and I think a lot of the folks across south Georgia that are fed up with the lack of leadership available to us.
This interview has been edited for length and clarity.
Read more here on why the Carter name, and the Democratic Party, are on the road to a comeback in Georgia.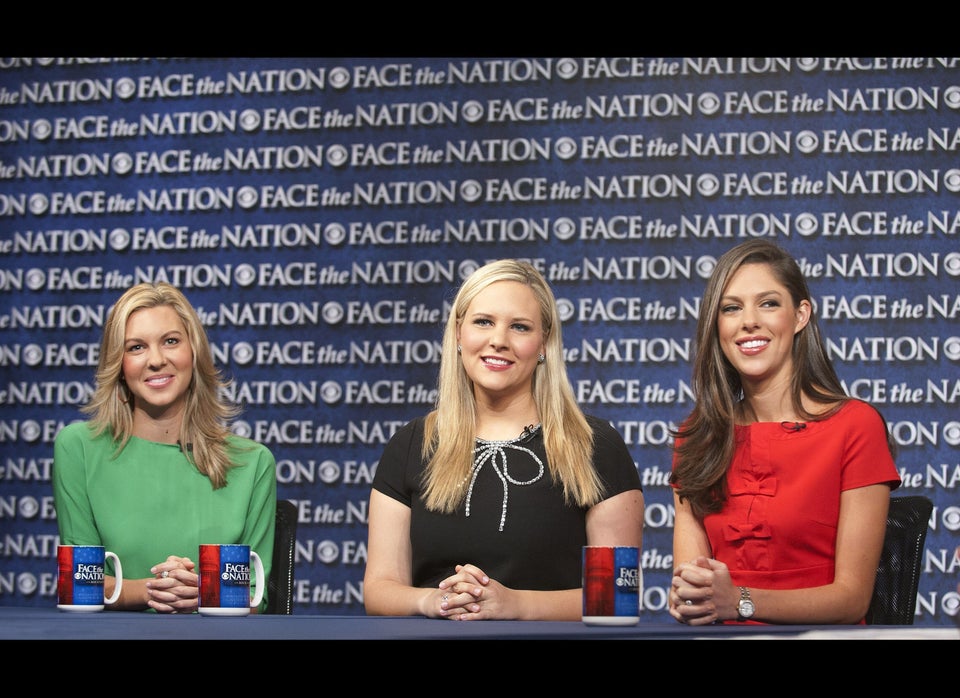 Candidates' Kids On The Campaign Trail