In an age when reality shows churn out talentless stars like "The Situation" and Trishelle Cannatella, "American Idol" has always made it a habit of finding and backing winners. Even the losers turn out to be winners. Take Jason Castro, for example, who's anything but a loser. The charmingly chill and oft-sandaled hippie stole the hearts of the judges and audiences during the seventh season of "Idol" (his rendition of "Hallelujah" brought the house down) where he finished in third-place, and is back with a self-titled debut album.
I spoke to the 22-year-old Texan briefly about "Idol," being idle from the music scene, and his dreads.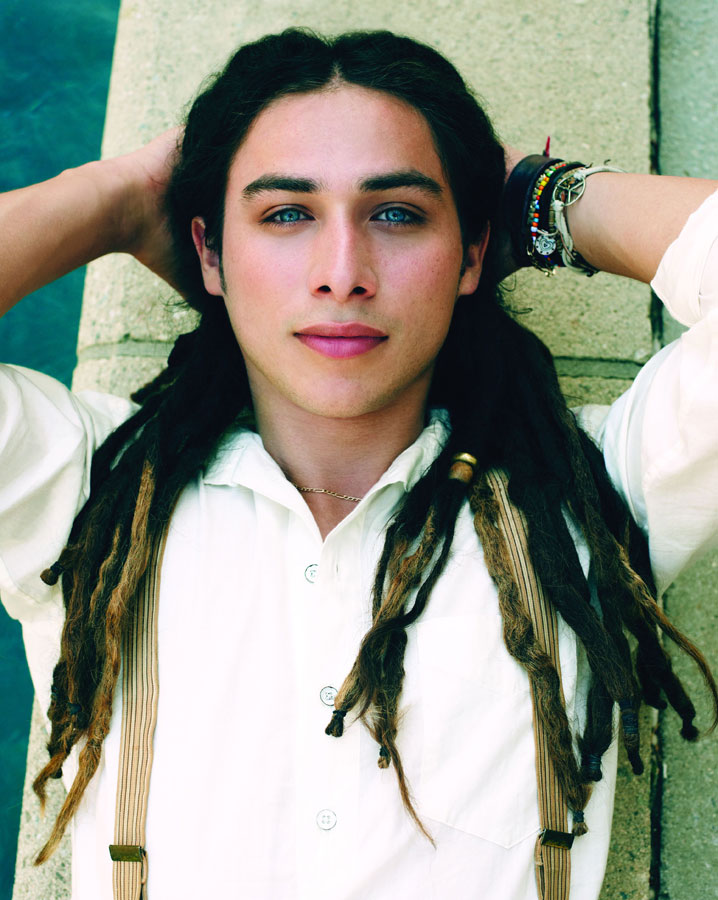 Was it a conscious decision to wait a bit before releasing a solo EP after "Idol"?
You can't release it until you got it. I wanted to release music as soon as possible, but I couldn't rush anything out and I couldn't get in the studio if I didn't have one. It just happened how it happened.

You just tied the knot. how did getting married inspire your songwriting?
She has been a big inspiration for me from day one and before the marriage she was a big inspiration, too. I think the marriage is just a culmination of that. She's definitely my inspiration. I wrote my first song about her and I just love her.

I didn't set out with a theme [for the record] but at the end, it was all around love, different kinds of love, friendship love, lovers love, etc. I'm fortunate enough to be surrounded by a lot of love and I just want the album to inspire people like that.

Speaking of love, Adam Duritz has had a fine career in music (and with the ladies) is that the real inspiration behind your dreads?
It is not the inspiration actually. I was a big fan of the Counting Crows but I had never seen a picture of him. I actually found out he had dreads after I had my dreads, but I would love to be able to write songs like him.

I kid, but speaking of other artists you covered Leonard Cohen's "Hallelujah" on "Idol" to rave reviews, what was your take of Justin Timberlake's version on the Haiti telethon?
I actually haven't heard it yet. I was in a van when that was airing. I heard it was great. And I think it's cool that Justin Timberlake did it. It almost feels like a brotherhood of people that have sang "Hallelujah," it's almost like a club.

And K.D. Lang just joined. Anyway, do you feel you need to break out of your "Idol" past?
I am trying to break out, in general, but I wouldn't say from my Idol past. That makes it sound like a negative thing. "Idol" was definitely an awesome thing, and I think there is something that a lot of people get confused. They seem to think that because you were on "American Idol" that you have a music career, and I don't think that way. I think right now I am starting my music career - this is the launch of my career, this is the first step. I am just fortunate enough to have been on a TV show where I got to sing for people and a couple people know my name and a couple people like my voice. It was a cool hit start, a running start, but right now is really my breakout.
Whose career would you like to emulate?
I would say Tom Petty. I am obsessed with Tom Petty. In more modern day I would say somebody like John Mayer, though I think he is a couple steps behind Tom Petty. Those guys are just unstoppable...each one of them, and I would to love to be able to be around like one of them.

On another note for no reason other than my own, who has the best mustache ever and why?
Right now the only mustache coming to mind is Hulk Hogan and his handle bar. I like those. I am a big fan of handle bars. Mainly because I could never have a mustache and it sucks so I am very envious of those with beards and such.

Lastly, have you ever text messaged anyone "Bo Bice" just to get a reaction?
Haha, I haven't but I just might have to.
REAL LIFE. REAL NEWS. REAL VOICES.
Help us tell more of the stories that matter from voices that too often remain unheard.