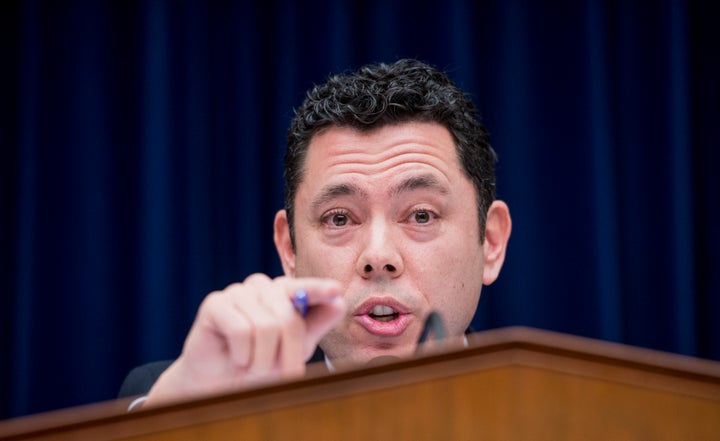 President-elect Donald Trump's plan to address potential conflicts is "meaningless," the head of the Office of Government Ethics said Wednesday. But instead of asking the ethics chief how to fix Trump's plan, House Republicans have their own idea: Threaten the ethics official.
"He's coming in," Chaffetz told Politico. "This is not going to be an optional exercise."
Chaffetz noted in the letter that his committee has the power to reauthorize the ethics office. What Chaffetz didn't have to say is that his committee could also push to shutter the office entirely. Earlier this month, House Republicans tried to gut another ethics watchdog, the Office of Congressional Ethics, before backing down.
Chaffetz is trying to punish Shaub for criticizing Trump, Richard Painter, former President George W. Bush's ethics lawyer, told The New York Times Thursday.
"They are strong-arming them," Painter said. "They are obviously very upset the Office of Government Ethics is leaning on Trump and not willing to jam through his nominees. It is political retaliation."
"The Oversight Committee is supposed to protect whistleblowers and independent government watchdogs like the Office of Government Ethics instead of retaliating against them for political reasons," Rep. Elijah Cummings (D-Md.), the ranking Democrat on the Oversight Committee, said in a statement Friday morning.
White House press secretary Josh Earnest reportedly said on Friday that Chaffetz was "threatening to shut down the office of the guy who is doing the job that Jason Chaffetz himself is refusing to do."
Cummings noted that he sent a letter to Chaffetz on Thursday calling for a public hearing with Shaub as the main witness, prior to Chaffetz threatening to summon Shaub for a closed-door meeting.
"The Oversight Committee has not held one hearing, conducted one interview, or obtained one document about President-Elect Donald Trump's massive global entanglements," Cummings said, "yet it is now apparently rushing to launch an investigation of the key government official for warning against the risks caused by President-Elect Donald Trump's current plans."
According to Chaffetz, a closed-door hearing is necessary because the OGE's statutory authority lapsed in 2007. This, however, is largely a byproduct of the ongoing bipartisan breakdown in the congressional budget and appropriations process. Many other agencies have not been reauthorized for much longer than the Office of Government Ethics. For example, the Department of Homeland Security hasn't been reauthorized since it was created in 2002.
Chaffetz's criticism states that OGE's public statements on Trump's business are "blurring the line between public relations and official ethics guidance." Shaub testified in his confirmation hearing in 2013 that he intended to make the office's work more open to the public.
Chaffetz notes in his letter that the questions about OGE's public-facing discussions also came up in a different letter he sent to Shaub in 2015 after cross-examining the Office of Government Ethics director in a subcommittee hearing.
In December 2015, an Oversight subcommittee headed by Rep. Mark Meadows (R-S.C.) summoned Shaub was for what was ostensibly a reauthorization hearing for the OGE and two other agencies. During the hearing, Chaffetz came in and cross-examined Shaub about why the ethics office had allowed former Secretary of State Hillary Clinton to not include certain speeches made by her husband, former President Bill Clinton, on her annual financial disclosures.
In his questioning, Chaffetz repeatedly confused a speech given by Bill Clinton at the University of California, Los Angeles, in 2012 for one that Hillary Clinton gave at UCLA in 2015. Shaub stated that, like both congressional ethics committees, OGE's guidance was that when an individual acted as an agent of an outside organization ― in this case, the Clinton Foundation ― they did not have to report the honoraria they directed to the organization if they could not receive the honoraria as a personal payment to begin with.
Ethics experts disagreed with this interpretation at the time, and the Clintons ultimately disclosed their speech payments that were directed to the Clinton Foundation to make the controversy go away.
During the 2015 hearing, Chaffetz pressed Shaub on why OGE did not investigate the matter at the time. Shaub responded that the office does not have the statutory authority to launch investigations. The agency is largely prophylactic, in that it helps prevent conflicts of interest as officials enter government.
"I'm just suggesting that you're just shuffling paperwork," Chaffetz said in response. "If you're just taking everything at face value and then reprinting and putting it up on the shelf, what good are you? You're not really ― why should we even have you if you're not going to actually review them, hold people accountable and do any investigation."
Shaub responded in a letter to Chaffetz in 2016.
"OGE's strategic plan includes a goal of providing information to citizens about government ethics requirements," he stated.
Shaub then went into further detail about the legal interpretation OGE used for Clinton's disclosures, noting that the 13 years of disclosures Chaffetz asked about had included many disclosures made to the Senate Ethics Committee and not OGE.
UPDATE: 3 p.m. ― House Democratic leadership piled on criticism of Chaffetz Friday afternoon. Minority Leader Nancy Pelosi (D-Calif.) said in a statement that Chaffetz had "appointed himself President-elect Trump's chief strongman and enforcer."
Minority Whip Steny Hoyer (D-Md.) issued a statement saying the Office of Government Ethics "must be allowed to do its job, free from political interference."
Popular in the Community