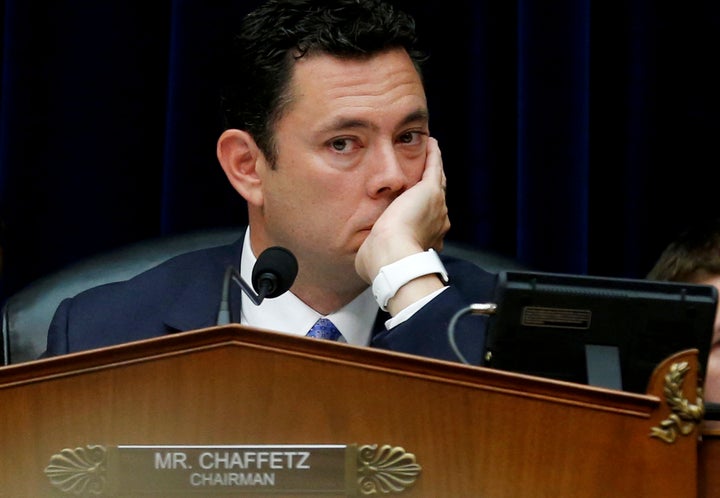 WASHINGTON ― Rep. Jason Chaffetz (R-Utah) was the first congressman to say he couldn't vote for Donald Trump after the GOP nominee's vulgar 2005 comments surfaced. But now, less than three weeks later, Chaffetz is back on the Trump train ― sort of.
Chaffetz tweeted Wednesday night that while he wouldn't defend or endorse Trump, he would vote for him.
It's unclear what distinction Chaffetz sees between announcing he'll vote for someone and endorsing them ― you know, because it's the same thing ― but the Utah Republican seemed to think he wasn't completely contradicting himself, even though he is.
Chaffetz, chairman of the House Oversight and Government Reform Committee, was quick to unendorse Trump after a recording published Oct. 7 revealed Trump talking about grabbing women by their privates and forcibly kissing them without consent.
"I'm out," Chaffetz told a Utah news station. "My wife and I, we have a 15-year-old daughter, and if I can't look her in the eye and tell her these things, I can't endorse this person."
Apparently, Chaffetz now knows what to tell the teen. He's back in, using Democratic nominee Hillary Clinton as his excuse.
Chaffetz is just the latest Republican to re-endorse Trump after withdrawing an endorsement ― and to claim he'll neither endorse nor defend Trump's actions, but will vote for him to be president of the United States. His reversal is even more puzzling because his state may go to independent presidential candidate Evan McMullin, who's polling within a few points of Trump and Clinton in Utah.
Perhaps Chaffetz thought that if Ryan were forced out as speaker because of his tepid support for Trump, someone not supporting Trump at all would have no shot.
Or maybe he just no longer has a problem supporting someone who says he sexually assaults women.
Support HuffPost
The Stakes Have Never Been Higher
Popular in the Community