On the afternoon of April 19, sandwiched between stories on Kim Kardashian's flu-related weight loss and reclusive fitness guru Richard Simmons venturing outside in disguise, TMZ chief Harvey Levin introduced "one of the most powerful people in Congress" to his online viewers.
Hours earlier, BuzzFeed reported that House Oversight Committee Chairman Jason Chaffetz (R-Utah) would not seek re-election in 2018, a scoop Chaffetz confirmed 10 minutes later on Facebook.
Chaffetz spoke to some Utah media about his decision ― a customary nod to his home press corps. But then he put on a pair of headphones and discussed the bombshell political news via web chat with Levin and TMZ co-executive producer Charles Latibeaudiere.
"I've been honored to serve, but I just turned 50 years old and I'm sleeping on a cot in my office," Chaffetz told the pair. "I'm away — more than 1,500 nights I've been away from my family. And I happen to have a wife I love and kids I adore and it's time to re-evaluate my life. And sleeping on the cot gets to you after awhile." He said in the days after the interview that he may leave office before his term is up.
Levin said during the interview that he had become friends with Chaffetz in recent years. He said he's visited Chaffetz's congressional office-apartment, and could confirm it's a "crappy existence."
A Chaffetz spokesperson confirmed the friendship, and said Levin reached out for an interview after news of the congressman's decision not to run for re-election.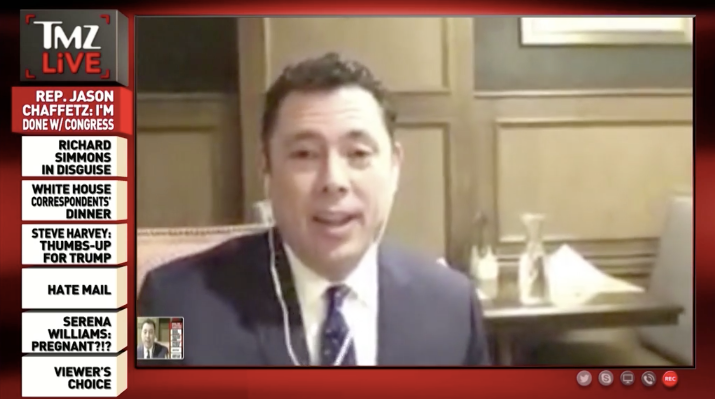 Among the 400-plus members of the House, few have as big a national profile as Chaffetz ― a fast-rising congressman who runs one of the preeminent oversight committees on Capitol Hill. But congressional power players typically cultivate relationships with institutional media, like The New York Times and The Washington Post. Chaffetz also courted a less conventional source for political news: TMZ, which has built its brand with aggressive Hollywood coverage.
Chaffetz has spoken to TMZ a few times over the years, including in 2015, when he talked about Republican Caitlyn Jenner, the transgender former Olympian. But he has appeared particularly accessible to the network in recent months. And TMZ has scored conspicuous scoops on topics directly under his committee's purview, such as Secret Service security lapses.
How a 50-year-old Mormon congressman from Utah became a fixture of a site known for coverage of Tinseltown is a curiosity to Capitol Hill aides. But the answer may have as much to do with TMZ's growing desire to expand into the world of political journalism as it does to Chaffetz's relationship with Levin.
Though TMZ is best known for breaking major celebrity stories, like Michael Jackson's death, Mel Gibson's anti-Semitic rant, and NFL star Ray Rice punching of his fiancee in a casino elevator, the site has considered breaking into Washington in the past.
TMZ doesn't have a Washington bureau, but it doesn't lack high-ranking sources. Last month, Levin visited President Donald Trump at The White House and reportedly broached the idea of the president appearing again on "OBJECTified," his forthcoming Fox News series.
The Trump White House, with top staffers like Sean Spicer and Kellyanne Conway crossing into the broader culture and getting celebrity treatment, has been good fodder for TMZ as well. Last month, the site dubbed Conway a "D.C. Rockster" during a "TMZ Live" segment showing the White House counselor repeatedly stopped by people on the street. In another segment, a reporter peppers Conway with questions, such as how she stays so beautiful and what she thinks of being parodied on "Saturday Night Live."
Such coverage reflects the basic ethos of the site, which has excelled in capturing stage-managed personalities off guard through verite-style video ambushes. And when TMZ has ventured into other political topics, it hasn't swerved far from that model. The site recently covered House Speaker Paul Ryan (R-Wis.), for instance, with an "exclusive" report on his trip to Universal Studios.
TMZ's coverage of Chaffetz and Chaffetz-related topics has had far more depth and actual reporting. Take, for instance, its sustained focus on the Secret Service, an agency Chaffetz has investigated and challenged. Dozens of Secret Service agents were disciplined last year over leaking information that Chaffetz ― who had been investigating the agency's security failures ― once applied for a job there.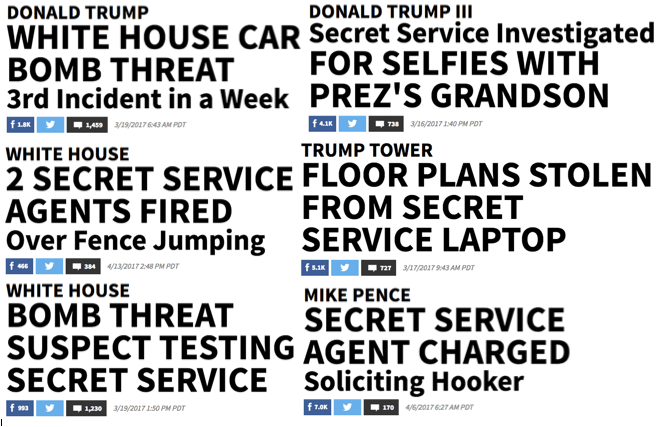 The TMZ reports, like much of the site's articles, have no bylines. Chaffetz is quoted as an on-the-record source in a couple of stories. But they most rely on unnamed sources.
On March 7, TMZ reported that a White House fence jumper apprehended by the Secret Service was not on the agency's "radar," information attributed to law enforcement sources. In an "exclusive" March 17 story, TMZ reported that the fence jumper, Jonathan Tuan-Anh, had been on White House grounds for nearly 20 minutes before being caught. The site didn't identify sources. That same day on "TMZ Live," Levin and Latibeaudiere kicked off the show by discussing the theft of a Secret Service agent's laptop that contained Trump Tower floor plans.
On March 18, TMZ reported in another "exclusive" story that the White House fence-jumper had told the Secret Service he wanted to get inside before actually doing so. "Some members of Congress are outraged, one telling us it's beyond comprehension the intruder was not on the radar of the Secret Service when he jumped the fence," the site reported.
In addition to covering Secret Service miscues, TMZ reported on March 19 how a Mar-a-Lago guest had not breached security, as had been claimed. TMZ, again citing law enforcement sources, reported on March 20 that the laptop thief was caught on video. "We're told the video is grainy so it's hard to make out the thief's features, but it's definitely a lead," the site reported.
On March 21, Chaffetz spoke to TMZ for an "exclusive" story about a White House fence-jumper's ability to linger around the grounds without detection by Secret Service. "It was even worse than I thought," he said. Following another, albeit botched, fence-jumping, Chaffetz told TMZ the next day that the suspect "was up there dangling on the fence, and the Secret Service grabbed him."
A TMZ spokesman did not respond to questions about the site's coverage of Washington, and specifically Chaffetz.
Chaffetz's relationship to TMZ has been a two-way street, with the congressman providing quotes for the site, and TMZ providing fodder for the congressman. When TMZ first reported that the Centers for Disease Control and Prevention was planning to use Muppets in an educational campaign to teach children about the Zika virus, Chaffetz quickly pounced, demanding a "written explanation" why the CDC was partnering with the Jim Henson Co.
In a 2012 congressional hearing on innovations in mobile technology, Chaffetz referenced TMZ in saying how the site could hypothetically put "drones up flying to follow celebrities in their 10-mile zone. That's what TMZ stands for, right?" (Close: It's Thirty-Mile Zone).
The relationship has indeed stretched back years. Chaffetz told TMZ in March 2009 that he sleeps on "a cot" during a segment on the preferred mattresses of members of congress. Later that year, Chaffetz told TMZ that conservative beauty pageant winner Carrie Prejean, who sparked controversy after a sex-tape revelation, had a future in politics. It was the type of quote that turned heads and had casual viewers wondering why politicians would bother talking to TMZ. Chaffetz responded by suggesting he had been misquoted.
"They asked if I agreed that she was the next Sarah Palin," he told Utah's Deseret News. "I said, 'Being the Republican nominee for the vice president of the United States is a far cry from being in a Donald Trump beauty contest."
Related
Popular in the Community