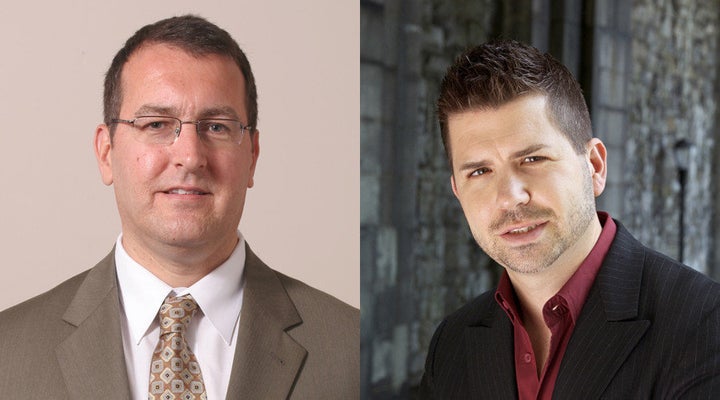 This week we bring you another Voice to Voice, this time from Jason Cianciotto and Sean Cahill, authors of the new book "LGBT Youth in America's Schools."
Jason Cianciotto, MPA, has been advocating for the health, safety, and well-being of LGBT people for over a decade. He has served at the national level as research director of the National Gay and Lesbian Task Force Policy Institute and at the state level as executive director of Wingspan, Southern Arizona's LGBT community center. As a consultant specializing in policy analysis and government affairs, Jason has worked in collaboration with nonprofits and private foundations to support the appointments of experts on LGBT issues to federal advisory boards and to secure bilateral funding for international LGBT human rights programs.
Sean Cahill, Ph.D., is Director of Health Policy Research at the Fenway Institute. He is also Adjunct Assistant Professor of Public Administration at New York University's Robert Wagner School of Public Service. Cahill is a member of the Massachusetts Commission on GLBT Youth. At Fenway Cahill focuses on LGBT health and HIV policy. He is author of "Pre-exposure prophylaxis for HIV prevention: Moving toward implementation," published by the Fenway Institute in February 2012. He is also the author of several books and has worked with the Gay Men's Health Crisis and the National Gay and Lesbian Task Force Policy Institute, among other organizations.
Here Cianciotto and Cahill discuss why attention to anti-LGBT bullying has increased, what parents and activists can do to combat it and more.
Jason Cianciotto: Since we started working on "LGBT Youth in America's Schools" several years ago, mainstream attention to anti-LGBT bullying is much more prevalent.
Sean Cahill: Yes. Our culture has changed dramatically, as evidenced by the fact that we have an African American president who also supports marriage equality for same-sex couples.
More pertinent to this population, LGBT youth are coming out at younger ages -- around age 15 now as opposed to in their early 20s in the 1970s and 80s. Young people have so much more technology to access information and other people like them. So, the culture and technology have changed and school administrators and policymakers have not always kept up.
Jason Cianciotto: Along with the successful efforts of youth advocacy groups, I also think that people are more aware because the parents of youth who are bullied are no longer as isolated. They are now more connected and empowered to speak out and help change the school and social environment. It is much harder for society, policy makers, and the media to ignore these parents.
Sean Cahill: Yes, the anti-LGBT stigma in general is less, and that makes young people and parents more likely to speak out against harassment and discrimination. This is linked to people coming out due to the AIDS crisis and the antigay sentiment it evoked. In 1985 only one in four Americans knew an openly gay or lesbian person; by 2000 three in four did. This is the single greatest predictor of support for sexual orientation nondiscrimination, and I think it has affected schools and other social institutions.
Jason Cianciotto: Increased attention to anti-LGBT bullying is critical, but I'm concerned that many grassroots groups formed by students and parents focus so much on the tragic and heartbreaking stories about bullied youth without also offering hope and information to people, including teachers and school administrators, about how schools can become safer and more welcoming of LGBT students. This is one of the reasons why I am so glad we also focused in the book on the federal, state, and local policy interventions that can make a difference for students who are bullied based on their real or perceived sexual orientation or gender identity.
Sean Cahill: I think the number one most important thing is to listen to young people and involve them in solving this problem. I am privileged to sit on the Massachusetts Commission on GLBT Youth -- the only one of its kind in the country. It was created by Republican Governor Bill Weld in 1992. We have many youth members. We also work closely with gay-straight alliances and regional alliances for LGBT youth, such as the Boston Alliance of Gay and Lesbian Youth, which serves LGBT youth who are middle- or high school-aged, outside of the schools. For example, next month we are holding hearings in Boston where LGBT youth will be talking about their experiences in schools, the issues they are dealing with, and what is working in their individual schools.
Based on the research and advocacy on these issues over many years, some of the additional programs that are important are parental involvement in things like school committees and PTAs; passing nondiscrimination laws and regulations that include explicit protections based on sexual orientation and gender identity; establishing GSAs; finding allies with other students who are bullied, perhaps based on their religious or ethnic background; and supporting openly LGBT teachers and staff who can serve as role models for LGBT youth.
Jason Cianciotto: Yes -- these policy interventions make a significant and measurable difference in the experiences of students. However, it seems like there is a new story ever day about youth who are being bullied at schools in states that are far less supportive than New York, Massachusetts, or California. State policies are changing all the time, but the research in our book found that as of last September, only 16 states and D.C. had laws that addressed harassment, discrimination or bullying based on sexual orientation or gender identity.
We have far to go to ensure that all students are protected by these policies, but there has been a lot of progress over the past decade. In 2000, only 2 percent of students in public schools were protected by an inclusive statewide anti-bullying law. By 2010, that number grew to nearly 40%.
In the remaining states, opposition to any program that provides specific support to LGBT youth is so strong. What do you think parents and activists can do in those states in the face of such strong ideological opposition? Common sense solutions are ignored in place of arguments based on faith or belief systems.
Sean Cahill: Great and key question. Dr. Caitlin Ryan's Family Acceptance Project has prioritized working with religious conservative African American and Mormon parents, among other groups, to understand why they might oppose LGBT-affirming youth interventions and to find common ground.
That common ground is that all parents want their kids to be safe, healthy, and happy.
Jason Cianciotto: Yes -- we have to speak to their hearts as well as their minds.
Sean Cahill: Ryan found that parental acceptance of LGBT youth correlates with much lower rates of unprotected sex, suicidality, homelessness, and other health risks. We know that many LGBT youth who are homeless were rejected by their families.
Jason Cianciotto: I was really moved by a presentation she gave at a conference I attended last year. The differences in intermediate and long-term health outcomes were striking even for youth whose parents may not be completely accepting, but aren't outwardly homophobic.
While of course it would be even more helpful, parents don't need to join PFLAG and put a rainbow sticker on their car in order to make a big difference in the lives of their LGBT children.
Sean Cahill: It is also critical that we better understand and counter the efforts of anti-LGBT organizations who oppose supportive interventions for LGBT youth by talking to elected officials and pushing policy changes that institutionalize support for vulnerable young people.
All students have the right to a safe educational experience. The interventions we described in the book allow all students to focus on learning and developing socially without having to worry about being bullied.
Given the striking variation you described at the state and local level and the fact that we have strong progressive leadership in the Obama-Biden Administration right now, it's also important to focus on how the federal government can play a more proactive role in promoting education policies and practices that support LGBT youth.
Jason Cianciotto: Right. I was very excited to see, just a few weeks ago, the Obama Administration extend its full support to the Safe Schools Improvement Act and the Student Nondiscrimination Act. These bills would set the standard at a federal level for schools to actively prevent and report bullying and harassment based on real or perceived sexual orientation or gender identity, among other categories. They have languished in Congress for a decade and I think the political and social momentum is building for them to pass. Of course, much of that is dependent on the outcome of the coming election.
Beyond policy, I think that the President, along with so many other federal leaders, has been using the national platform to express personal support and concern for bullied youth in speeches and videos. I can't imagine what it would have meant for me, when I was being bullied in middle and high school, to see the President be so vocal about my personal worth and right to safety regardless of my sexual orientation. It's very powerful and important.
Sean Cahill: I think we have great people in place at the Department of Education and at the Centers for Disease Control and Prevention, and that they should work closely together to understand how anti-LGBT social exclusion and prejudice affects public health. This is something we are focusing on more and more here at The Fenway Institute. The key HIV policy person at CDC, Dr. Kevin Fenton, very much gets how anti-LGBT prejudice increases the vulnerability of LGBT youth to HIV and other health disparities.
Jason Cianciotto: You specifically wrote about abstinence-only sex education in the book and its impact on LGBT youth, particularly youth of color. I think we will see a resurgence of those policies if anti-LGBT conservatives win in the coming election.
Sean Cahill: Absolutely. President Obama and the Democratic Congress completely defunded abstinence-only-until-marriage in 2009, for the first time since it was initiated by President Reagan in 1981. Unfortunately some funding was slipped back into the Affordable Care Act in early 2010 to entice Republicans to vote for it. It didn't work, but now there is a relatively small amount of funding available for abstinence only.
It is full of inaccuracies, such as that using a condom is like playing "Russian Roulette," and in that sense dangerous and a waste of money. Many of the abstinence-only curricula also have antigay and sexist content based on outdated, 1950s-style gender stereotypes.
Sadly so many local governments are strapped for funding that they are allowing outside groups to provide abstinence-only materials in their schools. We have a huge sexual health problem among young people in America -- nearly 20 million Americans get a sexually transmitted infection each year; half of these are age 15 to 24. This is 100% preventable with the proper education and condom availability.
Jason Cianciotto: I think our time for this particular discussion is just about up, but I remember when we first started writing an earlier manuscript on these issues when we began working together in 2003. Coming to work every day to write about this raised a lot of painful memories for me about being bullied and rejected for being gay when I was a teenager.
As people who care about making the world a better place for LGBT people, and our youth in particular, I think there's always a personal element. I'm very grateful that we had the opportunity to create something that can be used to help make a difference in the lives of LGBT students -- for all students who are bullied regardless of what their sexual orientation or gender identity may be.
Sean Cahill: Thanks Jason. I feel really good about it and what kind of resource it has the potential to be for young people, parents, educators and concerned citizens. I am grateful to you for helping make it a reality as well as our colleagues at the University of Michigan Press, but also to Cathy Hartnett at the Kevin Mossier Foundation, Beth Zemsky at the University of Minnesota, and other key people who helped us get this project off the ground nearly a decade ago.
Popular in the Community