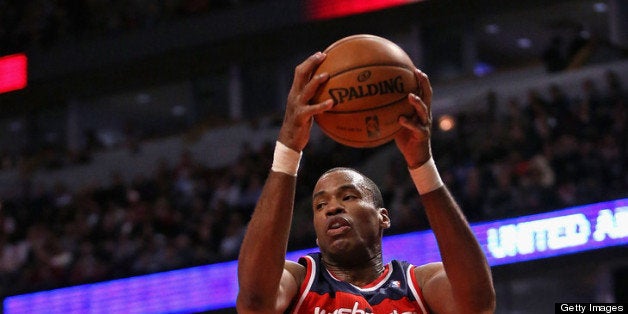 I -- like many others -- am incredibly happy that Jason Collins became the first openly gay major league athlete today. Collins is a hero, and he struck a major blow for human rights. Kudos as well to Sports Illustrated for a beautifully written, history-making article.
There's only one gray lining to this otherwise silver day: When I logged on to SI this morning to read Collins's article, I couldn't help but note that the comments thread was getting ugly and uglier.
SI responded as any reputable news outlet would -- it shut off and hid the comments. But here's the problem: SI is simultaneously running an article about reactions to Collins's statement. From the White House to Collins's teammates, these reactions have all been wonderfully positive.
SI neglects to mention the bigoted cesspool that was this morning's comments thread. I'm not arguing that SI should reproduce any of that anonymous hate speech, but portraying the online reaction as uniformly positive is journalistically problematic for SI, unfair to Collins, and -- most importantly -- unrepresentative of the ongoing battle for equal rights.
It's journalistically problematic because SI is part of the story: SI isn't just covering Collins's sexuality -- it played an integral role in breaking it, one which it is more than happy to document. The immediate hateful reaction on its website is part of that story too.
And SI's feigned ignorance of the bigotry in its comments thread this morning is unfair to Collins. To portray the reaction as uniformly feel-good cheapens what Collins did today.
Here's the truth: Collins is a courageous man. Many Americans support him, but there are still bigots out there who don't. And while we are rapidly (and happily) reaching the point where it is socially unacceptable to advance such prejudices in public, the Internet provides a new and (sometimes) harmful domain of anonymous speech. What Collins did was courageous because, even in 2013, not everyone's reaction will be positive. Some will be downright hurtful, especially those hiding behind their keyboard. Pretending there's no pushback won't move us forward.
Moreover, wishing away this morning's bigoted comments also misrepresents how much remains to be done, socially and politically, on equal rights. Collins took an important step, but we've still got a long way to go. For starters, the Wizards could fire Collins tomorrow because he's gay without violating any federal laws. Pretending everything is hunky dory risks lulling us into a false sense of complacency.
Jason Collins and Sports Illustrated made history today. But that shouldn't stop SI from acknowledging that this article is another step in a long journey, not the completion of it. And this morning's comment thread should remind us we've still got much to do.