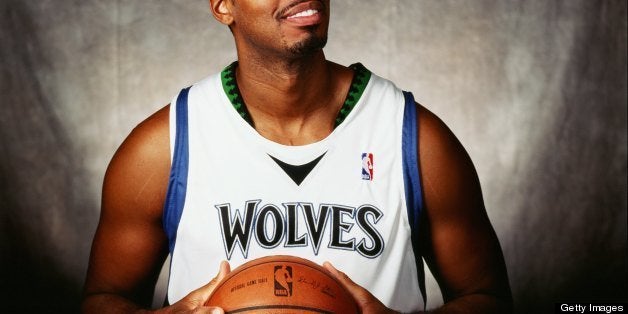 In his groundbreaking column published on Monday in Sports Illustrated, Jason Collins made it fairly clear that he never wished gain notoriety because of his sexuality.
I didn't set out to be the first openly gay athlete playing in a major American team sport. But since I am, I'm happy to start the conversation. I wish I wasn't the kid in the classroom raising his hand and saying, "I'm different." If I had my way, someone else would have already done this. Nobody has, which is why I'm raising my hand.
Whether Collins wished for it or not, in the hours following the publication of his column, it was quite encouraging to see the overwhelming support he received. On TNT, Charles Barkley called it "A great day for the NBA." And notes of encouragement came from Barack Obama, Kobe Bryant and Larry King, among many, many others. While there are certainly people who did not approve of Collins' announcement, the prevailing story of yesterday wasn't about debate, but rather, acceptance. It became clear that our society was not only ready for an openly gay athlete in a major sport, but that we were anxious to welcome him.
This is especially apparent when you compare the reception Collins received with that of Jackie Robinson, as outlined by Chris Lamb, author of Conspiracy of Silence: Sportswriters and the Long Campaign to Desegregate Baseball:
The Brooklyn Eagle left Robinson out of its game story. Eagle columnist Tommy Holmes wrote that it was the first time that "an acknowledged Negro" had taken the field in the major leagues. Dick Young of the Daily News didn't mention Robinson until the last paragraph of his story. "Red" Smith, one of the greatest names in sportswriting, mentioned Robinson for the first time in the 12th paragraph of his column, referring to the ballplayer as "that dark and anxious young man."

Arthur Daley of the New York Times, who later became the first sportswriter to win a Pulitzer Prize, did not write about how Robinson did in the game. Instead, Daley tried to assure his readers that Robinson was the "right type" of black man -- deferential and quiet, one who never questioned his place. "The muscular Negro minds his own business and shrewdly makes no effort to push himself," Daley said. "He speaks intelligently when spoken to and already has made a strong impression."
While Jackie Robinson could hardly draw the attention of the press -- much less the President of the United States -- Collins' announcement was immediately splashed on the websites of The New York Times, CNN and The Washington Post, among others.
In fact, the only major website absent in this regard was ESPN -- an organization that in the past has had trouble dealing with stories they didn't break. Hours after the announcement occurred, ESPN still felt that Tim Tebow getting cut from Jets was the top story of the day.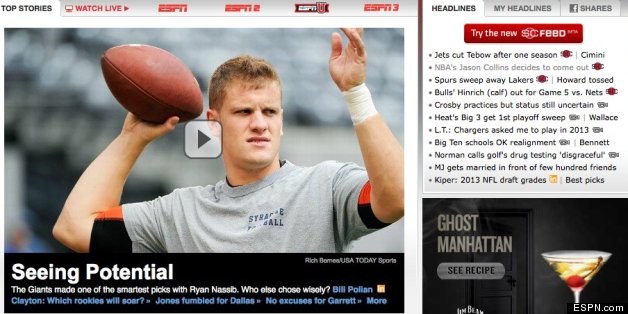 Screenshot of ESPN.com homepage at 2:51 p.m. EST on Monday, four hours after Sports Illustrated published Jason Collins' column.

And the omission wasn't just on the web -- Deadspin compiled an eye-opening montage of all the stories ESPN covered before even mentioning Jason Collins' announcement. And to top all of that off, once ESPN did acknowledge the news -- four hours later -- and decided to make it the topic of discussion on Outside the Lines, a daily program on the network which takes an intellectual look at cultural issues in athletics, they still missed the mark.
The producers of OTL somehow decided it would be a good idea to invite Chris Broussard -- an NBA reporter for the network who in the past has been open about his disapproval of the gay community -- to give his views on Collins' announcement. The results were predictable:
It's clear what the producers of OTL were trying to do. They wanted to create what they thought would be an intellectual debate about this issue that might engage both sides of it. The problem with that strategy is that this isn't an issue up for debate. This is about human rights -- which is why Chris Broussard is wrong. He's always been wrong. And someday, my kids are going to read about those who shared his views in history books, and they're going to be astounded that such people ever existed.
People who hold opinions similar to Broussard's have had plenty of time to dictate the way gay people are treated in athletics. Yesterday was about striking down their rhetoric, not legitimizing it.
But to be clear, I'm not angry at Broussard -- he's been open about his archaic views on the gay community in the past. He was likely raised in an environment that cultivated these views, and unfortunately he's probably never seriously confronted them. Hopefully he will now.
No, I don't blame Chris Broussard for saying what anyone familiar with his past opinions on the topic knew he'd say -- I blame ESPN for missing out on the Collins story, then burying it until they could think of a way to make this news about them in the form of one of their reporters spouting off ignorance.
Indeed, on Monday, sports deserved better than its self-proclaimed worldwide leader.
REAL LIFE. REAL NEWS. REAL VOICES.
Help us tell more of the stories that matter from voices that too often remain unheard.