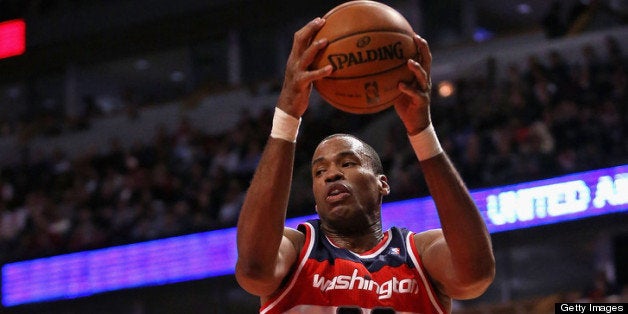 WASHINGTON -- The gay community has its Jackie Robinson. It now needs its Branch Rickey.
NBA player Jason Collins took the sports world by surprise when he came out publicly on Monday, becoming the first openly gay athlete ever in U.S. major professional sports.
"I didn't set out to be the first openly gay athlete playing in a major American team sport. But since I am, I'm happy to start the conversation," wrote Collins in a Sports Illustrated op-ed.
Collins is currently a free agent. So the question now is whether any general manager will sign Collins to another deal. With it would flow all the attention and scrutiny that comes with signing this modern gay-rights and sports icon. It would also mean that young athletes around the country would get to watch a publicly gay basketball player on the court on a regular basis.
"I've reached that enviable state in life in which I can do pretty much what I want," he added in his coming-out piece. "And what I want is to continue to play basketball. I still love the game, and I still have something to offer. My coaches and teammates recognize that. At the same time, I want to be genuine and authentic and truthful."
Brian Ellner, a prominent gay rights activist who serves on the board of Athlete Ally, a group dedicated to fighting homophobia in sports, said he is wondering who will be this generation's Rickey, the former general manager of the Brooklyn Dodgers who courageously broke Major League Baseball's color barrier and signed Jackie Robinson.
"I just think there will be such significant fan interest, and I don't just mean within the LGBT community, but nationally, straight and gay," he said. "And the first gay player to play, as opposed to the first gay player to come out, will be a seismic moment and a very special season for whatever team signs Jason Collins."
Rickey was crucial to Robinson's career, fighting for him as he faced discrimination from other athletes and baseball fans.
Brendon Ayanbadejo, an NFL free agent who is an Athlete Ally and has been one of the most outspoken gay-rights advocates in sports, agreed that getting Collins on a team will be an important step.

"It would stifle the cause if a team doesn't pick him up," he told The Huffington Post in an interview.
The former Baltimore Ravens linebacker was also less sure that Collins needs a Rickey-like mentor.
"He's done everything on his own," he said. "His Branch Rickey were guys like Chris Kluwe and Scott Fujita and organizations like Athlete Ally and then some of his fellow professional athletes that came out in the past, whether it be John Amaechi or Wade Davis. ... I think he's going to be a mentor to a lot of people, and he's going to trail-blaze and pave the way for the next wave of people."
Collins' newfound celebrity could be a draw for franchises eager to pull in new fans and attention. Still, he faces challenges in getting signed that have nothing to do with the attention surrounding his coming out.
Marc Stein at ESPN.com wrote that six out of 14 teams they surveyed said they expected to see Collins, 34, playing in the NBA next season, citing his age and abilities as possible reasons he might not get signed -- nothing to do with his announcement.
In a statement on Monday, the Wizards praised Collins but were quiet on whether they would be interested in bringing him back.
"We are extremely proud of Jason and support his decision to live his life proudly and openly," said the team. "He has been a leader on and off the court and an outstanding teammate throughout his NBA career. Those qualities will continue to serve him both as a player and as a positive role model for others of all sexual orientation."
Ellner, however, was more confident.
"In the end where Jason goes will be a basketball decision," he said. "He is widely respected, a team leader, a seven-footer and he's tough. Teams will want him. Jason can mentor and contribute big time off the bench. This is a player who helped lead the Nets to two NBA Finals. I have no doubt he'll be signed. (The Celtics could sure use him in the middle right now.)"
Related
Popular in the Community