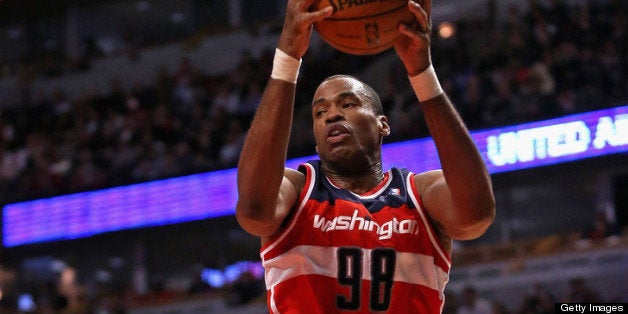 Jason Collins rocked the sports world today with these simple words:
I'm a 34-year-old NBA center. I'm black. And I'm gay.
Collins made his announcement in a piece in Sports Illustrated that covered his long process of coming out and the supportive influence of family members and friends on his final decision.
In the somewhat rambling essay that covered everything from his aggressive philosophy on fouling opponents to the importance of wearing the number 98 in honor of Matthew Shepard; one paragraph stood out as perhaps the most important of all.
I'm from a close-knit family. My parents instilled Christian values in me. They taught Sunday school, and I enjoyed lending a hand. I take the teachings of Jesus seriously, particularly the ones that touch on tolerance and understanding. On family trips, my parents made a point to expose us to new things, religious and cultural. In Utah, we visited the Mormon Salt Lake Temple. In Atlanta, the house of Martin Luther King Jr. That early exposure to otherness made me the guy who accepts everyone unconditionally.
In this one paragraph we can see the kind of family and church Collins was raised in. His faith testimony is particularly compelling in the context of being both black and gay given the importance of faith within the black community.
Jesus was Jason's model and teacher in tolerance and understanding in a family and community that took faith seriously. His Christian values became a source of strength and courage in his embrace of his sexual orientation, rather than a location for pain and humiliation.
Collins' experience refutes the polarity we hear so much of, that to be religious is to be anti-gay or to be gay is to be anti-religious. Instead it points to the reality that many if not most LGBT people have some religious or spiritual beliefs that sustain them in their lives and loves.
In my opinion, the ability to love another person is one of God's greatest gifts, and I thank God every day for enabling me to give and share love with the people in my life.
Cooper and Collins are doing something very important by including religious talk within their coming out essays. Essentially they are insisting that God created, supports and loves them --including their sexuality, not in spite of it.
The media likes giving the platform to anti-gay voices who can be so hurtful to young LGBT peoples struggling to come out.
Fortunately we have people like Jason Collins, Anderson Cooper who were raised in loving families whose religious beliefs were used to teach positive values of acceptance and love. And beyond them we have thousands of religious leaders and congregations who stand ready to welcome LGBT people into their communities.
Today there are hundreds, perhaps thousands of young people who are thanking God for Jason's example of a person who can love his family, love his sport and love God while loving a person of his own gender.
PHOTO GALLERY
LGBT Athletes
REAL LIFE. REAL NEWS. REAL VOICES.
Help us tell more of the stories that matter from voices that too often remain unheard.