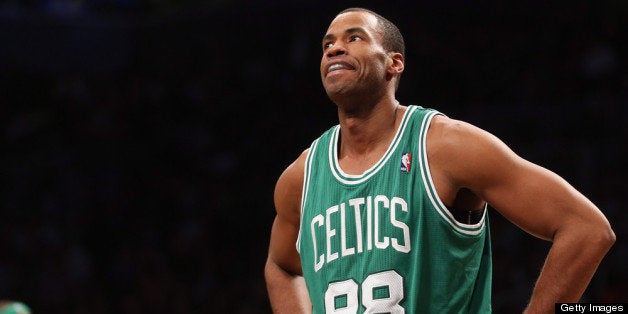 When I heard Jason Collins had come out as gay, becoming the first active NBA player to do so, the first thing I tried to do was remember a game where I'd seen him play, as if a mental instant replay could crystalize exactly how important this announcement was going to be for the league. Instead, the game that came to mind and solidified the significance of this moment to me is one I've never actually seen: a 1958 Lakers exhibition game in Charleston, W.V.
In 1958 the Minneapolis Lakers, who wouldn't move to Los Angeles for another two years, had three black players, including one of the all-time greatest players in the NBA, Elgin Baylor. Baylor is notable for many things, including being the first black player to ever boycott a game, because of the unequal treatment he received in a city because of his race.
The Lakers were scheduled to play an exhibition game in Charleston, which was the hometown of "Hot" Rod Hundley, Baylor's white teammate and friend. When the team arrived in Charleston, they were told that the black players would not be able to stay at the hotel because it was whites-only. After they were given the same response by other hotels in the area, the team was forced to stay in a run-down hotel across town that was reserved for black people. When Baylor left the hotel to eat, he found that no restaurants in the town would serve him, and he and the other two black players were forced to eat at the concession stand at the Greyhound bus station.
When it came time for the game, Baylor refused to play, a huge blow considering that Baylor was the star player on the team. The promoters of the game approached Hundley to get him to convince his friend to play. Hundley asked Baylor to play as a favor to him, given that it was his hometown. Baylor told his friend that he simply couldn't play in a town where he hadn't been treated like a human being. Hundley remembers that as a turning point in his own understanding of the devastating toll that racial discrimination took on the psyches of black people. "Elj," he ultimately told him, "don't play."
What strikes me about this particular story isn't what it meant for Baylor but what it meant for Hundley. It's always amazed me that Hundley described that as the moment that he began to understand that the racism his teammate faced was about more than restaurants and hotels: It was about equal dignity. And he wouldn't have started to understand that unless he knew Baylor. And I've always kind of loved him for that, because it is simply the most perfectly human explanation of why the NBA works so well as an unwitting agent for social change, and why I was so excited to hear about Jason Collins.
We know that people are more supportive of the rights of lesbian, gay, bisexual and transgender (LGBT) people when they know of someone in the community. And the NBA has an incredible capacity to bring members of the community to more people, to make teammates out of strangers, to connect a stadium full of people with everyone who has sat in that crowd before them, and to link the fates of people who might otherwise never have understood each other's perspective. When asked to comment on whether an active NBA player could ever come out, Hall-of-Famer Charles Barkley once explained it simply: "I'd rather have a gay guy who can play than a straight guy who can't play."
In other words, as long as the arc of the jump shot bends toward the basket, no one cares who's shooting it.
If playing together in the NBA could make a white guy from Charleston begin to understand the discrimination faced by a black guy from Washington, D.C., I'm excited to think what an openly gay active player can do for a league that still cultivates an idea of masculinity that perpetuates dangerous sexism and homophobia. The NBA can have a transformative impact on the lives of its players, but the players can have a transformative impact right back on the NBA. It is, after all, where amazing happens.
REAL LIFE. REAL NEWS. REAL VOICES.
Help us tell more of the stories that matter from voices that too often remain unheard.