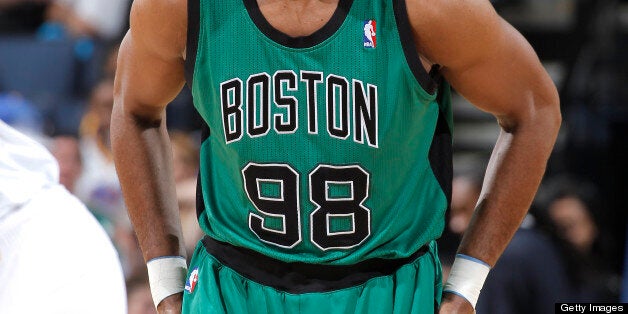 Jason Collins has been praised by lesbian, gay, bisexual and transgender (LGBT) rights advocates around the world for becoming the first male U.S. athlete in a major professional sport to come out as gay while still active. But amidst the media onslaught, many have overlooked one of the most moving aspects of the 11-year NBA veteran's public revelation.
In his Sports Illustrated editorial, the 34-year-old Collins reveals he wore the number 98 in 38 games this season while playing for the Boston Celtics and Washington Wizards as a silent tribute to Matthew Shepard, the 21-year-old gay college student who was beaten and left to die outside Laramie, Wyo. in October 1998.
"My one small gesture of solidarity was to wear jersey number 98 with the Celtics and then the Wizards. The number has great significance to the gay community. One of the most notorious antigay hate crimes occurred in 1998. Matthew Shepard, a University of Wyoming student, was kidnapped, tortured and lashed to a prairie fence. He died five days after he was finally found.

That same year the Trevor Project was founded. This amazing organization provides crisis intervention and suicide prevention to kids struggling with their sexual identity. Trust me, I know that struggle. I've struggled with some insane logic. When I put on my jersey I was making a statement to myself, my family and my friends."
Matthew's parents, Dennis and Judy Shepard, told Fox Sports they were honored by the tribute.
"I would really love to speak to him, because I know Judy and I would just like to thank him," Dennis said. "[Collins] couldn't have been that old [when it happened], so it must have had a tremendous impact on him, the story behind Matt, for him to want to do that. And then to wear it all this time without telling people why until today, that's incredible."
Calling Collins' coming out "a remarkable step forward," Judy echoed those sentiments, noting, "I know Matt would be thrilled."
Meanwhile, Collins' move has earned the athlete both supporters and opponents. Ellen DeGeneres deemed Collins an "incredible role model" for LGBT youth, while the American Family Association's Bryan Fischer implied that potential NBA teammates would blacklist the player out of fear he would be "eyeballing" them in the shower.
Support HuffPost
Every Voice Matters
Popular in the Community