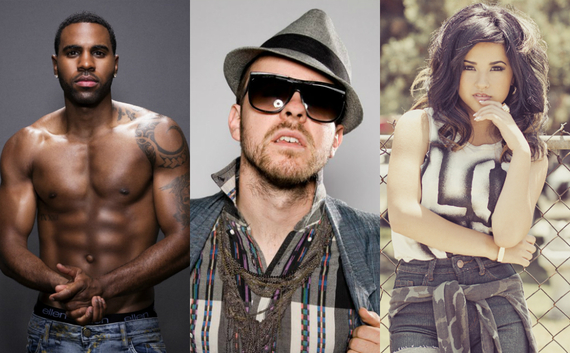 Jason Derulo has had a landmark year, releasing his highest-charting album and giving the world a slew of massive singles, each more catchy than the last. His Talk Dirty CD has so far seen the title track, along with "The Other Side" and "Wiggle" all work their way up the charts and take over radio, proving that Jason has real staying power in pop music. Joining Derulo on tour are two of the most exciting up-and-comers in pop music, Becky G and Wallpaper.
If you don't know Wallpaper. by name, you certainly know their sound. The alternative pop/electro band is fronted by Ricky Reed, who is also an established producer for some of the biggest names in the game. He is responsible for the funky, dirty sax that keeps everyone coming back for "Talk Dirty", as well as the oddly-catchy "Wiggle". The two are apparently already hard at work on new music late at night after shows on the tour bus, with Reed saying they are "out here in the trenches, and it's going to show up in the music."
Aside from producing hits for Jason and other stars (such as Fifth Harmony and a few big names in country you'll hear about soon), Ricky's band Wallpaper. are too much fun to ignore. The group released their major label debut Ricky Reed Is Real last year, and I've been dancing to it ever since. Tracks like "Hesher" and "Good 4 It" show just what Reed and co. can do when let off the leash, which is what every show is like with them.
17 year old Becky G may only have one big hit to her name so far--this year's "Shower"--but that doesn't mean she isn't a force to be reckoned with. The singer has been on tour all year, opening for the likes of Demi Lovato and Katy Perry. Becky said she hadn't met the two yet (she had to finish her leg of Katy's Prismatic Tour before flying back to join Jason and Wallpaper.), but that she was big fans of both of them and couldn't wait to get started. While a year of touring could tire anyone out, Becky seemed ready to get back on stage and finish out her year with a bang.
The Talk Dirty Tour started just a few days ago, and Becky G will be coming on board any day now, completing the lineup. Tickets are available now for the remaining shows, and if they're going to be in town, you should do everything you can do see them--there aren't any bigger parties coming anytime soon.
Here are the remaining dates:
Oct. 21: Sayreville, NJ at the Starland Ballroom
Oct. 22: New York, NY at the Best Buy Theater
Oct. 24: Boston, MA at the Orpheum
Oct. 26: Wallingford, CT at The Dome at Oakdale
Oct. 28: Silver Springs, MD at the Fillmore
Oct. 29: Myrtle Beach, SC at the House of Blues
Oct. 30: Atlanta, GA at the Tabernacle
Nov. 1: Tampa, FL at the Jannus Live
Nov. 2: Miami, FL at the Fillmore
Popular in the Community