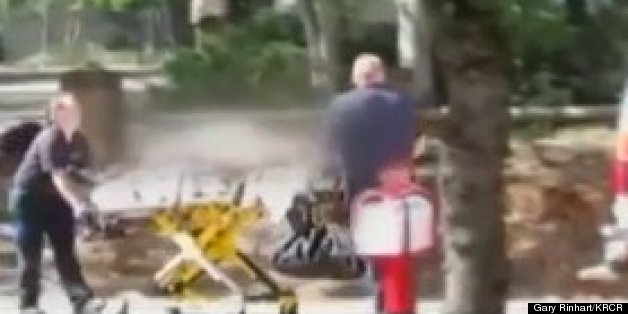 Police in Redding, Calif., said a verbal dispute led to a gruesome incident in which a 27-year-old man stabbed his 59-year-old father, then cut off his own hands at the wrist using a radial saw.
Shasta County sheriff's deputies said they found Jason Dunn standing in the driveway of the family home Monday evening, with his father, Gregory Dunn, lying nearby. Both were transported to an area hospital and are expected to survive despite their life-threatening injuries.
According to CNN, no charges had been filed as of Tuesday evening, but police are investigating the alleged attack as an attempted homicide.
Neighbor Gary Rinehart took video as ambulances arrived. His footage of the scene, censored for graphic content, ran on local news and was picked up by other outlets.
"[The son had] a lot of blood at the end of his arms, like his hands weren't there..." Rinehart told ABC affiliate KRCR. "This is definitely the craziest thing that's ever happened on this street."
Police said the weapon used in the alleged attack was a pair of scissors. It is not yet clear what drove Jason Dunn to cut off both of his own hands.
In 2008, an Idaho man severed his hand with a circular saw, cooked it in a microwave oven, then called 911. The man, who was later placed in protective custody in the mental health ward of an area hospital, reportedly told the 911 operator that he believed that he bore the "mark of the beast."
"[The hand] had been somewhat cooked by the time the deputy arrived," Kootenai County sheriff's Capt. Ben Wolfinger told the Associated Press at the time. "He put a tourniquet on his arm before, so he didn't bleed to death. That kind of mental illness is just sad."
REAL LIFE. REAL NEWS. REAL VOICES.
Help us tell more of the stories that matter from voices that too often remain unheard.
BEFORE YOU GO
PHOTO GALLERY
Bad Choices