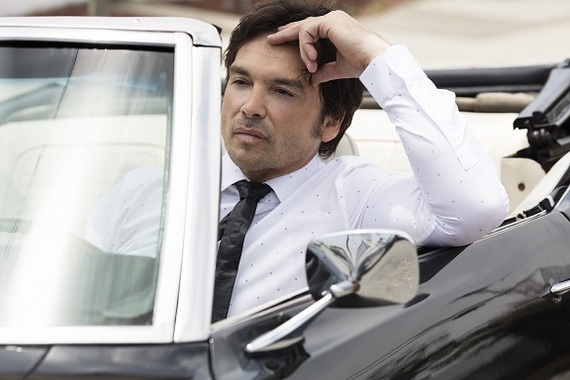 Photo by Peter Svenson.
Jason Gedrick deliveres a breakout Emmy caliber performance in this season's record-breaking original Amazon hit series "Bosch," where he thrilled audiences starring as the mentally disturbed and twisted serial killer 'Raynard Waits'.
Jason's Twitter: @gee_dunk , Amazon's Bosch: @BoschAmazon
Santa Barbara boy Jason Gedrick works hard and plays hard. Sounds cliche, but this guy sure knows how to live life to its fullest. He works like a mad dog, and when it's time to relax, he writes, golfs, cooks and does boxing. Jason -- you can come cook for me any day.
You've been pulling Emmy buzz for your performance in the original Amazon series Bosch. What makes you Emmy material?
What catches my attention in a performance is usually something that shines a light on something that I am familiar with, but through the performance I gain a deeper understanding of that kind of person and that kind of, in the case of Bosch, affliction. The sort of performance that reveals wider ranges of who I am. There have been those that have experienced things in my performance that I was glad came across, for instance, a lady who said that she actually had some compassion for the Waits character despite his despicable acts and watching my character blend chameleon-like into whichever environment he was in until that wouldn't work for him anymore and then adopt a new identity/strategy. If this moving for others great. If it is Emmy worthy, I guess it is in the eye of the beholder.
Tell us about your audition(s) for Bosch and the timeframe from audition to being on set.
The Bosch auditions were not shrouded in secrecy like some auditions are. It was probably more public due to the fact Michael Connelly was finally making Bosch into a show. I originally auditioned for Harry almost a year before. Supposedly I had made choices that they thought might be interesting for something down the road. When that opportunity finally arrived I thought it was funny that my original audition made them feel I was right for the disturbed Waits character. I didn't land the part immediately. There is a process of offers to wish list actors for a particular part. Lucky for me those offers were rejected.
You were a bad boy when you were younger, what with leaving college without telling your parents. Do you still have that rebel mentality or have you calmed down a bit?

That's amusing. I have never really thought of myself as a rebel, or even my behavior as rebellious. The choices I made were all out of a certainty of purpose. The certainty and drive to pursue the entertainment field. I never expected anyone else to understand it. However I have been a hustler and scrapper my whole life. Either through the attrition of being the youngest in my family or in my neighborhoods. You have to think quick on your feet. Have I fought for roles to the best of my abilities by any means necessary? Absolutely. With the one exception I haven't thrown other actors under the bus for my own gain. Which is a less common trait than one might think.
What's it like working on an Amazon production vs. cable / network TV?
The difference between a network and Amazon which is more of an entity in fluid motion at this point, is that on a network show the Network itself is omnipresent. When notes come down from the network to set, those that the notes are attributed to typically stop to catch their breath because it has a holy order quality that no one will question. It is exigent and permanent. With Amazon, perhaps because they are still in the works of establishing their protocol it has an independent film quality where you still have to answer to the powers that be but most of that answering was taken care of pre-filming and they trust that those orders will be executed as planned.
You've come a long way in your career from being a background actor in such films as Risky Business and Bad Boys. What advice do you have for background actors today?

Background acting is an incredible tool for aspiring actors to get the lay of the land of the sets and set protocol but more importantly the professionalism required on any given shoot day. My indoctrination could not have been luckier than to watch Sean Penn on one set and Tom Cruise on the other the same summer. My acquired knowledge, demeanor and respect for hardworking crew still to this day comes from watching the way those guys handled their business.
Let's talk Dexter. Tell us your what your typical day was like on set.
Dexter was a well-oiled machine by the time I showed up on their lot. Everyone was cruising along. Kind, welcoming, and respectful. It was wonderfully relaxed. Not to say casual, everyone had come to work. The scripts were a bit more secretive and my sense of what was happening with my character from script to script was a complete surprise which isn't always a bad thing.
How did you manage long days on set while you were raising your three sons?
Being a parent in this business is simply challenging beyond belief. There are rewards and benefits, but at what cost? I have missed a variety of my sons' childhood events that I can't have back. My sons and I have talked about these potential inevitabilities over the years and they have been incredibly understanding but I still have regrets that were inevitable compromises I have to accept.
If you could wish upon a star, which star would it be and why?
Why just a star? Why not a constellation? If I'm going to do it, it's going to be on the constellation Aquarius. Not because I'm sure of the astrological significance, but because my daily newspaper horoscope has a better than 50% relevance whenever I breeze over it. The stars have aligned well for me in the grand scheme of things...let's see how the rest of the day shapes up for me in section D of the L.A. Times.
What's the stupidest question you've ever been asked in an interview?
"Why are you wearing that suit?" Which I replied, "What's wrong with it?" Which she replied with a disgusted snicker. I don't love suits as some do but I found the comment odd coming from someone who I kid you not, was wearing some kind of hybrid safari-bassfishing chic getup at a formal function.
Tell us about your experience on Beauty and the Beast.
Beauty and the Beast is a cool sleeper kind of show that the powers that be truly settle for nothing. Brad Kern and Stuart Gillard get every possible ounce out of that orange that they can and the fans respond ravenously and accordingly. If you can suspend reality to get away for a show, you will get on any given show, a lot of heart, a lot of action, Humor, story, special effects and Romance. And every single department is top shelf. It was a pleasure working with them creatively. Just an overall great experience.
Anything else you'd like to say?
This business works in mysterious ways. The fact that I continue to have the opportunity to work with the likes of Folks including Eric Overmyer, David Milch, Michael Mann, Henrik Bastin to name a few at this stage of my career is yet another blessing from the stars I don't take for granted.
Calling all HuffPost superfans!
Sign up for membership to become a founding member and help shape HuffPost's next chapter