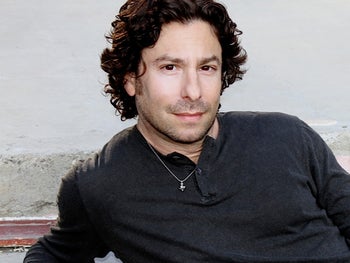 Jason Gould's first full-length CD, Dangerous Man, has the big notes and sweeping vocals of a Josh Groban, but if you scratch beneath the surface, you'll find his storytelling is more Joni Mitchell.
The 12 songs—a combination of original material and standards—gives you a window into Gould's journey of love, forgiveness and self-acceptance.
Gould is an appealing, adult contemporary artist with a soothing yet soaring sound. His powerful, mid-range voice can also send a note into a thrilling falsetto.
With his long, curly brown locks and charming smile, he is reserved, modest and some say even shy. Gould is seemingly more concerned about others and the environment than he is about anything else. Except, of course, his dog Eli!
If Gould's talent seems effortless, it comes naturally. He's the son of Barbra Streisand and Elliott Gould. Although he grew up in the spotlight, he has always been fiercely private. Now he's ready to open up about what he's learned through his years in therapy and recovery programs.
"I'm not deceived by the material world. Having grown up around all of that stuff, it gives one a different perception," Gould says. "I know what matters in life."
In a rare interview, Gould talks about his new album produced by Quincy Jones, letting go and standing in his own truth with his art.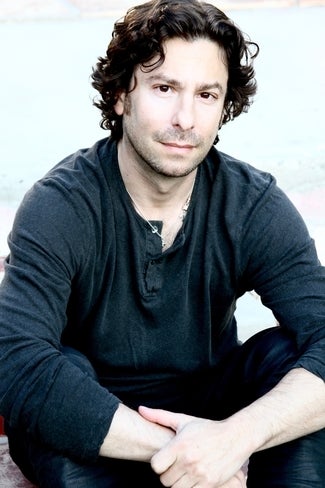 When people hear your voice and these songs on "Dangerous Man," what do you hope they take away?
I have no control over what other people think. As far as I'm concerned it's an offering. It's going to touch some people and others may not respond to it, and that's okay. I don't claim to know what it's going to do for anybody. I really think this is a record about intimacy. I didn't even know that until now that it's done and it's out. Every song is really about a different aspect of intimacy—intimacy with others, intimacy with ourselves, intimacy with God or a higher power.
The CD is called "Dangerous Man." Are you a dangerous man?
I don't think I'm dangerous. I do think it is provocative, and I do like to be provocative. I don't think I'm dangerous; unless you consider vulnerable or honest dangerous. For some people that is dangerous.
What is the biggest misconception about you?
I have no idea what anyone thinks about me. When you are in the public eye in some way people do make assumptions about you, and often those are not true. I am somebody who cares about being as authentic as possible. That's part of what my path in life is about.
You've said that you're a strong proponent of self-awareness. What are you aware of about who you are?
I really value honesty and self-responsibility. These are things that have taken time and commitment to get to in myself, and I'm attracted to those qualities in other people. I'm not drawn to people who are caught up in superficiality and ego. I see through that really quickly. I think only from that place of knowing yourself can you really connect with another person at the deepest level, which is what so many of these songs are about.
"Dangerous Man" has a song called "My Song." In it you sing: "I tried so hard to please, denying my own needs." Are you a people pleaser?
I think that's something I've grown out of. When I was younger I thought that if I molded myself to the way that I thought you wanted me to be then you would like me or love me. Now I've learned that's not the way.
You promoted the CD on Twitter by saying, "Available for dating, I mean download, or either." It was really cute.
Well, I can be cute. I can have a sense of humor.
I guess that goes along with misconceptions. Some people probably think of you as a serious person.
I think you can be spiritual and silly at the same time.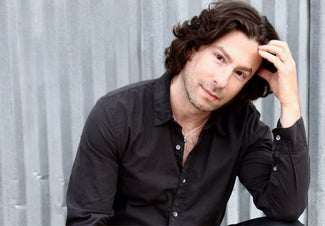 "All's Forgiven" is a song that moves with great intensity and contains the lyrics: "I know you did the best you could, forgiving you has done me good." Who or what are you singing those words to?
There could be many people in my life. For me the song is about the power of forgiveness. What I'm interested in is freedom. I've learned that only through forgiveness can you achieve freedom. I've experienced anger, hurt and disappointment in many relationships. When I was writing that song I was thinking about kids who grow up where they are not accepted by their own family about being gay or transgender or whatever it is. That was an inspiration, but it's not limited to that.
We are only in the first few weeks of 2018, but if a genie gave you a lamp and said you can make three wishes for this year, what would they be?
I'm very excited about women claiming and reclaiming their power. I think we're in the midst of a revolution of female energy. I'd love for more women to step into positions of power in terms of politics. I so care about the state of this planet. Obviously this administration is not terribly concerned about that, but I certainly hope there is a shift there. Do you need one more? Nothing is coming to me right now.
Have you always been this humble and gracious?
I mean, I've never been an arrogant prick. As I've done more and more work on myself, I know who I am, and that's a quality [humility] that I like in myself and others.
I'm a pretty laid-back guy. I like hanging out with friends, going to the movies and playing games. I have a dog, which brings me tremendous joy. I'm not somebody who is going to be out at the clubs smoking a cigarette and drinking. The simple things in life fulfill me.
I have one final and important question for you—what is the secret to your great hair?
That hair. That hair takes work! Listen, you should see it in the morning, honey! It's not pretty.
Popular in the Community