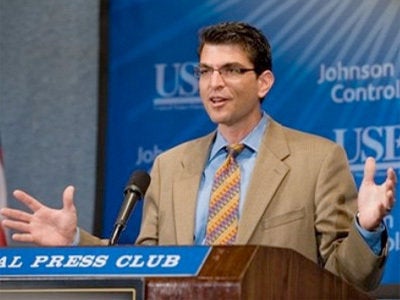 Grist listed National Commission on Energy Policy Executive Director Jason Grumet first in their list of guesses at Obama's Secretary of Energy:
Grumet's think-tank work has focused on building consensus among diverse interests, though the NCEP's 2004 energy report annoyed many environmentalists by calling for pollution permits to be given free of charge to polluters and by supporting a "safety valve" that would limit the price of pollution credits. This job has traditionally gone to seasoned governors and lawmakers, but Obama has shown affinity for policy wonks like Grumet.
Prior to joining the Commission, Jason served as Executive Director of Northeast States for Coordinated Air Use Management (NESCAUM). He received a B.A. in Environmental Studies from Brown University and a J.D. from Harvard University. Jason lives with his wife Stephanie and daughters Isabella and Julia in Washington, D.C.
Calling all HuffPost superfans!
Sign up for membership to become a founding member and help shape HuffPost's next chapter