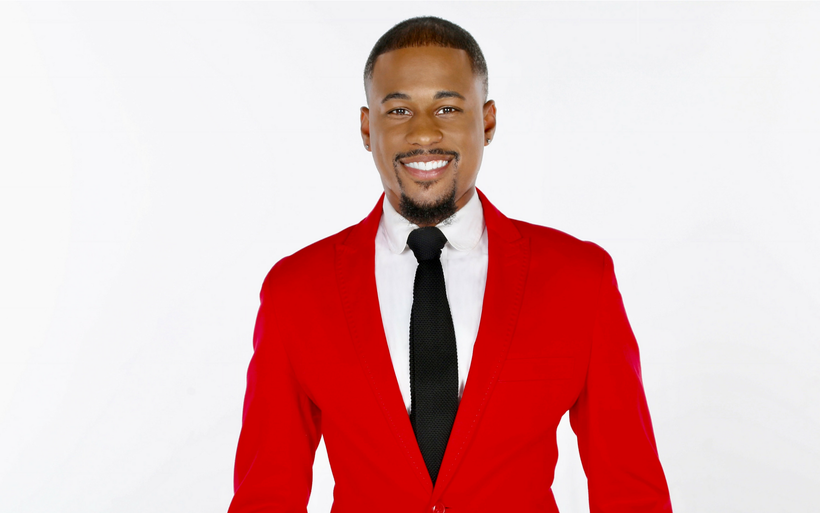 "Let us not become weary in doing good, for at the proper time we will, reap a harvest if we do not give up." Galatians 6:9 (NIV)
Known in the gospel music circles and beyond, Jason Hardy is the CEO of The J. Hardy Agency, based in Atlanta, Georgia. Born in Orlando and raised in Daytona Beach, the Florida native attended the prestigious Berklee College of Music in a two-year Music and Business Management program. It was during his time in Boston, where he landed his first publicity gig at Axiom Records.
"I learned a lot a Berklee College of Music," says Hardy. "The program helped me develop my skills, concepts, and methodologies necessary to manage the legal, financial, artistic, and ethical issues that I would face as a contemporary music business professional. Coupled with my three-year internship at Axiom Records, I gained valuable experience that helped me better understand the scope and in the inner workings of the music industry."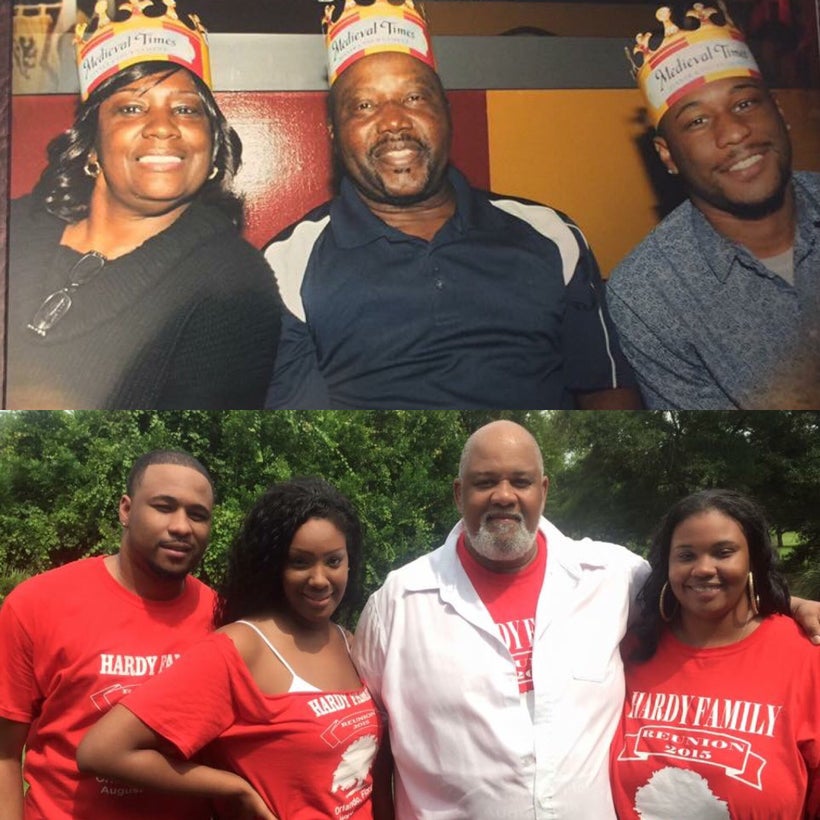 Gwendolyn Quinn: How was it growing up in Daytona Beach, Florida? Tell us about that experience?
Jason Hardy: Growing up in Daytona Beach during my high school years was fun. I was accepted into "Upward Bound," a college prep program which helps young people transition from high school to college. I wouldn't trade that experience for anything in the world. I experienced living on campus and what college life would be all about. In my hometown, I was already known as a singer, and during my senior year in high school, I held the title of Mr. Seabreeze at Seabreeze High School [2002-2003]. Mr. Seabreeze is a title that a male senior holds based on winning a competition that showcases talent, academics, and communications skills. At the time, I was heavily involved with the House of Prayer for Everyone Christian Church and was a part of several citywide organizations such as The Men of Tomorrow, a program sponsored by the Alpha Kappa Alpha Sorority, Inc. My parents supported me in everything I did, and I'm so grateful for them.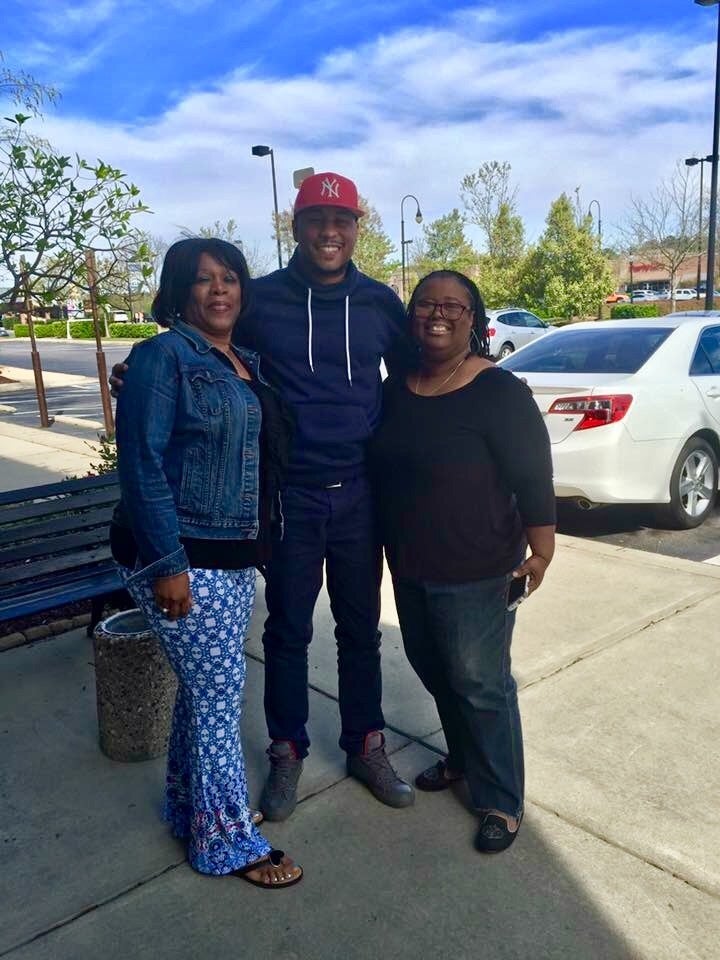 GQ: When did you become interested in publicity/public relations?
JH: I became interested in publicity and public relations as a student at Berklee College of Music in Boston. I had an interest in working in the entertainment and music industries, but I wasn't sure which path to take. While living in Boston, I attended Jubilee Christian Church, and one day after service, I introduced myself to Freda Battle, the label's president. I expressed my interest in working in the music industry. She told me to come by her office the next day. On March 15, 2004, my mentor and then-president hired me and gave me my first opportunity in the record business.
GQ: Why do you refer to it as a non-traditional internship? What was your role there? What did you learn there?
JH: I say it's non-traditional because you don't find a lot of college students securing an official internship until their junior or senior year in school. Also, I was able to maintain the internship with the label for three years [2004-2007]. It was a blessing for me.
As an intern, I did the usual duties including answering phones, mailing out music to radio stations, assisting with on-site media interviews with the label's artists, and anything else that needed to be done. On my first big media outing, I had to escort an artist to BET for a taping on "Lift Every Voice."
During those three years at the label, I began to hone my networking skills and felt there was a void in the music industry for independent artists who needed media awareness in the marketplace.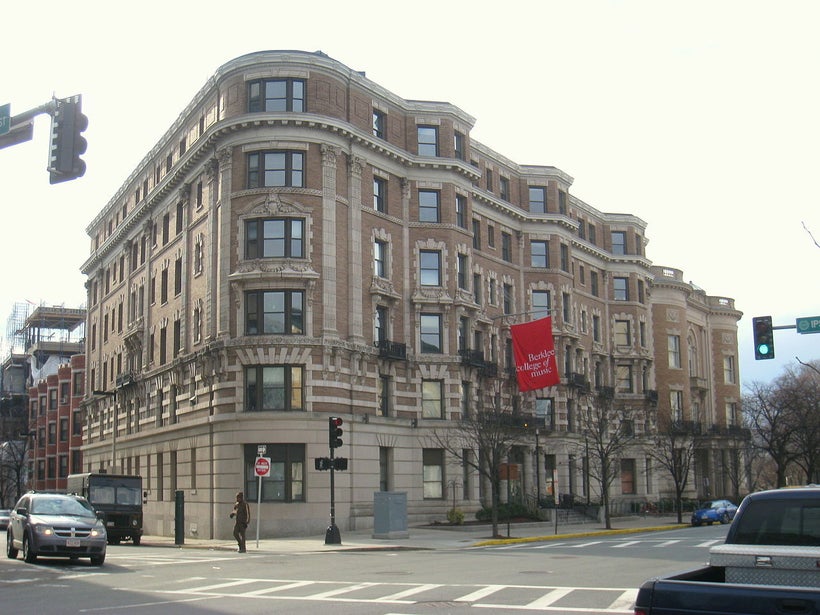 GQ: What courses did you take? How long were you in the program? What did you learn from that experience?
JH: I was in the Berklee Music and Business Management program for two years. Some of the courses I took were "Introduction to the Music Business," "The Creative Entrepreneur Mindset: Music Thinking," and the "Legal Aspects of the Music Industry," among others. I learned the basics of upstarting a business and the legalities involved. I had the opportunity to sit and attend a lot of clinics from past Berklee alumni including Quincy Jones and John Mayer. I soaked in as much information as I could; and have applied it to my professional dexterity.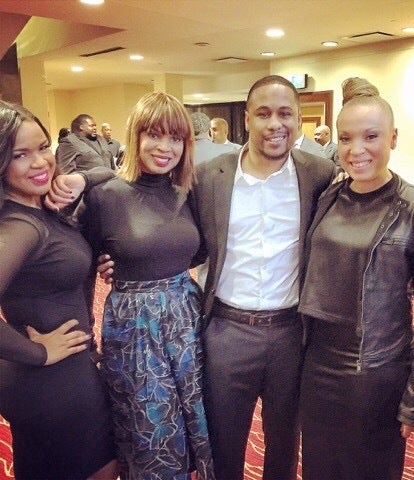 GQ: What do you love about publicity/public relations?
JH: What I love about publicity and public relations is the opportunity to partner in ministry with artists and companies to spread the message of Jesus Christ through various media platforms such as television, print, radio, online, and red carpets events. It's rewarding to know that I played an integral part in the career of a music artist, actor or celebrity talent.
GQ: As the founder of The J. Hardy Agency, please describe your day-to-day responsibilities and duties.
JH: My responsibilities differ from day-to-day. Most of my day is spent communicating and corresponding via email; researching new media placements on my clients; crafting media pitches to journalists and bloggers; and writing and revising press releases, bios and various media materials. There are some days when I'm on conference calls, or I'm taking a journalist out to lunch or dinner to try and secure a placement for my client.
GQ: Who are some of your current and past clients?
JH: Some of my current and previous clients include both established and developing award-winning gospel artists such as Tye Tribbett, Jeklayn Carr, Anita Wilson, JJ Hairston & Youthful Praise, VIRTUE, LIVRĒ, Bryan Popin, ASONE, Kelontae Gavin, J. Long, and Committed, just to name a few. I've partnered with other PR and marketing firms on various film projects including Tyler Perry's "Madea's Halloween Boo!," "War Room," "The Identical," and "Slamma Jamma."
GQ: What advice do you have for young people who would like to pursue a career in music and entertainment publicity and public relations?
JH: My advice for the new generation is to study the industry. Start to develop and establish relationships with people in the media, and behind-the-scenes as well as music and entertainment executives. Perfect your writing and verbal skills; it's a must. Stay committed to your goals and surround yourself with like-minded individuals who are successful. Have a strong prayer life and discern those that don't have your best interest at heart. They're snakes in this industry who will try to block opportunities and bring you down.
GQ: What was your first paying publicity project?
JH: I launched my PR firm in 2007; and for three years [2007-2010], I did a lot of pro-bono work to build credibility within the music industry. In 2011, a good friend of mine Johnny Sledge called me about Kenn Ora, an independent artist, who was looking for a publicist. I took on that project, which was my first paid publicity gig.
GQ: What are some of the most challenging aspects of your position?
JH: Some of the most challenging aspects as a publicist is meeting the unrealistic expectations and goals of clients. Every client's career is in a different space, and often a client will see another client ascend to an opportunity on a media platform and believe that same opportunity should be afforded to them. Every step is a process, and historically artists are not always patient about the process, and sometimes the can bring on concerns and doubt from the client towards the publicist.
Another challenging aspect is when you believe in a project, and the media outlet feels your story is not interesting enough for their audience. So I find myself pitching other story angles in hopes of secure a placement.
GQ: Tell me about your volunteerism and community work?
JH: Most of my community and volunteer work consist of feeding the homeless. I know what it feels like to be homeless. I was once in that same position years ago. I was a full-time student, and at the time I wasn't working. I wasn't sleep on the streets, but I didn't have a place to call home. I was going from house to house; staying with friends for a few weeks at a time.
GQ: Where do you see yourself in the next five years?
JH: I see my company thriving to new heights. God-willing, I would like to tap into the sports industry.
GQ: What do you like to do in your spare time?
JH: In my spare time, I like to sleep.
GQ: What was the most important and profound lesson(s) you learned from your parents?
JH: My parents taught me to keep God first, never forget where I come from and to always remain humble.
GQ: Who are your mentor(s) and what are some of the most valuable lessons you have learned from them?
JH: Freda Battle is my mentor and spiritual mother. I've learned the importance of ministry and to live the life you talk and sing about. Another one of my mentors is PR Guru Bil Carpenter. Bil is selfless. I've known him for more than ten years, and he's been an integral part of my growth. Bil is always there to give me advice; and when I need someone to proofread a story or press release he always make himself available. I'm so grateful for these two.
GQ: What is the best advice (professional or personal), you have received and from who?
JH: My parents tell me all the time, "Save Your Money." As an entrepreneur, it is imperative that you save.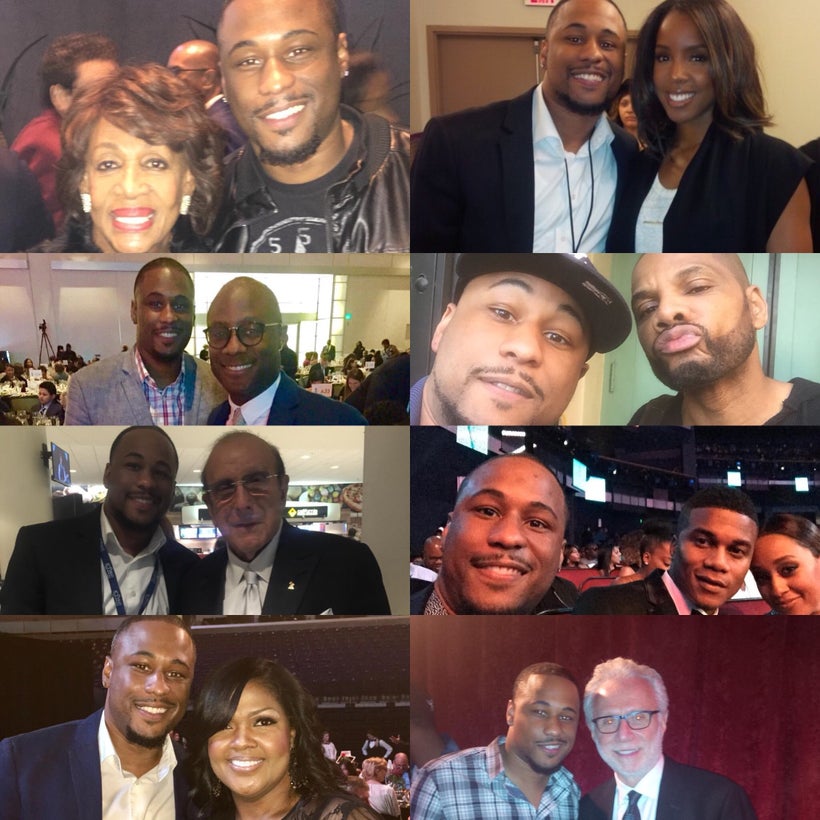 Photograph Above: Jason Hardy with his Favorite Celebrity Personalities (Top Row: (l-r) Congresswoman Maxine at the 2017 NAACP Image Awards Post Party, and Kelly Rowland at the 2015 Stellar Awards; Second Row from the Top: (l-r) Oscar Award-winning filmmaker Barry Jenkins at the NAACP Image Awards Pre-Show dinner, and Kirk Franklin at the 2016 BET Celebration of Gospel; Third Row from the Top: (l-r) Clive Davis at the 2016 GRAMMY Awards in Los Angeles, and Actor Cory Hardrict, and his wife Tia Mowry-Hardrict; Bottom Row: (l-r) CeCe Winans at the 2017 GMA Honors in Nashville, TN, and CNN's Wolf Blitzer at the 2013 Soul Train Music Awards)
GQ: What keeps you spiritually centered and grounded?
JH: My career keeps me grounded. Public relations is a passion for me. I've been blessed to make money doing what I love. With that said, I understand that at any moment God can take away the very thing that I love the most. This keeps me grounded knowing that this life is God-given.
JH: A plethora of things inspires me, but one, in particular, is to see other young African American men step out on faith and succeed in their entrepreneurial and professional efforts.
GQ: What are some of your pop culture's must haves (music, film, television)?
JH: I love L.A Reid's book, "Sing to Me: My Story of Making Music, Finding Magic, and Searching for Who's Next;" Bryan Popin's "I Got Out," CD; The Showers Family Group's "The Journey" project; and Tye Tribbett's new album, "The Bloody Win."
GQ: What is your dream project?
JH: My dream project is to handle publicity for professional athletes.
GQ: What would you like people to know about you?
JH: I'm just a laid-back chill dude. I like to have fun and sleep.
Gwendolyn Quinn is an award-winning media strategist and consultant with a career spanning more than 25 years. She is a contributor with NBCNews.com/NBCBLK.com, BlackEnterprise.com, HuffPost, and EURWEB.com, among others. Quinn is also a contributor to Souls Revealed and Handle Your Entertainment Business.
Antonice Jackson is the President of the National Black Public Relations Society's Washington, D.C. Chapter. She partnered with Gwendolyn Quinn to produce "The Top African American PR Millennials for 2017" series. Jackson is also a contributor with AllHipHop.com.
REAL LIFE. REAL NEWS. REAL VOICES.
Help us tell more of the stories that matter from voices that too often remain unheard.
This post was published on the now-closed HuffPost Contributor platform. Contributors control their own work and posted freely to our site. If you need to flag this entry as abusive,
send us an email
.