A Nebraska woman whose son went missing in 2001 is now being honored for helping other families that have lived through similar nightmares.
The award was presented by Heineman on Wednesday during an award ceremony at the state capitol in Lincoln.
The Governor's Points of Light Awards are presented quarterly in recognition of volunteers who "give their time, talent and energy to help Nebraskans build stronger communities." The awards are sponsored in part by Woodmen of the World.
"It's a privilege to be able to serve these families in what may be their darkest hours," Jolkowski told The Huffington Post. "Unfortunately, I have firsthand knowledge in what they're feeling and experiencing since my son has been missing for more than 10 years."
Jolkowski's son, Jason, was 19 years old when he disappeared on June 13, 2001.
According to his mother, Jason, an employee at a restaurant in Omaha, received a call from his boss that morning and was asked to come in early. Jason's car was in the shop so he arranged to meet a coworker at Benson High School, only seven blocks from his home. It's believed that Jason got dressed in his work uniform and then set off for the school. Somewhere along the way Jason vanished without a trace.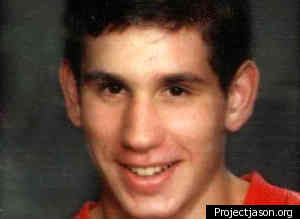 Jason Jolkowski has been missing since June 2001.
As the days passed with no word, Jolkowski had trouble finding a source of advice or comfort -- partly because Jason's age meant he was classified as a missing adult rather than a missing child.
Rather than sit and wait for news, Jolkowski convinced Nebraska lawmakers to pass Jason's Law, a measure that created a state repository of information on missing persons. Jolkowski also decided to start Project Jason to assist the families of missing adults and children.
In addition to helping families better understand the search process, Project Jason also offers resources such as free online counseling, bimonthly poster campaigns and organization for grassroots efforts to pass missing-persons legislation.
"I may not be able to find my son, but perhaps some guidance I provide to [others in the same situation] will help bring their loved one home," Jolkowski said. "Even if that doesn't happen, I can help them understand that they will be able gain coping skills and can have hope for a resolution."
Since Project Jason was founded in October 2003, it has helped thousands of families around the country, including more than 100 in Nebraska, with tactical and emotional support to better the chances of finding their loved ones alive. The organization has distributed more than 5,000 family identification kits and hosts the world's only coping skills retreat for families of both missing adults and children.
In 2010, Jolkowski received unprecedented national recognition for her efforts when U.S. Attorney General Eric Holder presented her with his Volunteer for Victims award at a special ceremony in Washington, D.C.
"We don't always get the answers we want, but those who live with ambiguous loss -- loss without an answer -- need and deserve to know what has happened to their loved one," Jolkowski said.
For more information about Project Jason's objectives, activities and services, visit projectjason.org.
PHOTO GALLERY
Missing Children
REAL LIFE. REAL NEWS. REAL VOICES.
Help us tell more of the stories that matter from voices that too often remain unheard.