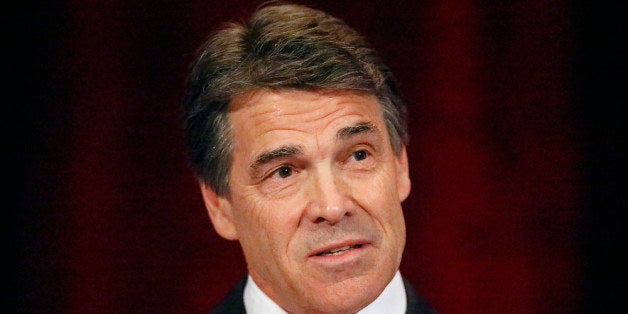 Missouri's secretary of state suggested to Texas Gov. Rick Perry (R) that rather than luring businesses to Texas during his trip to Missouri next week, Perry should use the time to explain to tea party lawmakers why he is seeking Obamacare funding.
Perry has launched a nine-day, pro-Texas business advertising campaign to explain to business leaders why they should move their companies to Texas. Missouri Secretary of State Jason Kander (D) sent a letter to Perry Thursday, however, suggesting that while in Missouri, Perry should instead take time to explain to the state's Legislature, which is controlled by tea party Republicans, why he is seeking $100 million through Obamacare to fund health programs for the elderly and disabled.
"But if you choose to come to Missouri next week anyway, there is a way you can make the trip worthwhile. I read in Politico that you are seeking $100 million in Medicaid funding for the disabled and elderly," Kander wrote. "Our state legislature in Missouri has refused to accept additional Medicaid funding from the federal government, so it would be great if you could explain to them why they should follow your lead on this issue."
Politico reported Tuesday that Perry, a vocal Obamacare critic, is seeking federal health care dollars to fund the Community First Choice Program, a new state resource aimed at providing community-based services for the elderly and disabled.
The bulk of Kander's letter provided economic development advice to the Republican governor. He said that Perry should concentrate on getting businesses started in Texas, rather than raiding other states. "If a company moves to Texas as a result of your sales pitch, there's a good chance it will leave for a better deal in some other state in the future," Kander wrote. "But if a company starts in Texas, it's more likely to stay there."
Kander has focused on entrepreneurship and small business development since his election last year. Perry announced this week that he believes businesses will find Texas' economic climate more hospitable than Missouri's.
REAL LIFE. REAL NEWS. REAL VOICES.
Help us tell more of the stories that matter from voices that too often remain unheard.
BEFORE YOU GO
PHOTO GALLERY
Health Care Reform Efforts In U.S. History