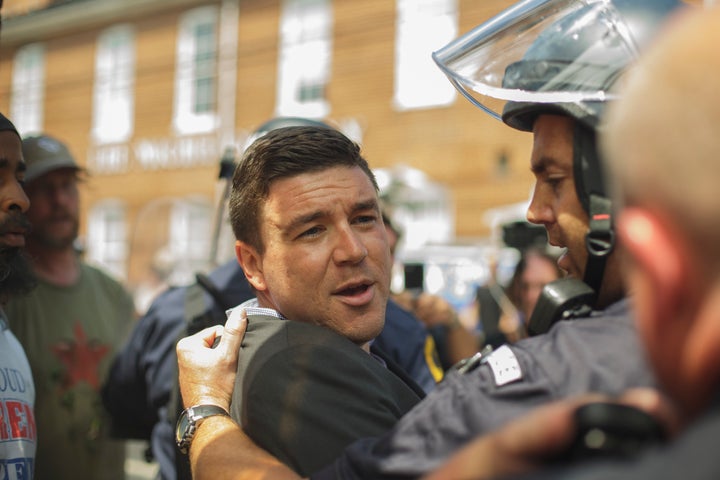 Jason Kessler, a top organizer for a white supremacist rally that took place in Charlottesville, Virginia, in August, has been indicted on a felony perjury charge.
The indictment stems from a sworn statement Kessler made to a magistrate judge in January, when he claimed a man he'd punched in the face had actually been the aggressor. Video evidence later showed that statement was false.
On Jan. 22, Kessler was at the Downtown Mall in Charlottesville, trying to collect signatures on a petition to oust City Councilor Wes Bellamy. When James Justin Taylor approached Kessler ― whom Taylor said he knew ― to learn about the petition, things got heated.
"I really took issue not so much with the substance of it, but the way he was going about it," Taylor told The Daily Progress. "This sort of aggressive fear, hate manner that it was being conducted. And I called him out on it. And he hit me."
"I said, paraphrasing, that 'you're kind of being an asshole,'" Taylor added.
Kessler claimed that Taylor assaulted him and "violently" shook his arm. Video evidence released in March showed that to be false.
"I'll admit that what I did was not legal," Kessler told The Daily Progress in April, after entering his guilty plea for the misdemeanor assault. "I was having a bad day. I've never done anything like this before and it will never happen again."
Kessler was sentenced in May and given a 30-day suspended sentence, along with 50 hours of community service.
Kessler went on to organize August's "Unite the Right" rally in Charlottesville, which saw thousands of white supremacists flooding the streets with Nazi chants of "blood and soil!" and "Jews will not replace us!"
Violent clashes took place during the rally, and one person, Heather Heyer, was killed after a car barreled into a crowd of peaceful counterprotesters. James Alex Fields Jr. was arrested in connection with the killing. Kessler later called Heyer a "fat, disgusting Communist."
Kessler was indicted Monday by an Albemarle County grand jury for the perjury charge. He faces up to 10 years in prison and a $2,500 fine.
Popular in the Community