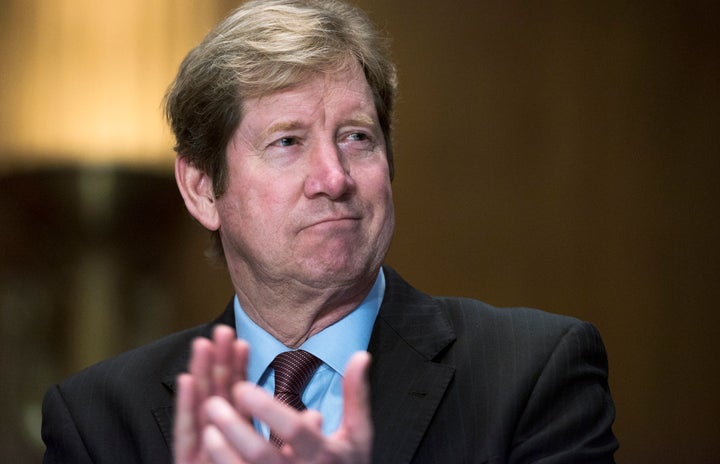 Jason Lewis, a Republican congressman running for re-election in Minnesota, taunted women who have experienced unwanted sexual advances in a 2012 radio clip surfaced by CNN KFile. 
Lewis, who was elected to the House in 2016, made the remarks during a November 2012 segment on his radio program "The Jason Lewis Show," which ran between 2009 and 2014. During the segment, Lewis discussed the sexual harassment allegations against Herman Cain, then a Republican presidential candidate. The year prior, in 2011, multiple women had accused Cain of sexual harassment while he was the president of the National Restaurant Association. (Cain denied all of the allegations.)
In a conversation between Lewis and someone who sounds like a caller, the GOP representative questioned if sexual harassment and misconduct, such as unwanted touching and kissing, is really that traumatizing. 
"I don't want to be callous here, but how traumatizing was it?" Lewis said in the clip. "How many women at some point in their life have a man come on to them, place their hand on their shoulder or maybe even their thigh, kiss them, and they would rather not have it happen, but is that really something that's going to be seared in your memory that you'll need therapy for?"
Lewis continued relaying his thoughts to the caller, who agreed with him.
"You'll never get over it? 'It was the most traumatizing experience,'" Lewis added, making fun of women who say sexual misconduct inflicts lasting pain. "Come on! She wasn't raped."  
Lewis is running in Minnesota's 2nd Congressional District against Democrat Angie Craig.
Becky Alery, Lewis' campaign manager, responded to the surfaced radio clip in an email to HuffPost by calling CNN "bottom feeders" for attempting to "help the left-wing cause" by resurfacing the 2012 radio clip. 
"Democrats have become increasingly alarmed that radical movement candidate Angie Craig is once again failing in the race for MN-02, so we're returning to the land of smears by pointing to years old comments from talk radio that have been litigated over, and over, (and over!) again," Alery wrote.
"In fact, $8 million dollars was spent on the old talk radio comments in 2016, but here we go again with bottom feeders who will do anything to help the left-wing cause!" 
In July, CNN uncovered another clip from Lewis' radio program in which he said he didn't understand why women can't be called sluts anymore. 
"It used to be that women were held to a little bit of a higher standard," Lewis said in March 2012 recording. "We required modesty from women. Now, are we beyond those days where a woman can behave as a slut, but you can't call her a slut?"
REAL LIFE. REAL NEWS. REAL VOICES.
Help us tell more of the stories that matter from voices that too often remain unheard.