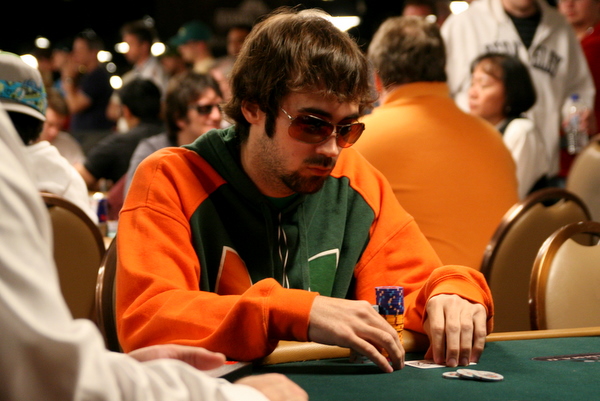 Where the hell did this guy come from? In April 2008, Jason Mercier's first major live appearance at European Poker Tour San Remo resulted with the relative poker unknown beating out a field of 700 other players and walking away with $1,372,893 in prize money. (Not a bad day at the poker playing office.) Earlier last month, at the NAPT in Los Angeles, the 23 year old placed a highly respectable 7th place -- once again making an impressive visit to the final table and taking home $84,857.
How did this winning streak begin?
While studying to become a math teacher in college, the Fort Lauderdale native discovered the world of online poker. His inspiration was Chris Moneymaker's 2003 World Series of Poker victory. (Moneymaker revolutionized the game by being the first world champion to qualify on an online poker site.) Jason followed in Moneymaker's money making footsteps and spent the next few years mastering the game online.
Now a member of Team PokerStars, Jason clearly has "the nuts." In March 2010, ESPN ranked Jason as second in the world for all players. I caught up with this poker whiz kid after the NAPT Los Angeles for a little Q&A.
HP: At what point in your playing evolution did you feel you could go pro? How did you take the steps to go from playing with your friends to hitting the tournament circuit?
JM: I felt like I could go pro in 2007 when I started putting in a ton of hands playing cash games online. I was constantly working on my game to get better and played enough to win some seats to a few big live events by playing so much online poker. I won the 2nd live tournament I ever played.

HP: What was it like to come out of nowhere and take the EPT in San Remo?

JM: It was an amazing experience winning EPT San Remo. No one knew who I was or where I had come from. The win changed my life in a lot of ways; it gave me the financial freedom to travel and play all the big live tournaments where I experienced more success and then lead to a PokerStars sponsorship.
HP: How do you mentally prepare for a long tournament?
JM: I just try to take it day by day. Making sure I get good nights sleep is pretty key.
HP: Since you studied to be a math teacher, who is easier to compete against: players that are better at reading people or those who also have math backgrounds?
JM: I think that players that are better at reading people are much more dangerous and difficult to play against, because then you have to think more about what they might be thinking.

HP: What player would you consider your arch-rival and why?
JM: I don't have one; poker players are not superheroes.
HP: Sunglasses or no sunglasses and why?
JM: When I first started playing live, I was much more comfortable wearing sunglasses. Now, I pretty much never use them anymore. I am pretty much more comfortable without them.
HP: How does a player of your stature keep improving on your game? What do you feel are your playing strengths?
JM: I continually improve my game by discussing hands with other intelligent players. Learning from your mistakes and immersing yourself in the study of the game is huge. My strengths: the ability to play any style, relentless aggression, and the ability to not tilt.
HP: What advice would you give to a player new to the game?
JM: I would just say to find players that are better than you to talk hands with and help you improve your game.
HP: What are your big goals for 2011? How do you plan to maintain the crazy winning streak you are on?
JM: I just plan on playing my best and continuing to put myself in a great position to win. I hope to win a 2nd bracelet and hopefully a WPT title.
Jason's next big tournament will be this January at the PokerStars Caribbean Adventure in the Bahamas where he'll be playing in the main event.
You can play against Jason under the screen name 'JasonMercier' and other members of team pro on www.pokerstars.net.
Calling all HuffPost superfans!
Sign up for membership to become a founding member and help shape HuffPost's next chapter